Bar goes after phony lawyers
By Diane Curtis
Staff Writer
Scattered throughout four floors of the State Bar's Los Angeles building are 900 boxes of legal files and various computers seized from the offices of lawyers who died, abandoned their practices or so seriously breached their duties that the bar asked superior courts to assume jurisdiction. Another 2,754 boxes are stacked in a nearby warehouse, and the stacks are only likely to grow as the State Bar begins the task of also shutting down the "practices" of non-attorneys.
At the start of the year, a law took effect that gives the bar authority to ask superior courts to assume jurisdiction of the sham practices of non-attorneys. The courts may then grant orders allowing the bar to shut down the practices, seize files and return them to clients. State Sen. Joe Dunn, D-Garden Grove, believes the law, which he authored, "will probably do more toward reducing the unauthorized practice of law than any other law that currently exists."
The job of prosecuting non-attorneys has been primarily in the hands of district attorneys — with some actions from the attorney general's office — but Dunn says it's understandable why the unauthorized practice of law might not be on public prosecutors' "urgent" list. "Prosecuting the unauthorized practice of law is not a high priority for urban district attorney offices who are facing far greater challenges in the criminal justice arena," says Dunn. "It's not a criticism of them. I'd rather see them utilizing their precious resources going after gang activities."
Dunn and others emphasize, however, that the number of phony attorneys is becoming a severe problem, especially because the targets of the non-lawyers, who frequently set up a working relationship with a licensed attorney, are immigrants who know little about the U.S. justice system and are therefore the most vulnerable to legal predators.
"It's huge," says Alan Diamante, past president of the Mexican American Bar Association in Los Angeles. About 70 percent of his practice, he says, is representing clients who were defrauded by people who posed as attorneys and made false promises about their ability to win asylum or get green cards for immigrants. Complicating the matter is that some of the people who claim to help are notary publics, and a "notario" in Mexico is a lawyer. Once the clients get to him, the objective, Diamante says, is to "assert all the due processes they're entitled to." But most of the time, Diamante knows "they don't qualify" for either asylum or a green card. "It's so frustrating. It breaks my heart," he says.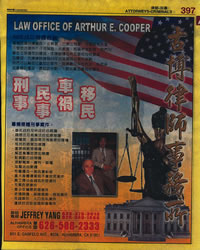 (Click to Enlarge)
The bar's first execution of the new law came just three weeks after it went into effect on Jan. 1, when State Bar investigators, moving vans and local law enforcement descended simultaneously on the Alhambra and Garden Grove offices of attorney Arthur Cooper, whose Alhambra office had essentially been taken over by office manager Jie Yang, the State Bar charged.
Yang, 37, acted as an attorney and took advantage of Cooper, 81, by using Cooper's practice to attract clients and file personal injury claims, the State Bar charged. Cooper, who was described in court documents filed by the State Bar as having "diminished mental capacity" and being incapable of protecting the interests of his clients, had no contact with the clients at the Alhambra office, the bar said.
Such non-attorney/attorney associations involving the unauthorized practice of law "are not uncommon," says William Cox, supervising trial counsel at the State Bar. Cox oversees court pleadings regarding takeovers and the actual physical takeover, which has become a precision operation.
The seizure of Cooper's practices was fairly typical for a takeover involving misconduct: Immediately after the court assumed jurisdiction of the practice, which Cox had argued for in court, his team sprang into action. Armed with maps showing the location of the offices and banks where accounts were to be closed; names, ages and descriptions of Cooper and Yang; names and contact numbers for local law enforcement and boxes of supplies, they headed toward the two offices. Cox assigned three investigators and a prosecutor to each location.
One staffer at each office took charge of a video camera to record the event. State Bar investigators asked for the cooperation of the people in the office and had them point out anything of significant value. With already-prepared labels and identifying tags, staffers gave every room and every box, file cabinet and computer a number, all marked on a sketch of the room. Team members immediately identified active files; more than 200 were seized at the two Cooper offices.
Cox then dispatched an investigator, who held a court order to freeze accounts, to the banks of Cooper and Yang. After freezing the bank accounts, the investigator headed to the post office to file a change of address so that mail would be forwarded to the bar. The team also determined upcoming court dates, printed out a list of clients and made copies of all computerized client documents. The team then performed what is known as a "forensic shutdown," in which the computer is frozen precisely at that moment.
A shutdown can take a couple of hours for a routine takeover in which the attorney has died or abandoned a practice with few active files. Or, it can take well into the night in the case of a non-attorney or a suspended or disbarred attorney who refuses to stop practicing.
After the shutdown, the team notifies court clerks or opposing counsel of the cessation of the practice, tries to get files back to clients and advise them to get new counsel, and makes sure wills, trusts and any other estate planning documents either get to clients or are transferred to a superior court. "If we have an active file, we are concerned about it," says Cox.
Cooper and Yang were referred to the district attorney for prosecution. Cooper also faces possible State Bar discipline.
Scott Drexel, who took over as chief trial counsel for the State Bar last year, is determined to shut down illicit practices. He estimates that in 2005, the State Bar asked the courts to assume jurisdiction of about 30 practices of disbarred or resigned attorneys compared to about eight to 10 in previous years.
"The State Bar is really concerned about public protection issues," says Drexel, adding that he immediately began to appreciate the significance of the problem of both unauthorized practice of law by non-attorneys and attorneys who were ordered to stop practicing. "There was a big vacuum that needed to be filled."