Confidentiality battle far from won
By Diane Curtis
Staff Writer
Attorneys critical of what they say has been a dangerous erosion of the attorney-client privilege are pointing to indicators that the tide is turning back toward confidentiality. But the battle is far from won, they add.
In April, the U.S. Sentencing Commission, a judicial branch agency, voted to delete language in its sentencing guidelines that encourages federal prosecutors to demand that corporate attorneys waive the attorney-client privilege in exchange for more lenient sentences.
Members of both parties in the House and Senate have publicly criticized the Department of Justice and other agencies for efforts to weaken attorney-client privilege. The National Law Journal reported last month that a bipartisan group of House members may ask the department to change its policy (which the DOJ denies having) and that Senate Judiciary Chairman Arlen Specter, who has met with critics of DOJ, has expressed concern about the issue and an interest in holding a hearing.
Representatives of the American Bar Association, the American Civil Liberties Union, the Association of Corporate Counsel, the National Association of Criminal Defense Lawyers, the National Association of Manufacturers and the U.S. Chamber of Commerce all have denounced the practice.
Corporations have complained that what began as a voluntary incentive to cooperate with Securities and Exchange Commission and Department of Justice white-collar crime investigations has become a requirement that results in punishment if the corporations don't comply.
In 2002, the SEC released proposed rules loosening attorney-client privilege that were based on its interpretation of the Sarbanes-Oxley Act, which was aimed at stemming corporate corruption. The so-called "Thompson Memo" followed in 2003. That memo included a revised set of principles from Deputy Attorney General Larry Thompson guiding prosecutors seeking charges against a corporation or company. He listed waiving of attorney-client confidentiality as a gauge of corporation cooperation. In 2004, the U.S. Sentencing Commission wrote its guidelines including attorney-client privilege waiver as a sign of investigation cooperation
Referring to the U.S. Sentencing Commis-sion reversal and indications from Congress, Steven Hazen, a Los Angeles attorney with Davis Wright Tremaine and a member of the advisory committee of the ABA Presidential Task Force on the Attorney-Client Privilege, said, "I think it's starting to turn around." Congressman Dan Lungren, R-Sacramento, a member of the House subcommittee that held an attorney-client privilege hearing, also said he thinks there is a "move in the right direction."
However, added Hazen, the DOJ practice has emboldened other agency inspectors general, prosecutors and investigators to use the tactic.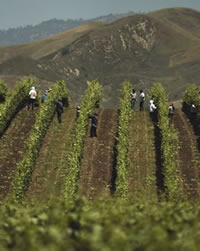 (Click to Enlarge)
The inspector general for the LSC has demanded the names of all of the clients of California Rural Legal Assistance Inc., which represents many of the state's agricultural workers, for the years 2003-05. William Hoerger, CRLA's director of litigation, advocacy and training, estimates between 30,000 and 40,000 files are being requested. Hoerger says inspectors will neither reveal what they are looking for, nor agree to sit down to work out a mutually agreeable plan on how to retrieve the information they're seeking without violating California Constitution and California Business & Professions Code provisions that protect the identity of clients. Laurie Tarantowicz, assistant inspector general and legal counsel for the LSC, said her office does not comment on current investigations.
"I am quite certain that the reason other agencies (such as LSC) are taking these approaches is that they are following the lead of the DOJ, which has basically concluded that attorney-client privilege is not worth protecting," said Hazen.
Lungren, California's attorney general from 1991-99, said that while he is pleased with the sentencing commision's reversal, he has a "continuing concern" about the policies of the DOJ and the SEC. They have taken the position, he said, "that prosecutors should pressure corporations to waive the attorney-client privilege as a condition of being cooperative. I just happen to believe that those are unnecessary and misguided and dangerous policies."
Getting corporate lawyers to waive attorney-client privilege makes the prosecutors' job easier, he added, but it it erodes "one of the oldest privileges that is recognized in our jurisprudence" and discourages employees from talking to company attorneys for such goals as reforming company policies and procedures.
"If the government routinely insists on the waiver of attorney-client privilege, that will have a chilling effect on communication between company employees and lawyers and supervisors," agreed Jan Handzlik of Los Angeles' Howrey LLP. Handzlik is a former federal prosecutor specializing in white collar crime and a member of the ABA task force. If they aren't already, employees will be reluctant to talk to general counsel because "they'll think they might as well be talking to the FBI or the U.S. attorney."
Lungren, who noted that former U.S. attorneys general in both Republican and Democrat administrations, have written letters to the DOJ about the policy, said that it wasn't "inappropriate in all situations" to demand a waiver but that it should not be general policy.
In March 7 testimony before the House Subcom-mittee on Crime, Terror-ism and Home-land Security, Associate Attorney General Robert McCal-lum de-nied that waiver of the attorney-client privilege is re-quired in assessing cooperation in all cases, or that it was routinely sought. Federal prosecutors may not request a waiver without supervisory review, McCallum said.
"Nothing could be further from the truth," he said, than the accusation that the DOJ is contemptuous of legal privileges. In the difficult task of prosecuting corporate fraud, the department "balances the legitimate interests furthered by the privilege with the societal benefits of rigorous enforcement of the laws supporting ethical standards of conduct." Some-times that balance includes the waiver of privileges, McCallum said.