Judge shortage strains state courts
Rising population, crime rates pose headaches for presiding judges
By Nancy McCarthy
Staff Writer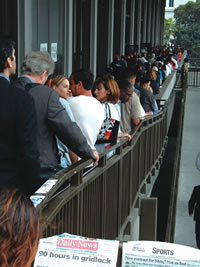 (Click to Enlarge)
Riverside County has twice suspended trials in civil cases in the last 18 months. In neighboring San Bernardino County, the family law judge may have as many as 40 cases on his calendar each day, and the traffic commissioner might have up to 80 cases in a single morning. In Sacramento County in recent years, civil cases ready for trial might not see a courtroom for 12-18 months.
The reason for the logjams, say judges throughout the state, is a severe shortage in their ranks.
And although some relief is on the way — 50 new judgeships were included in this years budget — the number is far below the actual need. Burgeoning population growth in many counties, and the accompanying increase in criminal and civil filings, have stressed the justice system nearly to the breaking point.
In his annual State of the Judiciary address earlier this year, Chief Justice Ronald M. George told lawmakers, "Our state's vast growth in population and the problems that accompany it are outstripping the ability of the courts to dispense justice." The judge shortage, he said, portends such consequences as decreased access to the courts, compromised public safety and in some courts, sizeable backlogs that inhibit fair and timely justice.
"We are living right on the edge," said Sacramento Presiding Judge Roland Candee. "We're utilizing every minute of everybody's time."
According to the Administrative Office of the Courts, California has 42 judges per million people, compared to as many as 105 judges per million in the 12 other unified court systems. Other large urban states, such as Texas and New Jersey, have more than twice as many judges per million people as California. The shortage translates into a case clearance rate below the rest of the country for every case type, according to a 2004 study by the National Center for State Courts.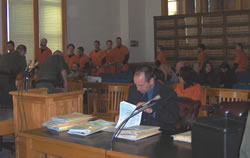 (Click to Enlarge)
Although the center recently suggested that the caseload of California courts warrants the creation of 355 new judgeships, the courts are seeking 150 positions over the next three years. Under SB 56, authored by Sen. Joe Dunn, 50 new judgeships would be created in each of the next three years. Although that number was sliced in half by a legislative conference committee, the judgeships were restored for the comming year after intense lobbying by George, judges and court administrators.
(The legislature also approved money for an 8.5 percent raise for the state's judges, beginning Jan. 1.)
The cost of each new judgeship is estimated at $755,000 annually: $172,000 in salary and benefits for a new judge, $389,000 for five support staff and one bailiff, and $194,000 for office space, operating expenses and equipment.
The SB 56 analysis of what the Judicial Council calls the "judicial gap" demonstrates the impact of population growth on the courts:
In Butte County, between 2002-04, felonies increased 22 percent, misdemeanors 8.6 percent and juvenile dependency filings 40.2 percent.


In Kern County, juvenile dependency cases increased 93 percent and overall juvenile filings increased 35 percent since 1995.


In Kings County, since 2001, felonies increased 71 percent, juvenile delinquency cases increased 4.5 percent and writ filings increased 32.5 percent.


In Placer County, overall court filings grew by 9.6 percent from 2003-04.


The analysis also found that the disparity between the increased workload and the number of judges resulted in:


An 18-month wait in Sacramento for trial for civil litigants.


19.4 percent of pending civil cases in Fresno were filed before 2001.


Each direct calendar judge in San Bernardino has 875 cases pending trial, law and motion or other hearings.
Riverside County is not far behind. For the last two years, the county's civil courts were shuttered for two weeks as a result of the strict time limits of criminal cases, in which defendants have a constitutional guarantee of a speedy trial. In June 2004, the court had 500 criminal cases awaiting trial; in December 2005, the number stood at 1,000.
Just before the shutdown last year, the Riverside County Sheriff's Department reported that 481 inmates had been in custody and waiting for trial for more than a year. Some 84 percent of the inmates in the county's five jails had not yet been convicted or sentenced.
Riverside Presiding Judge Sharon Waters says that although the county's population has grown by 55 percent since 1989 and filings have increased 23 percent in five years, only three judges have been added to the bench. Riverside's judges average 6,393 filings annually, Waters said, compared to the state's average caseload of 4,608 per judicial officer.
She said that based on recent filing data and the AOC's judicial allocation formula, the Riverside bench should have 121 judicial officers. Instead, it has 49 judges and 20 commissioners.
"This is a very, very bad situation," Waters said. "This is beyond a concern now. It's a crisis."
The demands of the criminal calendar means the civil calendar is pushed further and further behind. "We now have hundreds of cases up against the five-year statute," Waters said. "We're trying to get the word out so that attorneys alert us and we try to get the cases tried."
In Sacramento, Judge Candee said the courts face the same problem. "Civil has been incredibly hard hit," he said. Only four of the county's 51 courts are dedicated to civil matters.
And in San Bernardino County, Presiding Judge Larry Allen said, "We raid civil quite a bit."
If the courts ultimately receive 150 new judgeships, San Bernardino would receive the most — 23 — under the AOC's proposed allocation. Other counties that would benefit are: Riverside, 19; Sacramento, 14; Fresno, 10; San Joaquin, 8; Kern, Stanislaus and Los Angeles, 7; and Merced and Tulare, 6. Some counties, including Alameda, Del Norte, Lake and Santa Clara, will not receive any new positions.
In the meantime, courts utilize alternatives such as family law facilitators and mediation programs, often contracting with outside agencies to handle alternative dispute resolution of civil cases. Commissioners and referees are appointed to handle cases like small claims and traffic infractions, but they sometimes hear misdemeanor and felony cases, family law matters and civil cases if the parties agree.
Although judges said justice is being served, they expressed concern about quality of that justice.
"On a daily basis, we are juggling," said San Bernardino's Allen. "We don't give people the attention they need in family law, small claims or traffic. The one thing we can't give them is additional time. I wouldn't say we shortchange people. What I would say is we have to cut corners to get to our calendars.
"In a perfect world, judges would be valued for the calm and deliberate way they proceed through their cases. In our world, it's always a struggle to get through the calendar."
"Right now," added Waters, "we're moving people through the system without any time to reflect on the quality of justice, and that disturbs me a great deal."