Courts for the homeless offer help — and hope
By Kristina Horton Flaherty
Staff Writer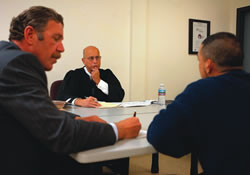 (Click to Enlarge)
John MacKanin spent years panhandling on San Diego's streets, chasing his next drink and worrying about his legal problems: four outstanding warrants for sleeping on the beach and possessing open containers of alcohol. "I didn't even have bus fare to get to the court," he recalls. "I had absolutely no means to pay any fine, and I was afraid of incarceration."
Once a well-employed family man, MacKanin woke up in an alley one day and realized he had to stop drinking. That led to a "spin-dry" stay at a hospital and success in a residential treatment program for veterans.
Still, his legal problems threatened to derail his new start.
But San Diego's Homeless Court, the first in the nation, then cleared his record — and the Marine veteran finally turned his life around.
MacKanin's story is not unique, homeless court advocates say. A growing number of specially created homeless courts — 16 in California and some 15 more nationwide — are working to lift the legal barriers that often block a person's path off the streets.
"We're building a stronger court system and community by working with the agencies that can address the underlying problems that homelessness represents," said Steve Binder, a San Diego deputy public defender who helped launch the nation's first homeless court.
MacKanin, now 66 and sober for eight years, still remembers how nervous he was when he faced the judge in homeless court at a treatment program facility. The judge, however, simply praised him for his progress and did away with his warrants and fines.
"I felt like a tremendous weight had been lifted," MacKanin recalls. "It just gave me the confidence to deal with whatever I had to."
Homeless people often wind up with numerous citations for so-called "quality of life" offenses — illegal camping, for example, or urinating in public, advocates say. Left unresolved, the citations snowball into warrants and costly fines that a homeless person could never pay. One Los Angeles attorney says he has seen such fines reach as high as $60,000.
"All of a sudden, they've dug themselves such a deep hole that they don't see a way out and so they sort of give up," said Superior Court Judge Jerome Nadler, Santa Clara County's Outreach Court judge. "Being able to clear those is a godsend to them."
Such unresolved legal problems can keep a homeless person from getting a job, housing, a driver's license and, in some cases, public benefits. "It kind of ends up being a glass ceiling for the ones in recovery," said Superior Court Judge Skip Staley, a homeless court judge in Kern County.
Homeless courts vary. But participants typically are referred to such courts through a shelter or treatment provider. Often, they have made significant life changes, and are sometimes required to do so before appearing in homeless court. In return, the judge recognizes their treatment program accomplishments or community service, and rewards them with a pre-plea agreement or alternative sentencing for cases involving infractions and certain misdemeanors.
"These are people who live in structured environments, who have chosen to work very, very hard to rehabilitate their lives," said Kern County Deputy District Attorney Vikki Del Pellegrino, a 16-year prosecutor. "That, to me, is worth an enormous amount."
As Del Pellegrino sees it, homeless court simply broadens the court's ability to impose a just sentence. Many defendants, she says, have already sentenced themselves to a more stringent program than a judge would impose in a traditional court setting.
"By participating in homeless court, I am doing a lot more to at least try to protect the community," she said, "than if a fine was ordered and the person simply could never pay it."
Advocates stress that homeless court is not a cure for homelessness. It is, one attorney said, simply a "spoke in the wheel." Nearly 90,000 people are homeless in Los Angeles County alone. Many suffer from substance abuse problems or mental illness. And with soaring housing costs, a growing number are working parents who cannot afford a place to live.
The San Diego model
The nation's first homeless court convened in 1989. San Diego Deputy Public Defender Steve Binder had grown frustrated with the way the court system processed homeless defendants when the results of a survey gave him an idea. One in five homeless veterans surveyed at Stand Down (an annual event providing services to homeless veterans) said they needed legal help with warrants. That inspired Binder to help set up a makeshift court on a high school handball court at the next Stand Down.
A decade later, San Diego's homeless court, held in local shelters, opened up monthly to the general homeless population. And this summer, the American Bar Association adopted "principles" for homeless courts nationwide, with the ABA's Commission on Homelessness and Poverty touting San Diego's court as the model.
The process begins with referrals from shelters and treatment programs. A court clerk searches the defendants' records for active cases. Negotiations take place. And proposed agreements are set. Binder then briefs the participants on the process. No one will go to jail, they are told. Then, in court, the judge praises each participant for his or her accomplishments and, roughly 90 percent of the time, dismisses the case.
Often, homeless people hide out for years avoiding police, treatment and services for fear they will be arrested on a warrant, treatment providers say. "It's their biggest fear," said Andre Simpson, chief operating officer of Veterans Village of San Diego.
Resolving their legal problems is "critical to them moving forward" in every case, says Simpson, a former case manager. And, as he sees it, the homeless court process re-instills faith in the judicial system and bolsters self-confidence as well. "I think it actually helps foster the idea that they're doing the right thing," he said.
Tina Rasnow, coordinator of Ventura County's Self-Help Legal Access Center and Homeless Court, still remembers the phone call that led to Ventura County's homeless court. A social worker called her with a problem: Catholic Charities had managed to obtain a car, job and home for a homeless mother, but there was one obstacle. The woman owed $4,000 in traffic-related fines and fees to the court and could not get her driver's license (which she needed for the job and for transporting her children) unless she paid up. Could she do community service instead? the social worker asked.
Rasnow contacted the court and found it could not be done. There was no mechanism, she said, for converting such fines to community service. "The court was the only remaining impediment for this woman," Rasnow said. "The only thing blocking all of her access to all of those things were fines and fees to the court."
With different political realities, budgets and needs, communities have tweaked the homeless court model. Take Orange County, for example. With too few shelter beds to go around, the outreach court now opens its doors to those still living on the street.
"They come by and do a sort of meet and greet," said Superior Court Judge Wendy Lindley. "Our mission is to link them with services and get them off the street."
And that could mean many visits to Lindley's court. Pro bono attorneys and outreach workers from the Veterans Administration, SSI and housing and community services, as well as a health care worker who can assess a participant's mental state on the spot, also regularly attend court to provide assistance.
One troubled veteran showed up for six months, Lindley recalls, until his attitude finally shifted. The homeless court, held weekly at a shelter or mental health facility, linked him with veterans services and housing. Eventually, he got a job and, over a year's time, cleared up several warrants and thousands of dollars in fines. "We would reward him by dismissing them slowly," Lindley said.
In San Jose, defendants are invited to "court and lunch" at a shelter once a month on Saturday. They sign up at local shelters and treatment centers. Their records are checked. And on the day of court, they each have a chance to sit down at a table with the judge to discuss their cases.
In some instances, Judge Nadler resolves cases so the person can begin making changes, he says, and in others, he rewards the person for past successes. But because he believes in maintaining a "track record," he typically converts fines into community service rather than dismissing cases outright.
Economic benefits
Outside one recent court session, Margaret Fay, 52, wiped away tears. A recovering alcoholic, she had finally been approved for subsidized housing, was attending Bible classes and had recently updated her resume. Then, the judge agreed to dismiss several infractions and, on the prosecutor's motion, a petty theft charge. "I'm just so grateful," she said. "I'm taking steps to change my life. It's taken me a long time to realize that I'm a sick person, not a bad person."
Advocates say homeless courts make economic sense as well. "It makes sense because every one of these clients isn't a person who's out there picking up small cases and failing to appear on warrants," Judge Lindley said. "That's an expense for all of us."
Others point to jail costs. In San Diego, for example, a day in jail will cut $50 off of an unpaid fine, Binder says. But it also costs the system up to $90 to keep that person in jail and $400 or more if mental health services are required.
There is little data on the impact of homeless court, but some see the numbers as encouraging: A 2001 San Diego Association of Governments' report found that 80 percent of homeless court participants from October 1999 through November 2000 had no post-court criminal activity. And 2005 statistics for Orange County's homeless court "graduates" (2003 through 2005) showed that just 18 percent were later convicted of re-offending locally.
Still, there have been skeptics. In Kern County, Judge Staley remembers an initial visit to one shelter. "They all thought it was a sting," he recalls. So he urged residents to simply observe court until they felt safe enough to participate. Just eight showed up for the first session. But after one or two sessions, the number climbed to 70.
In San Diego, one women's shelter would not refer clients to homeless court for a year. And in New Mexico, Binder said, the homeless court staff encountered even greater hesitation.
"They opened up and said: 'We're here. We're ready,'" Binder recalls. "And it took over a year for someone to walk through the door."
There are judges who question whether courts should be in the "social work" business. But advocates say California Chief Justice Ronald George's promotion of homeless court and other so-called collaborative justice or "problem-solving" courts, such as drug court, has helped win acceptance and support.
Many who take part in homeless court volunteer their time, advocates say, but such work has its own rewards. "It's empowering for everybody who participates . . . even for the hardened criminal prosecutors," said Louis Rafti, the Public Counsel/Homeless Prevention Law Project attorney who coordinates Los Angeles' homeless court.
"The payoff people get," he said, "is to see people succeed."