Environmental law enters the era of global warming
Climate change offers business opportunities as a new law practice area
By Diane Curtis
Staff Writer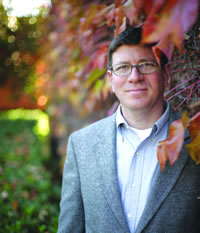 (Click to Enlarge)
The "third wave" of the environmental movement has arrived in response to global warming, says Sean Hecht, executive director of UCLA's Environmental Law Center, and lawyers, as in the past, are critical actors in whatever form that response takes.
The first wave came with enactment in the early '70s of the Clean Water, Clean Air and Endangered Species acts. The second wave began in 1980 with passage of the Superfund law, which imposed a tax on the chemical and petroleum industries and gave the federal government more authority in citing companies for releasing hazardous substances into the environment.
Now, says Hecht, who is chair of the State Bar's Environmental Law Section, comes the third wave. "Most policymakers and scientists believe if we don't do anything about climate change, it's going to have a significant impact," says Hecht, adding that attorneys are needed in every phase of the action.
For many California lawyers, that action began years ago with the first rumblings that the world was getting dangerously warmer. Conscientious environmental lawyers were already keeping up on environmental issues, including global warming, through the popular media, scientific journals and seminars, as well as the Internet.
"We do have a climate change practice involved in several different areas of climate change," says Peter Weiner, who heads the West Coast environmental practice of Paul, Hastings, Janofsky & Walker. "We're involved in this on a national and international scale, and we've been involved with it for some number of years." The areas of involvement include both the transactional and regulatory side of climate change, including carbon trading, carbon caps, carbon sequestration (storage of carbon underground or in the ocean) and promotion of wind and geothermal energy. "It's very important to keep ahead of the curve," says Weiner. "If you're an energy company, a venture capitalist looking at clean tech funds, if you're almost any business these days, you have to know something about climate change. Plus, it's important to a lot of philanthropists who are looking where to direct their investment." The firm also does corporate finance for energy companies.
Despite the growing general interest in global warming, the California focus became even more intense in September when Gov. Schwarzenegger signed a landmark bill, AB32, that calls for a reduction in California's greenhouse gas emissions to 1990 levels by 2020. The legislation is the model for greenhouse gas emission reduction bills not only in other states but around the world.
Fernando Villa, a shareholder and environmental attorney with Greenberg Traurig in Santa Monica, says his firm is ahead of the game because its environmental specialists had a voice in crafting the bill by offering expertise and opinions during public hearings on the legislation. "One of the wonderful things about getting involved in new legislation when it's passed is we become as expert as anybody," says Villa.
The legislation as well as the daily international interest in global warming is keeping California lawyers busy. Villa says that although he has a strong background in the environment in general and climate change in particular, through both interest and necessity, he is "hitting the books" even more. There's nothing pleasurable, he says, when "clients come in, ask a question and you don't know anything about it." His firm represents "clients across the spectrum," including investors, developers, manufacturers, individuals and trade organizations. He foresees a host of activities for his firm, from advising clients on how to meet new emissions standards to being ready for possible litigation and challenges to new rules and how they are enforced.
Practice groups in environmental law have been or are being set up in a number of firms, including Villa's. More lawyers are being hired, either as environmental specialists or to free the environmental specialists already at the firms to concentrate on the ramifications of the landmark legislation.
The Los Angeles firm of Dongell Lawrence Finney LLP was created in 2004 in direct response to the environmental movement, with climate change a major consideration. Partner Tal Finney, a former adviser to Gov. Gray Davis and long-time government policy expert, says his firm will be representing companies as AB32 enforcement issues emerge, but its partners also want to "actively engage" in promoting environmental health. Already, the firm has helped create companies aimed at exporting Iceland's geothermal expertise and Germany's solid waste conversion knowledge. "What we do is we try to create companies that can create sustainable and renewable energy," says Finney. "The real effort in the legal community to do its part is to lead the way."
That's not to say he won't be representing industry, including, say, the trucking industry, as regulations come down the pipeline. But the public should not think that the lawyers' goal is to get around the regulations or water them down because they're representing the industries that will be affected. "Our clients want to do the right thing," he says. Implementation of new environmental regulations, which cost industry money, boils down to "a balancing act." The environmental laws have no real meaning, Finney says, until they are applied to current industry realities. "Policy's real important to me. I want to see it implemented and sometimes you have to be in the private sector to implement it."
"If we were really as stringent as we should be in regard to diesel, there would be no trucking," Finney says. "You might as well put Santa Claus out of business." So the goal is to implement regulations over time and in a reasonable manner. He wants to help his clients follow the new rules and at the same time advocate for a practical implementation that allows them both to comply and stay in business. "It's an evolutionary process," he says, adding that the progression is inevitably toward more stringency, not less. "It's going to get stricter and stricter and stricter over time," he notes. "Remember the '70s? You couldn't even breathe in L.A."
Dongell Lawrence Finney is a full-service firm with an emphasis on environmental law. It started with 13 lawyers and has grown to about 25. Finney says that while having lawyers with a science background is a plus, it's not absolutely essential even though the field ultimately requires a rudimentary knowledge of some chemistry, physics and even geophysics. Law school environmental programs, Finney says, "have gotten really sophisticated" and graduates are joining firms with good skills. What firms are mostly looking for, he says, are "hungry young lawyers — very bright and very focused on working hard and having a passion for what they do."
Firms are taking it upon themselves to keep their environmental lawyers up to speed through seminars, conferences and other educational offerings. Finney also praises the State Bar's Environmental Law Section for being a valuable networking source with knowledgeable environmental lawyers that also offers constant educational activities. Finney and Villa are members of the section's executive committee. Firms themselves, he adds, provide their own classes and important on-the-job training.
Kenneth Alex, an adviser to the Environmental Law Section and a lawyer with the Attorney General's office, handles many of the agency's global warming cases which, to date, have included being a party to the case that was recently before the Supreme Court. It's an issue the AG's office has been looking at for some time, both as the legal representative for state agencies and as an enforcer of state statutes.
"From our perspective, it's fairly obvious that global warming will be one, if not the single most important, issue of the coming year," says Alex. "Almost every issue you can imagine," he says, naming as examples foreign policy and energy security, "has an environmental aspect, and global warming is a really good example of that. Environmental law and environmental issues are aspects of societal issues. I find it endlessly interesting."