$394 million 'justice gap' plagues legal services
By Nancy McCarthy
Staff Writer
The gap between the resources needed to meet the legal needs of California's low-income population and the resources that actually are available is so huge that it would take an infusion of nearly $400 million to close it, according to a just-released report by the California Commission on Access to Justice.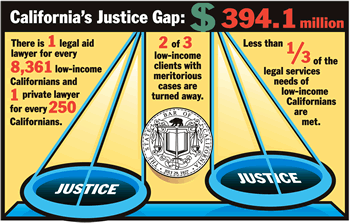 (Click to Enlarge)
Indeed, the commission found that despite some gains in terms of overall resources, two-thirds of the legal needs of the poverty community go unmet, and that those who get some services often receive only minimal help.
"A chasm still separates the need for representation of low-income litigants and the supply of services available," Chief Justice Ronald George told the Assembly Judiciary Committee last month.
"Many people are still shut out of the system," said Contra Costa Superior Court Judge Steven Austin, who headed an access commission task force that developed an "action plan" to achieve access to justice. He called the number of unrepresented litigants a crisis that he sees firsthand in his Martinez courtroom on a daily basis.
The action plan was prepared at the request of Dave Jones, D-Sacramento, who chairs the Assembly Judiciary Committee. Austin's panel spent eight months assessing how well poor Californians' legal needs are being met and developing 27 recommendations for improved access. The plan "lays down a roadmap for changing the current reality," he told the committee.
Although Austin declined to prioritize the recommendations, he singled out three that can be addressed soon: increasing the yield on IOLTA accounts, increasing the state's contribution to the Equal Access Fund, and pursuing a three-year pilot program that will address large scale civil legal services needs. Gov. Schwarzenegger included $5 million in his proposed budget for the program this year.
While unmet legal needs is an ongoing problem throughout the United States, it is more acute in California, which has the largest low-income population of any state. Since 1980, as the state's population grew by 40 percent, the number of residents living in poverty increased by 60 percent. Compounding the problem are such elements as California's diversity, the high cost of housing, income inequalities and the failure of wages to keep up with inflation.
"The result is that the majority of Californians do not have the resources to obtain legal representation for the myriad legal problems affecting them every year, such as divorce, child support, child custody, domestic violence, loss of housing and employment, education and discrimination," the report concludes.
The task force estimated what it calls the justice gap at $394.1 million — the difference between actual resources and what it would take to "truly meet the needs of California's low-income community."
Among the task force's findings:
In 2005, only 754 California lawyers worked as legal aid attorneys. That translates into one legal aid lawyer for every 8,361 low income Californians. On the other hand, there is one private attorney for every 250 Californians.
Two of three eligible low-income clients with meritorious cases are turned away.
IOLTA (Interest on Lawyer Trust Accounts) funding, which serves as the underpinning for many legal aid programs, declined by $14.6 million between 1993 and 2005, a 59 percent drop.
Although core funding for legal services (from IOLTA, the Legal Services Corp. and California's Equal Access Fund) increased by $7 million from 1993 to 2005, when adjusted for inflation, the 2005 money actually represented a decline in funding.
Self-help centers are helping to fill the gap in county courthouses, but the courts need $44 million to fully achieve self-help assistance. Current funding provides $8.7 million statewide.
Jones said his "objective will be to see how many recommendations we can enact this year," and he likely will start with legislation to increase the yield on IOLTA accounts. The accounts, which provide funds for legal services programs, are based on interest accrued on client funds that are either small in amount or are held for short periods by lawyers. In recent years, the accounts have generated less revenue as interest rates declined.
Jones said the current statutory language requires lawyers to keep their IOLTA funds in interest-bearing checking accounts. He wants to lift that restriction and update the kinds of accounts people can use, including sweep accounts that offer a much higher return.
In addition, lawyers may be required to place their IOLTA accounts in banks that offer a return that is comparable to the return on other accounts so an equivalent net yield is achieved. "We want to make sure the money is secure, liquid and that we get comparable interest rates," he said.
The total revenue generated by placing IOLTA money in sweep or similar accounts would be considerable. Fifteen states have changed their IOLTA rules to take advantage of banking changes and have seen between a 100 and 300 percent increase in IOLTA funds, according to a task force member.
Jones also hopes to move toward appropriating more money for the state's Equal Access Fund, which this year received a $5 million increase from filing fees. And he is working with Schwarzenegger and the chief justice to get underway a proposed pilot program to offer civil legal services to low-income people who cannot obtain counsel. The governor included $5 million in his proposed budget to fund the program, which would make appointed civil counsel available in three counties in what Jones called "certain fundamental cases" such as landlord-tenant or family law.
The program would be the first of its kind in the country.
Jones said he also wants to continue to expand the availability of self-help resources at courthouses, a need that would cost an estimated $44 million. Currently, such centers are funded in part with $8.7 million in the judicial branch budget, and Jones said he hopes to achieve "additional incremental progress this year." He also plans to reintroduce legislation to pay for civil court interpreters, a bill that passed last year but was vetoed by the governor.
The task force recommended increased loan repayment assistance for public interest lawyers, currently provided for by statute but unfunded. Jamienne Studley, president of Public Advocates in San Francisco, urged the judiciary committee to support loan repayment as a way to fill what she called "the growing gulf between legal services salaries and the expense of a legal education." Starting salaries at elite law firms hit the $160,000 mark this year.
"At my organization," Studley said, "not a single person was paid that, including those with 30 years of experience."
Jones, a former legal services attorney, said access to justice is an ongoing crisis and "is the most important issue facing the judiciary and the (judiciary) committee . . . It's important that we make sure the words chiseled on our courthouse — "and justice for all" — are not just words, but in fact are made real by making sure we have adequate legal services."