Dog maul lawyers out of bar
By Nancy McCarthy
Staff Writer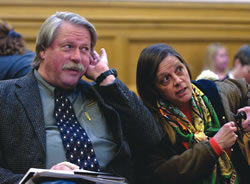 (Click to Enlarge)
Two key players in San Francisco's notorious fatal dog-mauling case have lost their licenses to practice. Marjorie Knoller resigned from the bar with charges pending in January and her husband, Robert Noel, was disbarred in February.
Both were convicted in 2002 of involuntary manslaughter and owning a mischievous animal causing death after their huge Presa Canarios attacked and mauled a resident of their San Francisco apartment building. The case captured headlines for months as its bizarre developments unfolded.
The pair completed most of their four-year prison sentences; Knoller, 51, now lives in Delray Beach, Fla., and Noel, 65, lists his address in Fairfield.
Knoller, who had just finished walking the dogs at the time of the incident, was found guilty of second-degree murder, but San Francisco Superior Court Judge James Warren reduced the jury verdict to involuntary manslaughter, saying Knoller could not have known the dogs were likely to kill someone. Warren's decision was overturned in 2005 by a state appeals court, which reinstated the murder conviction, citing evidence that Knoller knew the dogs were dangerous because they had a history of aggressive behavior toward other dogs or people.
Knoller appealed and her case was heard by the California Supreme Court last month. At issue was the principle of implied malice, a requirement for second-degree murder. The justices seemed to suggest that Warren may have set the bar for murder — knowing an act is likely to cause death — too high, but the appellate panel may have set it too low by using a standard that requires only an awareness that an act may cause serious bodily injury.
If Knoller's murder conviction ultimately is reinstated, she faces 5 years to life in prison. She is the only person ever to be convicted of second-degree murder in California for owning dogs involved in mauling someone to death.
The State Bar placed Knoller and Noel on interim suspension in 2002, following their convictions. Knoller's resignation from the bar came while disciplinary charges were still pending against her. Noel was disbarred because he violated the terms of the probation imposed when he was suspended. He did not participate in the disbarment proceedings, which were brought because he did not comply with rule 955 of the California Rules of Court, which requires a suspended attorney to notify clients, opposing counsel and other interested parties of the suspension.
Violating the rule is grounds for disbarment.
In making her recommendation, State Bar Court Judge Pat McElroy never mentioned the dog-mauling case, but wrote simply that Noel "has demonstrated an unwillingness to comply with the professional obligations and rules of court imposed on California attorneys."
Diane Whipple, a lacrosse coach at St. Mary's College who lived on the same floor as Knoller and Noel, was attacked Jan. 26, 2001, as she returned home carrying grocery bags. Knoller had two Presa Canarios on a leash, 140-pound Bane and 100-pound Hera. Neither dog was muzzled, although the prosecutor said the dogs' veterinarian had warned they should be muzzled. Testimony also established that they had lunged at people or other animals 30 times.
Knoller and Noel were keeping the huge dogs for Paul "Cornfed" Schneider, a Pelican Bay inmate and member of the Aryan Brotherhood prison gang, who operated a guard dog breeding business through people outside the prison. Knoller and Noel adopted Schneider, then 39, as their son. They denied any involvement with the dog breeding operation or any affiliation with the white supremacist gang.
In addition to the brutal nature of the crime, the case generated outrage when Knoller and Noel showed no remorse and Noel partly blamed the victim for the attack. The intense public scrutiny forced a change of venue, and the case was tried in Los Angeles.
Warren tossed Knoller's murder conviction because he said he believed she did not know her actions had a "high probability of death to another human being." Such knowledge is key to proving implied malice, he said.
When former Attorney General Bill Lockyer appealed, a 1st District Court of Appeal panel reinstated the murder conviction and held that prosecutors had to prove only that Knoller was endangering the lives of others simply by taking the dogs out of her apartment. The panel cited as evidence of her disregard for human life the facts that Knoller did not call 911 for help, never inquired about Whipple's condition and returned to the site of the attack to retrieve her keys rather than help the victim.
In arguments before the Supreme Court, Deputy Attorney General Amy Haddix sought to have the murder conviction reinstated, telling the court, "The defendants were fully on notice they had wild, uncontrollable dogs who were virtually certain to attack."
Knoller's attorney argued that she had to know the animals would kill someone in order for a murder conviction to stand.
The court is expected to rule within 90 days.