Prosecutors want tighter rules for diversion program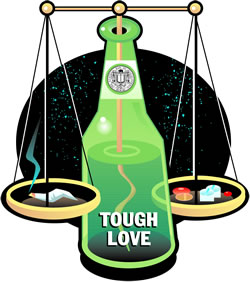 (Click to Enlarge)
By Nancy McCarthy
Staff Writer
The southern California lawyer was a compulsive gambler who misappropriated about $90,000 from his clients. When the State Bar charged him with misconduct – after he repaid his clients – he was admitted to the bar's alternative discipline program (ADP), where he underwent treatment for his gambling compulsion. Discipline was postponed while he completed the program – successfully – and he ultimately received a private reproval with public disclosure.
He never lost his license and remained an active lawyer.
Another lawyer waited until the day his trial was to start to acknowledge a problem that would make him eligible for the ADP.
Others charged with misconduct decided to apply for the program only after settlement negotiations with bar prosecutors broke down.
None of those scenarios will be repeated if a series of proposals by the bar's chief prosecutor, designed to tighten the rules governing the diversion program, are adopted.
That effort, however, appeared to face an uphill battle after a group of defense lawyers asked a board of governors committee last month to table the recommendations; the committee opted not to send the proposals out for public comment.
"It seems to me the primary purpose of the alternative discipline program is public protection, along with the rehabilitation," said Chief Trial Counsel Scott Drexel. "I think our experience over the last five years indicates to me there are some aspects to the public protection part that are not working as well as they could be and we need to strengthen those aspects."
Not only do defense attorneys object to many of the proposals, even the State Bar Court, the body that hands down the punishments to errant lawyers, objects to recommendations it views as limiting its exercise of judicial discretion. The court proposed a different set of reforms and it, too, went nowhere.
Established five years ago, the Alternative Discipline Program allows attorneys who have drug, alcohol or mental health problems and who face discipline to be diverted into a lawyer assistance program and, if completed successfully, receive a reduced disciplinary penalty. Currently, 52 percent of the cases open at any given time in the bar court's hearing department are in some phase of the ADP. Although about 15 percent of attorneys newly charged with misconduct seek placement in the program, the pendency of those cases is high because it can take up to three years for an attorney to successfully complete it.
At issue are what bar prosecutors see as shortcomings in the ADP and a conflict between its goals, particularly public protection, and the interests of the lawyer assistance program, which primarily addresses the treatment of substance abuse and mental health problems.
Although the program has "significant value," Drexel said, he also believes "it has some significant problems that need to be corrected." State Bar Court administrator George Scott agreed that the time is right for review, but expressed concern that some of Drexel's proposals would restrict judicial discretion, delay proceedings, penalize lawyers trying to enroll in the program or "unduly burden the court's limited resources."
"Based on the need to maintain a fair and efficient process," Scott added, "we would oppose several of the proposed modifications."
Revised proposals likely will come back to the board in July.
Joann Robbins, a former State Bar Court judge who now represents attorneys who face bar discipline, said the reforms represented "the most important proposal in 25 years" in the discipline system and required more thought. She asked that a special committee be created to revise the rules and that defense counsel be part of it.
Both Drexel and Scott agreed to meet with the defense lawyers.
Drexel offered a lengthy list of recommendations, with particular emphasis on the criteria for eligibility that he believes are too broad and the ability of prosecutors to seek review of punishment they see as too lenient.
Currently, all attorneys against whom disciplinary proceedings or investigations are pending, except those facing summary disbarment, are eligible for the ADP. Drexel noted, however, that the Supreme Court has repeatedly emphasized the importance of public protection as a primary focus of discipline, a need that trumps an attorney's mental problems.
He proposed limiting participation in the ADP to lawyers whose misconduct does not warrant disbarment, who have a reasonable likelihood of succeeding in the ADP and who do not wish to participate "as a means of delaying the ultimate disposition of the proceeding or avoiding disbarment."
Of the 22 states that offer a diversion court for lawyers with substance abuse problems, all but California limit eligibility to people facing minor misconduct that would not result in disbarment or suspension, doesn't involve the theft of money or cause significant client harm.
In California, by contrast, Drexel said multiple lawyers who have taken more than $100,000 from clients are enrolled in or are seeking admission to the ADP. "There are some people who have committed such serious misconduct that I believe disbarment is warranted and they shouldn't get in," he said. A requirement limiting program eligibility would reduce by half the number of lawyers in the ADP, Drexel estimated, and "most of the problems I have with the program would be resolved."
He was careful to point out that any attorney with drug, alcohol or mental problems may seek help from the bar's lawyer assistance program. A change in the ADP's eligibility requirements would not affect the ability of a lawyer who commits serious misconduct to get help from the LAP.
Once a bar court judge recommends a particular level of discipline, prosecutors have no ability to appeal the recommendation. Drexel calls the discipline imposed on some lawyers who complete the program successfully "shockingly low and we have no right to seek review of those." In standard disciplinary proceedings, all final decisions by hearing judges can be reviewed, and Drexel wants the same standard applied to ADP cases.
He also recommended that every attorney who enrolls in the ADP and whose sentence includes an actual suspension be considered for placement on inactive enrollment. The court may do so currently, but Drexel said there are no real criteria by which it decides. His proposal would require the court to decide in each case whether public protection mandates inactive enrollment.
Inactive status also allows attorneys to focus on treatment and rehabilitation for their problems and would discourage lawyers from seeking placement in the alternative discipline program as a means of delaying the imposition of discipline, Drexel said. The State Bar Court objects to the proposal and instead favors a rule to clarify the process of enrolling a lawyer inactive.
Drexel also wants to toughen a requirement that a nexus be established between a lawyer's misconduct and his or her chemical abuse or mental problems. Lawyers who wish to be diverted into the program now undergo a 90-minute interview with an LAP evaluator and then prepare a declaration connecting the misconduct with the other problems. Both steps "are almost entirely based upon the respondent's own self-serving statements," Drexel said and suggested a requirement that the attorney's condition be "directly responsible" for the misconduct.
The State Bar Court objects to the stronger requirement, suggesting instead a "clear and convincing" standard.
The State Bar Court issued a separate list of recommendations for changing the alternative discipline program and objected to prosecutors' proposals that it said would restrict judicial discretion. The court said some recommendations would make it more difficult for lawyers in the ADP to establish mitigation than those going through the standard disciplinary process. In addition, stricter eligibility requirements "would not only unfairly penalize these attorneys but could hinder the important goal of rehabilitating attorneys with substance abuse or mental health problems," the court wrote.
Defense lawyers took particular exception to Drexel's statement that they "don't have the same interest in consistency and public protection" as prosecutors. "I care that the process is fair and the outcome is correct," said David Carr, a San Diego defense lawyer who was a State Bar prosecutor for 12 years.
"We don't get people off," added Robbins, who was a bar court judge. "We get them on a plan. They have to admit they committed misconduct. It's a win-win situation when someone gets back on track."