The best in pro bono are honored
A large law firm stopped a city from destroying the personal belongings of the homeless. A solo practitioner prevented foreclosure in a two-year predatory lending case. A government lawyer helped a woman get out of an abusive marriage.
These are just a few of the attorneys and law firms honored with the 2007 State Bar President's Pro Bono Service Award. Created in 1983, the award is presented each year to California attorneys and law firms credited with making significant contributions in pro bono legal services to those with little income, as well as to organizations that serve the poor.
"In the case of the California bar, there is a long and honorable record of its members volunteering to help those who cannot help themselves and who cannot afford to engage counsel to help them with their problems," said State Bar President Sheldon Sloan. "Those being honored this year have achieved distinction as having excelled at this endeavor. Those being honored should rightfully be proud of their accomplishments and recognition."
The 2007 award recipients are:
Distinguished Pro Bono Service
It's not too often a legal team gets a vote of confidence like this: "They have treated me, a homeless woman, with respect and they have given me hope. Paul (Alexander) has been a voice for the homeless and poor and has let others know that we are people too! And that we should be treated with respect and dignity."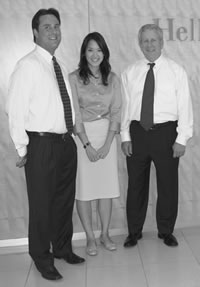 (Click to Enlarge)
Alexander, 60, led a litigation team from HELLER EHRMAN LLP in Menlo Park with colleague Melyssa Minamoto, 27, and paralegal Eric Trostad that resulted in a judge's preliminary injunction to refrain from destroying personal belongings when homeless settlements are dismantled. "This important victory has far-reaching effect, and would not have been possible without the extraordinary efforts of the Heller team," wrote Oren Sellstrom of the Lawyers' Committee for Civil Rights of the San Francisco Bay Area in a nominating letter.
Sellstrom said that despite Heller's long record of pro bono service, "we were unprepared for the level of commitment that this particular team demonstrated." The lawyers made regular trips from the Bay Area to Fresno to consult with both the homeless and their community allies. They worked around the clock.
Alexander's closing statement, said Sellstrom, "spoke eloquently of the harms suffered by the plaintiffs, of the dignity and respect that homeless people deserve, and of how the law must protect all of us equally.
"Hundreds of people in Fresno are directly impacted by the lawsuit. The lawsuit is ongoing and seeks permanent relief that, if granted, will benefit many more homeless people in future years."
Large Law Firm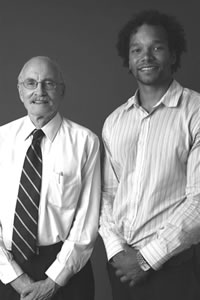 (Click to Enlarge)
With California offices in Los Angeles, Orange County, Palo Alto and San Francisco, GIBSON, DUNN & CRUTCHER LLP was one of the first to give full credit for pro bono work. Since the firm created a Pro Bono Committee in 2005, Gibson Dunn's pro bono hours have increased by 81 percent and last year, its lawyers volunteered more than 37,000 hours. Nationally, the firm asks lawyers to donate 60 hours per attorney to pro bono work, but the average in many offices is more than double that.
Firm lawyers have provided free legal services for many individual clients, as well as such organizations as the Bar Association of San Francisco's Volunteer Legal Services Program, Legal Aid Society of San Mateo County, Bet Tzedek Legal Services, Public Counsel, the Alliance for Children's Rights, the Children's Museum of Los Angeles, Chapman University School of Law, United Way, the Constitutional Rights Foundation and the University of California at Irvine.
Pro bono matters ranged from facilitating the adoption of hundreds of foster children to housing and home ownership, consumer law, immigration work and assistance with transactional matters. Some major actions included filing a suit on behalf of tenants of a Santa Ana apartment building that had been cited for more than 260 uncorrected housing code violations. The firm has spent more than 3,000 hours on the case, which was tentatively settled for more than $1 million.
Gibson Dunn also filed a class action suit on behalf of foster children suffering developmental disabilities. It provided settlement conference representation to pro per litigants facing eviction in San Francisco, represented community nonprofit groups serving low-income people in a full range of transactional matters and advised a San Francisco nonprofit that promotes economic self-sufficiency.
"Their pro bono involvement continues to grow and is a shining example of lawyers giving back to the California communities in which they practice," wrote Stacey Hawver, executive director of the Legal Aid Society of San Mateo County in a nominating letter.
Medium Law Firm
The Oakland law firm of DONAHUE, GALLAGHER, WOODS LLP was the first firm in Alameda County to sign up for the Alameda County Bar Association Volunteer Legal Services Corporation. As it has done for more than 20 years, DGW continues to offer pro bono assistance primarily in the areas of debt collection defense, immigration and assistance to nonprofit corporations.
DGW attorneys, who are given full billable hour credit for pro bono activities, each month coordinate the Debt Collection Defense Clinic and an immigration clinic, where 85 percent of the clients do not speak English. They educate clients about the legal system as well as help with scheduling and logistics related to the clinics, and they mentor other lawyers and legal assistants who want to help at the clinics or do other pro bono work. Other clinic work offers expertise on worker rights.
Donating hundreds of pro bono hours last year, the firm's cases included helping a disabled lawful immigrant obtain government documents to qualify him for independent living, helping a group of black grandmothers create a black culture and history nonprofit organization and working with the state and a cooperative to establish a child care center.
Small Law Firm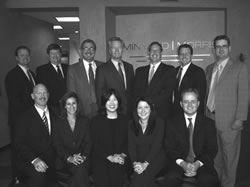 (Click to Enlarge)
The law firm of MINYARD MORRIS LLP in Newport Beach is committed to pro bono work. Almost all of the attorneys in the 15-lawyer office have provided family law expertise to clients of the Public Law Center (PLC) in Santa Ana, where victims of domestic violence, non-English-speaking mothers and other vulnerable members of society turn for help regarding dissolution, child custody and visitation, child and spousal support, division of community property, enforcement of orders and setting aside unfair judgments. They also conducted family law training sessions and provided mentorship and support to other pro bono attorneys.
"For a combination of reasons, Minyard Morris' impact is unique and multifold," wrote Kenneth Babcock, executive director of the Public Law Center in a nominating letter. "Placing family law cases has always been a difficult undertaking for legal services providers, and it is no different at PLC. PLC is fortunate to find a single volunteer attorney willing to commit to taking on multiple family law matters. To find an entire law firm who is willing to make a long-term substantial commitment to family law pro bono work is extraordinary."
Government
Ever since she passed the bar exam in 1998, DARANN DEARING has included pro bono work at Santa Clara Valley Legal Aid in her weekly schedule. A supervisor of Children and Family Services Social Workers at the Ventura County Human Services Agency, Dearing, 47, drives 45 minutes every Thursday evening to the farm community of Fillmore, where she offers her expertise in domestic violence, landlord-tenant and consumer law at a legal aid clinic.
"The poverty in this rural, poor immigrant community is profound, and the impact of poverty on the men, women and children is seen on their faces when they come into legal aid," wrote Santa Clara Valley Legal Aid officials Laura Bartels and Deborah Vierra. "Because of Ms. Dearing's commitment to legal aid, hundreds of people have not only a greater understanding of access to justice, but actually have had their justice realized."
Recently Admitted
CARLO PEDRIOLI walked into the California Rural Legal Assistance offices in Modesto last year and offered his services. Since then, he has spent hundreds of hours helping low-income residents, including senior citizens who may have been evicted or lost their homes without his help.
Pedrioli, 30, has assisted the Senior Law Project attorney regarding protective orders on behalf of seniors and disabled adults. He has interviewed and advised scores of senior citizen clients. In one case, the simple act of helping a senior citizen complete and submit forms allowed her to retain ownership of her mobile home. In another case, he prevented a farm worker from being evicted from the subsidized housing he and his family had occupied for 15 years.
Pedrioli also conducted research and wrote papers on complicated matters dealing with seniors and court matters, as well as offered counsel and advice, direct representation, participated in impact litigation, helped clients prepare for in pro per presentation of their own cases and took on cases in emergency situations.
"In a very real sense, Carlo Pedrioli has expanded, and continues to expand, access for justice for low-income persons," said CRLA Executive Director Jose Padilla in a nominating letter.
Solo Practitioner
What one attorney believed would be a fairly simple matter, easily resolved with a few phone calls and letters, turned into an almost three-year predatory lending case. Working with the Ventura County Bar Association's Volunteer Lawyer Services Program, KATE NEISWENDER, a solo practitioner in Ventura, has been involved in extensive discovery, several summary judgment motions and multiple bankruptcy filings by several of the defendants.
In the end, Neiswender's unflagging persistence paid off. She prevailed for her clients and they avoided foreclosure on their home. As a result of the predatory lending case, district attorneys in three counties were contacted by victims of similar schemes.
Neiswender, 49, who specializes in land use, business litigation and environmental law, also handled a number of animal rights and environmental matters. She successfully negotiated with two counties to make animal shelter improvements and she gave advice and counsel to such nonprofits as the Sierra Club.