Online registration of lawyers is likely to be required next year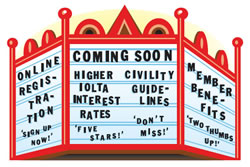 (Click to Enlarge)
If the Supreme Court approves a State Bar proposal, all California attorneys will be required to register online with the bar next year, providing information including their address and phone number and whether they maintain one or more client trust accounts. The bar has asked the Supreme Court to approve a new rule to govern the registration requirement by Feb. 1.
The registration requirement is a companion to SB 56, which took effect Jan. 1 and requires the bar to adopt procedures to facilitate the reporting of mandatory and voluntary information online.
The proposed Rule of Court 9.8 includes two new requirements. Every lawyer must provide an e-mail address and notify the bar of a change of an e-mail address within 30 days. The e-mail address will not be available to the public unless the attorney indicates that disclosure is permitted. Second, lawyers must report whether they have established one or more trust fund accounts. Changes to the trust fund information must be reported by Feb. 1 of each year.
Attorneys who fail to register will be fined an amount that has not been determined. The fine will be added to the annual dues statement. Initially, the bar will focus on educating members on how to comply with the new rule.
Registration information required by statute or rule includes: name, address, phone number, date of admission, dates of admission in other jurisdictions, college and law school. Name, address and phone number can be changed online.
"This really is not much of a change for lawyers, except that it should make it easier for them to meet existing obligations and get more information about themselves to the public," said bar President Jeff Bleich. "The rule does not change what lawyers are already required to report to the bar."
Attorneys also will be able to volunteer demographic information, which likely will include gender and ethnicity. Under the statute, that data can be used only for general purposes and cannot be used to identify individual members or their bar record.
Later in the year, the bar also expects to provide a more robust search function at its Web site that will permit members to post additional biographical information, similar to biographies posted on law firm sites, that could include practice information, a resume and a link to their law firm. "When the public comes to the State Bar Web site, they should be able to get the information that they need to make smart choices, and to hire the best attorney for their needs. That is what they want, and it is what lawyers want too," said Bleich.
Some 110,000 California lawyers already have registered electronically through the My State Bar Profile function on the bar's Web site. They can pay bar dues, change their address and report MCLE compliance online.
Bleich reassured lawyers that the State Bar guards their privacy and protects any data that is not public and is provided only for the bar's regulatory functions. He noted that unique identifying information provided at My State Bar Profile has enhanced the security of membership data.
Part of the impetus behind the new rule came from a 2005 survey that indicated 93 percent of California lawyers have Internet access and 75 percent said they prefer to receive information and communications from the bar via e-mail. Bar executives believe online registration will permit members to maintain and update selected communications with the bar at a centralized location in a cost-effective manner.
Attorneys who do not have access to a computer will be able to apply for an exemption to the new rule. Newly admitted lawyers must register online within 90 days of their admission.
Several other states, including Texas, Vermont and Connecticut, have adopted various forms of online requirements for their attorneys.