When You Become 18 updated and translated
By Kristina Horton Flaherty
Staff Writer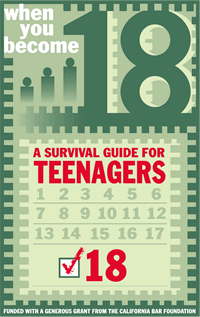 (Click to Enlarge)
Most young people are still in high school when they turn 18. Many still live with their parents. And on this landmark birthday, many do not realize how their rights and responsibilities have just changed — dramatically — in the eyes of the law.
A special State Bar guide, however, can help pave the way to young adulthood.
When You Become 18: A Survival Guide for Teenagers, inserted in this month's California Bar Journal, speaks directly to teenagers, offering a wide range of information on topics and laws that impact their lives. And the newly revised guide — a resource for parents and teachers as well — is now available, free of charge, to the public.
"Legal problems can be hard for any of us to navigate, but they can be especially challenging for young adults," said State Bar President Jeff Bleich.
"This guide helps take some of the mystery out of the legal system for young people and offers insights on everything from renting an apartment or maintaining insurance to dealing with domestic abuse or identity fraud. If you're about to move out of your parents' house, don't leave home without it."
Last printed in 2005, the comprehensive guide answers questions touching on recent changes in the law as well as young adults' rights and responsibilities: Is it legal to talk on a hand-held cell phone while driving? Can an 18-year-old legally smoke in a car — whether it is moving or parked — if there are younger passengers on board? Can a teen's drivers license be suspended if she is caught drinking beer at a party? And if an 18-year-old commits a crime, will he be treated differently in the justice system than a younger teen?
The popular guide is part of an ongoing three-part series that is published by the State Bar and funded, in part, by the California Bar Foundation. The other two guides are Kids & the Law: An A-to-Z Guide for Parents, which was last published in 2007, and Seniors & the Law: A Guide for Maturing Californians, which will be updated in 2009. Nearly 7.5 million guides in a variety of languages have been distributed since the series' debut in 2001.
"Our partnership with the State Bar to produce When You Become 18 and our other consumer publications represents the Foundation's best works," said Scott Wylie, president of the California Bar Foundation. "These works touch the lives of millions each year."
In celebration of this year's Law Day on May 1, When You Become 18 — partially funded with a $65,000 California Bar Foundation grant — was released to the public at the California State Parent-Teacher Association's annual convention in Long Beach. In addition, California attorneys planned to visit roughly a dozen middle schools and high schools across the state to distribute the guide and talk to students about the law and their rights and responsibilities.
"At our base, we are a service profession," said Wylie, an attorney. "Publications like When You Become 18 provide legal information to millions who might otherwise never have the opportunity to speak with an attorney."
In recent years, teachers have found innovative ways of using the guide in their curriculum. In one high school, groups of students created board games based on the guide's contents. In others, teachers have used the guide in career classes to ease the students' transition into the "real world" and as a tool for sparking discussion about the law.
Some of the topics covered in the guide include: the "age of majority," rental agreements, alcohol and drugs, online socializing, contracts, working and taxes, driving laws, voting, registering for military service, serving on a jury, consumer protection laws, lawsuits and crimes and consequences.
Patricia Reed, who teaches a Lancaster high school course in criminal law, has found that the guide promotes classroom discussion and "empowers" students. "Since most of the students are seniors, they are often excited about turning 18 and see this as the birthday 'they become an adult,'" she said. "However, often they do not know what that exactly means."
The guide gives them a "greater understanding of laws" and what changes at age 18, she says, and continues to be a great reference tool for questions that might come up later.
Ordering information — Orders for When You Become 18 should be sent to 18@calbar.ca.gov. The new publication is available in English and Spanish and all copies are free. Please specify the number of guides (there are no restrictions on amounts) and language versions desired and include a complete mailing address (P.O. boxes are not acceptable). While shipping charges also are free, contributions are always acceptable, especially for larger orders. If you do not have access to the Internet, please call toll-free 1-888-875-Laws for a regular U.S. Postal Service mailing address to send your request.