It's a new green world at California law firms
By Diane Curtis
Staff Writer
(Click to Enlarge)
The cornstarch spoons may have melted in the soup, but that didn't discourage Wendel Rosen Black & Dean LLP from pursuing a firmwide commitment to conservation and sustainability. The perseverance paid off: In 2003, Wendel Rosen became the first law firm to be certified by the Bay Area Green Business Program before, as Executive Director Gina Maciula puts it, "it got cool."
ENERGY STAR appliances and electronics are the norm at the firm's Oakland and Modesto offices. Walls are colored with non-toxic paints. Furniture wood is from sustainable forests. Much of the ink is composed of soy. Water consumption is down, as is paper use. The paper that is used is recyclable as well as chlorine-free. Computers automatically turn off when not in use. Light switches have motion sensors. The firm no longer buys cartloads of water bottled in plastic containers. Carpet doesn't off-gas.
"They're really terrific," says Ceil Scandone, regional coordinator for the Bay Area Green Business Program. "They're very, very environmentally conscious."
Scandone is happy to report that growing numbers of law firms and other businesses in the Bay Area also are getting the green message. "We've seen about a 30 percent increase (to 1,200) in the number of businesses that go through the program," which started in 1996 in Alameda, says Sandone. Now all nine Bay Area counties — Alameda, Contra Costa, Marin, Napa, San Francisco, San Mateo, Santa Clara, Solano and Sonoma — offer it and each county has a coordinator to advise and offer help to interested businesses. Firms that are certified are listed on the program's Web site.
Nixon Peabody also has been a leader in going green, becoming the first law firm in the nation to receive LEED (Leadership in Energy and Environmental Design) certification in the category of Commercial Interiors for construction at its San Francisco office. Two years ago, when the firm was making plans to move to a bigger space, lawyers there pushed to use the move as an opportunity to start from scratch using environmentally friendly products and practices.
Like Wendel Rosen, carpet at Nixon Peabody, which leases space, is recycled, paint is non-toxic, furniture is formaldehyde-free, lights are fluorescent, faucets have restricted flow and toilets are dual flush. In addition, old furniture was reused or recycled rather than added to the landfill. The use of natural lights, with glass walls and glass doors, is prevalent through the office spaces. Walnut — from trees that outlived their usefulness in an orchard — make up the floors.
Countertops in the office's coffee areas are made of recycled glass. "It turns out green can be extremely elegant," says office administrator Tim Blevins. "We had this vision of 1970s hippie style" when green building was first suggested, he says, but it turned out quite different. Plus, Blevins adds, there was "no financial disincentive." The extra cost in going green was about 1 to 1 1/2 percent more than it would have by not going green. Wendel Rosen's Maciula says her firm also found costs reasonable, and she expects the savings to more than pay for any extras over time. But her first reaction was not so sanguine. She remembers thinking, "Oh no. This is going to cost a ton of money."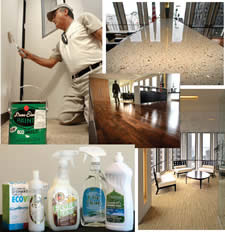 (Click to Enlarge)
There has been trial and error attached to going green, especially for the pioneers. Besides the melting utensils, Wendel Rosen lawyers and staff found that the first generations of recycled paper jammed the printers. Cost was a bigger factor in the early days, too, but Wendel Rosen was determined to lead the green charge, and while some costs went up, savings elsewhere balanced the rise. Like a number of firms that have gone green, Wendel Rosen took a look at its own green practices when it started doing legal work in sustainability. Richard Lyons was one of the founders of the green practice at Wendel Rosen, doing work with wind turbines and solar energy. One of his partners was doing work with Clif Bar, which strongly espoused green policies.
"Our clients in the green businesses like it, and, frankly, most other clients like it," says Lyons. The firm's lawyers and staff also are enthusiastic, he says. "People like to work for a firm which is trying to live these values because a lot of our staff feel this way personally." The landlord also has taken a hint from its tenant by starting to compost and doing more intensive recycling.
To receive certification from the Bay Area Green Business Program, businesses must be in compliance with all environmental regulations, such as those dealing with wastewater, storm water, hazardous materials and waste and air quality. In addition, they must take other measures to preserve resources and prevent pollution, such as buying only recycled paper and copying double-sided, cleaning with less toxic products, using efficient lighting systems to save energy and conserving water with low-flow toilets and faucet aerators.
Under Attorney General Jerry Brown, the California Department of Justice kicked off an aggressive statewide green program for its employees in January that coincides with the department's litigation efforts to reduce global warming and greenhouse gas emissions. "Putting its words into action," as Linda Brughelli, chair of the DOJ's Green Office program, puts it, the department has converted to use of recycled paper, stepped up recycling efforts and sponsored electronic waste recycling events for employees.
A Web site provides information for going green both at the office and at home and promotes use of recycled supplies and equipment as well as encourages contact with community environmental agencies and participation in community environmental projects. The office is considering purchase of power management software to reduce the consumption of energy in its IT operation, and its data center has consolidated about 30 percent of its servers under a plan to reduce energy use.
State Bar of California President Jeff Bleich led an effort to create a State Bar Task Force on Sustain-able Practice that will present recommendations on voluntary standards for environmentally sustainable law practice to the bar's board of governors in July. The recommendations, says Bleich, will include business practices as well as "some carrots and some sticks" to promote green actions by law firms.
"The legal profession always has been a leader," Bleich says. "We have every kind of business and civic leader coming to our offices, and that can send a message." He says the goal also is to have the bar look at its own practices, including the possibility of creating a permanent bar card rather than sending out about 150,000 new ones each year. The task force also will develop MCLE-eligible sustainability training for bar members.
The ABA also is encouraging green practices with its ABA-EPA Law Office Climate Challenge. About 70 firms have gained recognition since the program started last March, and Daniel Eisenberg, a Washington lawyer with Beveridge and Diamond who heads the program for the ABA, says about seven or eight firms are added every two weeks. "I'd like to see hundreds of firms sign up," adds Eisenberg. "I think it's within reach."
Being a part of the Challenge requires that a law office adopt "best practices for office paper management" or meet minimum requirements for participation in at least one of the EPA programs, such as WasteWise, Green Power Partner-ship or ENERGY STAR. Law firms that meet those requirements are recognized as a Law Office Climate Challenge Partner. Those that achieve a higher level of participation qualify as a Law Office Climate Challenge Leader. "This is not meant to be a sign up and you're done. This is supposed to be a starting point for law firms," says Eisenberg.
At firms making the effort to save the planet's resources and make for the healthiest environment, lawyers are echoing a refrain from Wendel Rosen's Lyons: "We can't just talk the talk. We've got to walk the walk."