Embarrassed lawyers fall victim to Internet scams
By Diane Curtis
Staff Writer
Internet scammers have found a new and sometimes vulnerable target: American lawyers. And some take the bait. "I didn't have my radar high enough to see what was going on," says one chagrined Long Beach lawyer who entered into an agreement with a bogus client and went so far as to send $193,000 from his client trust account to a Hong Kong bank because he believed a cashier's check he had received from a well-known financial institution was good.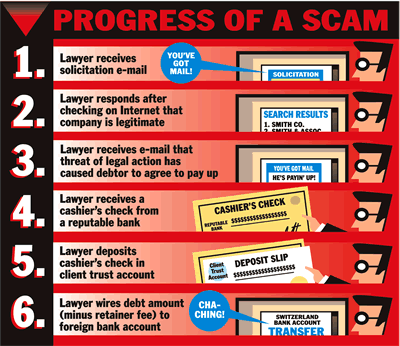 (Click to Enlarge)
Fortunately for the attorney, who asked not to be identified, his bank, City National in Los Angeles, acted quickly enough — but just. After learning that the cashier's check was fake, the bankers stayed late at work so they could contact the Hong Kong bank when it opened in the morning and they were able to stop the money from being deposited into the scammer's account.
A San Francisco attorney, who also asked not to be identified, missed by a hair being bilked out of a similar amount of money because his bank, too, learned that the cashier's check from the so-called debtor wasn't good. Officials at Wells Fargo Bank in San Francisco and City National Bank in Los Angeles say they know of at least six lawyers who have been drawn in by the scam, and they worry that the defrauders will only hit more people. Scott Wilson, FBI special agent in Cleveland, wrote in a November 2007 news release that, "to date, the FBI has identified numerous victims throughout the United States and losses total in the millions of dollars."
Protect yourself
Scott Wilson, FBI special agent in Cleveland, says scams change so quickly that it's very difficult to keep up with them. Still, law firms that have been victimized or contacted as part of what looks like a fraud scheme should report the incidents. If a law firm has lost money in a fraud scheme, contact the local FBI office, says Wilson. If firms or lawyers have not lost money but believe they have been targeted by scammers, they should make a report to the Internet Crime Complaint Center at www.ic3.gov.
"It seems like there's always the weekly scam that comes up," says Wilson. "Recently, it's been the rebate check scam. We see these scams all the time — a variation of the Nigerian fraud. It does get frustrating. A lot of times by the time we get a number of victims, (the defrauders) have changed the way they do their scams." It's also frustrating, Wilson adds, because the majority of the culprits are overseas. "We have to work through our foreign partners in a lot of these cases. By the time we communicate and try to formulate a strategy, (the scammers) have changed or moved."
According to the FBI's 2007 Internet Crime Report, almost $240 million was lost last year — up from $200 million the year before — as a result of Internet fraud. Of 206,884 complaints received by the Internet Crime Complaint Center, more than 90,000 were referred to law enforcement around the country.
"The Internet presents a wealth of opportunity for would-be criminals to prey on unsuspecting victims, and this report shows how extensive these types of crime have become," said FBI Cyber Division Assistant Director James E. Finch. "What this report does not show is how often this type of activity goes unreported. Filing a complaint through IC3 is the best way to alert law enforcement authorities of Internet crime."
"A lot of these schemes are very complex and seem legitimate," says Wilson. "In this case, they were targeting these law firms that were in the collection business in the first place. They're used to having clients where they're collecting here in the United States for foreign companies."
Neil Martin, senior vice president and counsel of City National Bank in Los Angeles, also says lawyers are not usually targets. "Ordinarily, you wouldn't see this kind of activity directed against lawyers," he says. "Lawyers are perceived to be more cautious."
The Internet con starts with a solicitation, mostly through e-mail but also through fax, letter or phone call. This is the e-mail received by the Long Beach lawyer:
"We the management of AsiaLink Industrial, Hong Kong require your legal representation for our North American Customers.
"We are of the opinion that the ability to consolidate payments from North America will eradicate delays due to inter-continental monetary transaction between Asia and North America.
"We understand that a proper Attorney Client Retainer will provide the necessary authorization and we are most inclined to commence talks as soon as possible.
"Your consideration of our request is highly anticipated and we look forward to your prompt response."
The lawyer checks out the company on the Internet and sees that it is a legitimate business. He sends back an e-mail saying he's interested in the work and will need a retainer agreement. The foreign company sends an e-mail agreeing to a retainer and asks that the paperwork be drawn up and sent.
In the same e-mail, the company official says that just the knowledge that the company hired a U.S. lawyer has prompted the debtor to agree to repayment. In a matter of days — and before any retainer has been paid — the lawyer receives what looks like a bona fide cashier's check from a well-known U.S. bank. He deposits the check in his client trust account.
When he believes the cashier's check has cleared, he sends, via wire transfer, the debt amount minus his retainer to a bank account number supplied by the company official.
In both the Long Beach and San Francisco cases, the fact that the cashier's check was fake was discovered in time to contact the foreign banks to which the client trust account funds had been sent before they had actually been deposited. In another case, the Chinese New Year's holiday saved a lawyer because the banks were closed when the scammer expected the money to be deposited. Once deposited, nothing can be done to retrieve the money, bank officials said.
The scammers know how to delay confirmation that the cashier's check is not good long enough to get the client trust account money into their own hands, says Ted Kitada, senior counsel for Wells Fargo & Company. They do that by changing the nine-digit MICR (magnetic ink character recognition) lines at the bottom of the check. The bank check may say Citibank, but the code recognizes the check as from, say, a Dallas financial institution.
"Wrongdoers deliberately put misinformation on the MICR line to cause the item to be misrouted," says Kitada. "Misrouting causes a delay in the processing of the item."
"I think these wrongdoers are pretty sophisticated," Kitada adds. "They seem to know the banking system, and they seem to know the manner in which checks are collected."
The Long Beach lawyer says he would never have sent money from his client trust account if he had known the cashier's check from the so-called debtor had not cleared. But banks say they often make funds available to good customers even before a check has cleared. The operative word, says City National's Martin, is "available."
"When you're dealing with a bank check especially and a reputable law firm, the bankers are very much inclined to give the lawyers immediate credit. Most lawyers want to move money on to clients, and their reputations are good, so the banks are perfectly willing to accommodate them."
A customer of the bank may ask whether funds from a check are good. A teller doesn't say the check has cleared; he or she says the customer may withdraw funds because they are "available."
In January, the comptroller of the current Administrator of National Banks sent out a bulletin offering guidance to banks regarding fraudulent cashier's checks and advice on taking action to address risks to banks and their customers.
"The OCC has become aware of an increasing number of consumer complaints relating to fraudulent cashier's checks," the OCC bulletin said. The bulletin noted that customer dissatisfaction could hurt banks' reputation or even raise the possibility of lawsuits even though the customer, and not the bank, is legally responsible for any monetary loss from a fraudulent cashier's check.
"I feel stupid now that I wire transferred the money before confirming that the check was good," says the San Francisco attorney, who quickly transferred the client trust account funds because the client said he needed them urgently to pay off a supplier. "I've learned to be very careful when I'm contacted by e-mail by potential clients."
The Long Beach attorney says the 29 hours from the time he learned that the cashier's check was fraudulent to the time he'd learned they'd gotten the money back was "the darkest day of my life."
"I went home, tried to sleep and didn't sleep too well. Your first thought is, 'You're out $193,000.' Your second thought is all the ramifications of being out $193,000 — checks bouncing, other client money that's gone. We're not that small a firm but we're not the kind of firm that could lose $193,000 in a second like that and not have tremendous problems. It was a tough night."
It's not the kind of experience a well-respected attorney who has been practicing for 28 years puts on his résumé. "That's not what you want the public or the profession to know about you — that you're capable of being duped like that," he says. "I wasn't very careful."
Then he adds, "For me personally, any e-mails I get from out of the country get deleted."