Death penalty debate continues
By John Van De Kamp

Van De Kamp
When I agreed to chair the California Commission on the Fair Administration of Justice in 2006, I did so on two conditions: that I could name the executive director and that I could balance what was initially a defense-oriented panel. Without that balance, who would pay attention to the commission's findings?
Prof. Jerry Uelmen of the Santa Clara Law School came on board as executive director and representatives of law enforcement, a district attorney and a victims rights advocate signed up, giving us the balance we needed.
With a mandate to look at wrongful convictions and executions and the safeguards we might provide to prevent them, as well as to provide recommendations to improve the justice system, we began to hold hearings and produce reports.
With some minor exceptions, we achieved unanimity. The subject matter of these reports included such issues as eyewitness identification (Recommendation: double-blind lineup procedures), preventing false confessions (Recommendation: record interrogations), taking care in the use of jailhouse informants (Recommendation: corroborate their statements), and DNA (Recommendation: cut the backlog for inputting DNA as well as getting timely access to the database for possible matches).
We reported on prosecutorial procedures (Recommendation: every office should have a written Brady Policy), defense contracts (Recommendation: low bid flat fee contracts should be eliminated when they inhibit investigative and expert utilization) and remedies for the exonerated (Recommendation: better redress for those found factually innocent and assistance offered to those released back into their community after a conviction reversal).
But the subject that captured the most media attention was our report on the California death penalty and its administration.
From the outset it was clear that there were two camps on the commission — the prosecutors and law enforcement professionals who have seen the human carnage inflicted by a few and for whom maintenance of the death penalty was a priority, and in the other camp, those who had moral scruples about the death penalty and viewed its potential for error with alarm.
It was with this background that we began our study of the death penalty six months before the commission was to close down.
Surprising, at least to me, was the common ground we attained.
The facts are not in dispute:
Thirteen executions in 30 years.
Around 670 on death row today.
An estimated time of 20-25 years between judgment and execution. (It takes four years to appoint counsel for direct appeals.)
An estimated annual cost of around $137 million to administer California's capital punishment.
Some 30 inmates on death row for more than 25 years; 119 for more than 20 years.
The delays exceed those of every other death penalty state. All on the commission agreed that as it's administered today, California's death penalty is a "hollow promise." The commission concluded, "The failures in the administration of the California death penalty law create cynicism and disrespect for the rule of law, increase the duration and costs of confining death row inmates, weaken any possible deterrent benefits of capital punishment, increase the emotional trauma experienced by murder victims families and delay the resolution of meritorious capital appeals."
What to do about it? The commission unanimously recommended a series of process changes that would bring the time frame for California's death penalty administration in line with the national average — around 11-14 years from judgment to execution without giving up any due process protection.
Most of the significant changes were aimed at the appellate delays. We recommended:
1. Expansion of the State Public Defender's Office with a 33 percent increase in its annual budget (which could be phased in), and if private counsel are to be utilized, they should be paid commensurate with "the provision of high quality legal representation," reflecting the extraordinary responsibilities of death penalty representation. Currently, private lawyers accepting appointments to handle death row appeals are compensated at $145 per allowable hour. That's proved to be insufficient.
2. Habeas Corpus Counsel. Currently, 291 California death row inmates have no habeas counsel. It takes 8-10 years, on average, from sentence imposition to appointment of habeas counsel. Inevitably during that time records are lost, witnesses become unavailable and memories fade. To remedy this, the commission recommended expansion of the California Habeas Corpus Resource Center to an authorized strength of 150 lawyers, with a five-fold increase in its present $14.9 million budget.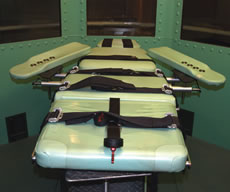 (Click to Enlarge)
The commission recommended that serious consideration be given to Chief Justice George's proposal to transfer some death penalty cases from the Supreme Court to the Court of Appeals and to add rule and statute changes that would encourage more factual hearings and findings in state habeas death penalty proceedings, including a proposal to require that habeas petitions be filed in Superior Court rather than the Supreme Court. Sen. Dianne Feinstein has complained to Gov. Schwarzenegger that "the absence of a thorough explanation of the California Supreme Court's reasons for its habeas corpus decisions often requires federal courts to essentially start each federal habeas death penalty appeal from scratch, wasting enormous time and resources." It is estimated it now takes as long as 13 years from the denial of habeas in the California Supreme Court to execution.
Other process recommendations included increasing Attorney General staffing to meet the expected workload and state appropriations for trial expenses, including adequate defense staffing from the filing of homicide cases eligible for the death penalty.
The cost of the key process recommendations was estimated at $95 million in addition to the $137 million we now spend annually on death penalty cases.
During its hearings, the commission heard from some 72 witnesses, some of whom testified about death penalty alternatives.
The commission did not recommend adoption of these alternatives but reported in some depth about two: narrowing the death penalty and lifetime incarceration. As is abundantly clear from the separate statements filed with the commission's final report, there were strongly held divergent views on these alternatives. Some, particularly those from the law enforcement community, were opposed to both alternatives and wanted the record to be clear about that (see Separate Statements of Los Angeles Police Chief William Bratton and Ventura District Attorney Greg Totten), while others signed on to Bill Hing's call for death penalty abolition or Jon Streeter's call for narrowing.
A word about both alternatives:
Narrowing. The idea is to limit the death penalty to the worst of the worst. The Constitution Project in Washington, D.C., wrote a report called Mandatory Justice that would limit the application of the death penalty to the most aggravated offenses and most culpable offenders; they do not include felony murder. Only 55 percent of California's death penalty cases from 1978 to the completion of the study had one or more of the factors specified in the Constitution Project's formula. The commission studied this, heard about numerous heinous crimes that would be spared under this analysis, and ultimately was very divided.
Lifetime Incarceration: Were lifetime incarceration (known as LWOP) substituted for the death penalty, the state would no longer have the housing costs associated with death row inmates and many of the appellate costs would be eliminated, since such cases would be handled like other criminal appeals. The immediate saving would be in the neighborhood of $125 million per year. Ultimately, such a course would be dependent on a vote of the people who, until this time, have strongly supported the death penalty.
Some have attacked the Commission Death Penalty Report as "unbalanced." That the commission was unanimous on so many of its recommendations speaks well of all of its members for their ability to hear each other out and to be willing to report the bad news. The fact that there was division over the future of the death penalty as an appropriate sanction is reflective of the strong views held throughout the state on both sides of the issue. My view is that the commission's report provided insight into the present situation and gave some fuel to both sides as the debate continues.
• Former California Attorney General and State Bar President John Van de Kamp is of counsel with Dewey & LeBoeuf and a mediator and arbitrator with ADR Services Inc., both in Los Angeles.