Governor signs $5 billion bond measure to repair courthouses
By Nancy McCarthy
Staff Writer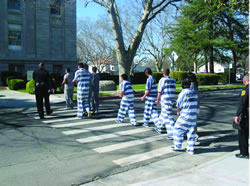 (Click to Enlarge)
In a move that is expected to generate jobs and improve some of the state's crumbling infrastructure, Gov. Schwarzenegger signed a measure to provide $5 billion in lease-revenue bond funds that will finance new construction and renovation of California court facilities. Chief Justice Ronald George, who has long lamented the sometimes unsafe and often inadequate condition of courthouses, said he was delighted.
"Senate Bill 1407 is a major step forward that will help ensure the safety and security of our courthouses for all Californians, including litigants, jurors, employees and other members of the public," he said.
Court officials believe plans to bring courthouses up to speed will be the largest capital project in any state court system in the country.
It also marks the third and final installment of George's ambitious three-part reform of California's judicial system, along with trial court unification and trial court funding.
The bonds will be supported by new fees and fines that take effect Jan. 1, meaning the construction will be financed by court users rather than the state's general fund. Although the governor favored issuing general obligation bonds to renovate court facilities, he won little support because they must be repaid with general fund money. Lease-revenue bonds are supported by a revenue stream and have the added advantage of not requiring voter approval.
Schwarzenegger said signing the bill reinforced his commitment to improving the state's infrastructure while stimulating the economy. He noted the Judicial Council estimates the measure will generate tens of thousands of jobs statewide and billions of dollars in construction-related goods and services.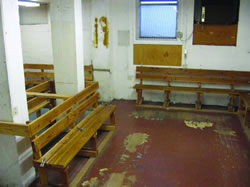 (Click to Enlarge)
"Building California's infrastructure is one of my highest priorities," he said. "Improving our state's aging court facilities has been an integral part of my promise to Californians to rebuild our infrastructure and increase public safety."
California has 451 trial court facilities and the Judicial Council has identified 68 as having either "critical or immediate" needs. In addition to safety issues, overcrowding is a widespread problem. Twenty-three facilities are in trailers, one-quarter have inadequate jury assembly rooms, 41 percent move prisoners through public hallways and 78 percent do not have adequate access for people with disabilities.
More than half need seismic improvements and 68 percent require improvements to fire and life safety systems.
The Judicial Council last month approved a list of 41 projects, in 34 counties, for renovation or new construction. Together with projects already underway that have been funded by the state and counties, trial courts in 43 counties will be provided new or renovated courthouses over the next decade. Court officials estimate it will cost almost $10 billion to bring all the buildings up to snuff.
The council prioritizes which areas are eligible by using a formula that includes objectives such as improving security, reducing overcrowding, correcting physical hazards and improving access. The need for judges, as well the number of authorized judicial positions, also play into the mix.
Curt Child, director of the courts' Office of Governmental Affairs, said new fees and fines are expected to generate $280 million a year to pay the debt service on the bonds. The $24 fee for traffic school, established in 1991, will jump to $49 next year. The "proof of correction" or fix-it ticket for automobile deficiencies, also set in 1991, will go from $10 to $25. The $1.50 assessment on parking tickets will increase by $3 to $4.50; civil filing fees will rise by $30 and the assessment on criminal convictions that are infractions will be $35. Filing fees for out-of-state lawyers who wish to practice in California will jump fivefold — to $250.
Child said lawmakers tried to spread the increases across civil, criminal and probate courts.
At the same time the Judicial Council won the ability to issue bonds, it lost the authority to actually spend the money, which Democrats removed from the bill in order to win Republican support. Child said he is confident the spending authority will be reinstated in the next session, particularly after lawmakers see the amount of money generated by the increased fees.
For the next three to four years, construction plans will proceed on a pay-as-you-go basis, with funds being used for site acquisition, development costs and some construction. Bonds likely will be issued about four years from now, Child said. "It's important that at the point we're ready to issue bonds, the issuers have assurance that revenue streams are generating what we estimate," he said.
Although court officials had hoped to fund some renovations or new construction with the help of public-private partnerships, Schwarzenegger vetoed a bill that would have done so.
He vetoed several other law practice or court-related measures early last month:
Assembly Bill 926, sought by the Judicial Council, would have established new electronic discovery rules.
SB 1177 would have raised about $5 million annually through a $5 increase in civil filing fees for expanded alternative dispute resolution programs.
AB 3050 would have provided court interpreters for poor litigants in "important civil matters."
SB 1718 to require the Depart-ment of Personnel Administration to conduct a salary survey of public attorneys.