Studying the law - anywhere
By Kristina Horton Flaherty
Staff Writer
At 5:15 a.m., with low-flying helicopters buzzing overhead, third-year law student John Penn diligently shows up for class — a live class on his computer in his room on an Army compound in Kabul, Afghanistan.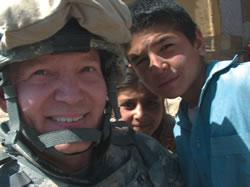 (Click to Enlarge)
He listens to his Concord Law School professor's lecture, types in responses to questions and watches his fellow classmates' written comments roll down his computer screen. Then he heads off to his 12-hour shift overseeing the engineering and construction of military facilities, roads, schools and hospitals.
Penn, 44, a lieutenant colonel in the U.S. Army Reserves, has lost sleep, studied on holidays and carted textbooks from his Delaware home to posts in Kuwait, Qatar, the United Arab Emirates and Afghanistan. And for Penn, it has all been worth it. "Even if I was to fail out right now and never go any further," he said, "this has been a wonderful endeavor."
Penn, an army engineer by day and law student in off hours, is part of a growing number of people pursuing degrees from online-only law schools. Concord Law School, the nation's first wholly online law school, has expanded from 33 students to some 1,500 in 10 years. Northwestern California University School of Law, a longtime Sacra-mento-based correspondence school, switched to an online program in 2002 and saw its enrollment more than quadruple to 650.
As technology and the Internet become more central to everyday life, so-called "distance education" is becoming more commonplace at traditional colleges and universities nationwide. In 2006, more than a third of all higher education institutions had fully online programs, a Sloan Consortium study found. And in 2007, some 3.9 million undergraduate and graduate students – more than one in five – were taking at least one online course.
Online law students are typically older – 42 on average at Concord – than those enrolled at traditional brick-and-mortar law schools, deans say. Many are pilots, doctors, corporate managers, police officers and even legislators seeking to enhance their careers or start new ones. At Concord Law School, 40 percent of incoming students already have graduate degrees.
For many of them, traditional law school is out of the question. They can't quit their jobs. They travel on business. They live too far from the nearest law school. They're caring for young children or elderly parents. Or they simply can't afford – or justify – a legal education that can cost more than $100,000.
"There are many, many jobs out there that do not justify the cost it takes to get a J.D. degree," said Barry Currier, dean of Concord Law School in Los Angeles. Concord's four-year, part-time program costs roughly $37,000.
Michael Clancey, dean of Northwestern California University School of Law, sees access to law school as a justice issue. "Law school education should be open to everybody," he said.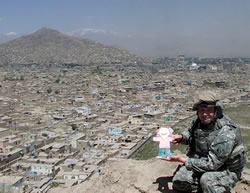 (Click to Enlarge)
When Penn first considered going to law school, he lived just five miles away from one in Delaware. He dreamed of using his engineering background, military leadership skills and a law degree to become a patent or intellectual property lawyer. But even then, the nearby campus was not an option for Penn – a divorced father of two, full-time engineer and part-time Army reservist.
He was "totally sold" on Con-cord's program from the start, he said, and knew he had the self-discipline to master it. In Afghanistan, he dutifully joined his 3:15 a.m. patent fundamentals class – until it became so exhausting that his professor told him to watch archived versions of the class (available 24 hours a day) instead. Penn then got permission to take the final exam (slated for 1 or 2 a.m.) a few hours early. And in the end, he got an "A."
"It's been extremely difficult," he said, "but as every year has gone by, it's gotten easier."
A decade ago, Concord Law School, now part of Kaplan University, was launched as an experiment. Since then, some 850 students have graduated – 200 of them from an abbreviated, degree-only program. "I think we've now demonstrated that the experiment succeeded," says Currier, who spent nearly 30 years as a professor and dean at traditional law schools before coming to Concord.
The curriculum includes live classes, assigned reading, video lectures, essays and tests in 11-day modules. "Other than eye contact and body language, the discussion is, in many ways, quite similar to that of a traditional law school classroom," said Concord professor Sara Berman.
And Berman, a UCLA School of Law graduate herself, sees advantages to a virtual classroom: The interaction is based solely on the discussion's content, not on the student's gender, race or looks, for example. Students don't have to commute. They can review archived classes. And they gain extra experience in written communication.
Larry David, now 64, always wanted to go to law school, mostly just to say he did it. But fresh out of college, he earned an MBA from the University of Southern California instead. He then spent years in business, opening a sales office in Hong Kong for Apple Computer and starting up a business that built print shops across China.
Retiring in his 50s, he again thought about law school but decided he couldn't justify the hefty price tag for what was, at that point, a hobby. It wasn't until he read an article about Concord that David, who still had two children at home in Carlsbad, decided he could do it.
"It was without a doubt the toughest thing I've ever done," he says now. His wife, he recalls, told him, "Look, you can't quit. It would be a bad influence on your children."
Before enrolling at Concord, he asked a couple of lawyers to review the curriculum, he recalls, but gave no thought to the school's online format. "I'd built a business in China from scratch," he said. "The only way we did it was by long-distance communication."
Today, eight years later, he's a solo practitioner who spends much of his time volunteering on a variety of pro bono cases, particularly family law matters involving children, in Los Angeles and Pasadena. "These cases deserve to be taken," said David, who now serves as a Kaplan University trustee as well.
But online-only law school degrees do have limitations. Outside California, for example, most states will not allow online law school graduates to take their bar exam. This is because most states require a degree from an American Bar Association (ABA)-approved school. And online-only law schools are not eligible to seek ABA approval because the ABA's "distance education" standard only allows law schools to grant credit for 12 units of online classes.
In some states, online law school graduates can take the bar exam if they pass California's exam. In a few, they can take it with a special waiver. And in other states, foreign law school graduates can take the bar exam while online-only law school graduates cannot.
The ABA's standards are currently under routine review, however. And Bucky Askew, the ABA's consultant on legal education, has seen legal community interest in broadening the 2003 distance education standard. "Whether that will happen or not, it's too early to tell," he said.
Some believe, however, that the online-only law school experience goes too far. "I think it is not yet as highly interactive, as immediately interactive, as personally interactive, as law school classes traditionally are and essentially are," said Steven Smith, dean of California Western School of Law. "It often does not have the edge and the precision that I would expect to see in a law school classroom."
Smith, who previously served on the ABA's Council and chaired the ABA's Section on Legal Education and Admissions to the Bar, says he sees "real advantages" to distance learning as an adjunct to legal programs. But he does not think the technology and learning techniques are good enough "to assure the public" that an online-only legal education is sufficient.
In 2003, Smith served on a special State Bar of California Committee of Bar Examiners task force that considered – but did not recommend – possible California accreditation of online-only law schools. At the time, however, members also suggested that future improvements in technology and proven success (through bar exam pass rates, for example) might warrant reconsideration.
The dean at Northwestern California University insists the landscape has changed. At Northwestern, he says, students now attend videoconference sessions by fastening webcams to their computers and wearing headphones with microphones. Live thumbnail images of the instructor and 15 of the students appear on everyone's computer screens during the lecture and discussion. "Now we can have these sessions in real time," he said. "It brings us closer to a classroom, a traditional classroom-type session."
Historically, California has offered more routes to its bar exam than any other state. Would-be lawyers can study at ABA-approved, California-accredited or unaccredited schools – fixed facilities, correspondence schools or newly designated "distance learning" schools. (By legislative mandate, the Committee of Bar Examiners recently assumed oversight for California's unaccredited law schools.) Or they can spend four years studying in a lawyer's office or judge's chambers.
While the California bar exam pass rates of online-only schools vary, they still fall below those of California's ABA-approved schools. However, some compare to or even surpass those of non-ABA-approved, California-accredited law schools. A recent State Bar study found that the eventual pass rate – the percentage of candidates who passed the bar within six attempts – was 88.2 percent at California's ABA-approved law schools, 49.2 percent at California-accredited schools (ranging from 25 percent to 69 percent by school), 56.5 percent at unaccredited correspondence schools and 50.8 percent at unaccredited distance learning schools. Concord's eventual pass rate was 55 percent, while Northwestern's rate was 42 percent.
Online law students have a few other hurdles as well. They, along with other students from unaccredited schools, must pass the First-Year Law Students' Examination. And unlike students from top-ranked, accredited law schools, they may not be recruited by some top law firms. But those who choose an online program often have different plans.
When Joel Connor first considered law school some 25 years ago in Nebraska, he had no options. There were no night school programs and, as a pharmaceutical sales representative with a monthly mortgage, he could not quit his job. He later moved to California for a clinical human research job and traveled so much that law school again seemed out of the question – until he heard about Concord. "I got very excited about it," he recalls.
He made it work. He listened to lectures while he cooked dinner. He studied in hotels (in five Australian cities over two-and-a-half weeks at one point). He got feedback from his professors (including one who later persuaded him at a low moment to retake the bar exam). And while he only intended to enhance his career, not practice law, Connor's studies eventually led him down another path.
A solo practitioner now, Connor, 49, serves as a professional conservator and represents conservators and conservatees in Los Angeles' mental health courts. With his background, he can sometimes spot problems in a client's medical file that another attorney might not notice. And recognizing that, he says, the judge tends to send certain medical consent cases to him.
"I go home almost every day and say, 'I love my job,'" Connor said. "This just kind of fell into place."
Some say it is only a matter of time before online-only law schools gain full acceptance and approval. Others suggest it will depend on what technology does in the future.
In the meantime, Currier spends a lot of time out in the legal community and even at Rotary Clubs explaining how and why Concord works. "We're not trying to duplicate a residential experience online," he says. "We're trying to duplicate or offer the equivalent education."