Easing the pain of re-entry
By Diane Curtis
Staff Writer
These three women hardly sound like they would fear re-entering the job market: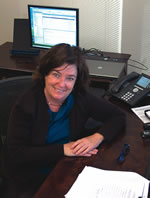 (Click to Enlarge)
Susan Nash: Cal Poly undergrad, Stanford Law School Order of the Coif. Law clerk to Judge David V. Kenyon, U.S. District Court, Los Angeles. Associate, Latham & Watkins. Lecturer, UCLA Law School. Panel attorney, California Appellate Project. Partner, Munger, Tolles & Olson.
Marjorie Wallace: UCLA undergrad cum laude, UC Hastings College of the Law. Yale Law School, LLM. University of Pittsburgh, M.S. in Information Science. Law Professor, Duquesne University School of Law. Perez & McNabb business litigation associate. Solo practitioner.
Marie Curry: University of Rochester magna cum laude. Harvard Law School cum laude. Associate, Hanson, Bridgett LLP.
Yet despite their proven abilities and accomplishments, Nash, Wallace and Curry all sought outside guidance and support — through the UC Hastings College of the Law's Opting Back In Program — when they decided to resume their legal careers after taking time off from the fast track to have more time for their children.
"I had a little trepidation about whether I knew enough to come back," said Nash, 52, who has returned to the Los Angeles office of Munger Tolles as of counsel representing corporate clients in commercial litigation matters in state and federal courts.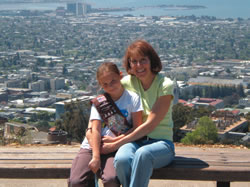 (Click to Enlarge)
"Probably I would have blown the interview," without the help of the Opting Back In program, said Wallace, 56, who took seven years off the career roller coaster to be at home with her daughter. She is now doing plaintiffs' employment law as an associate at the Walnut Creek firm of Nancy Balles.
Without the project, said Curry, who used to practice in California but now lives in Akron, Ohio, "it would have been really easy for me at any point to say, 'This is too hard. It's not happening fast enough,'" and she might have taken work that wasn't what she really wanted. "I've spent the last 18 months (in the Opting Back In program) doing a level of discernment that I think we don't have the inclination or opportunity to do." That "level of discernment" led Curry, 44, who has moved three times because of her husband's job changes, to become a consultant in health policy, a strong interest. Her work is not yet as a lawyer again, but she considers it the right step on the path to practicing as a lawyer in an area about which she is passionate.
The Opting Back In program was started in fall 2006 as a four- or eight-week coaching, networking and educational program on the UC Hastings campus in San Francisco. For the last year, it has taken the form of a twice-a-week, conference-call workshop with Linda Marks, director of training and consulting at the Center for WorkLife Law at Hastings, and Ellen Ostrow, a Maryland-based licensed psychologist, certified coach and law firm consultant, and up to 10 lawyers who took time out from their careers. They have mostly been women who wanted more time at home with their children.
Joan Williams, Distinguished Professor of Law at Hastings and director of the Center for WorkLifeLaw, said those who are re-entering the profession after an absence need three things simultaneously: a self-examination process to figure out what the next career step is; contacts who can help them weigh the next goal, and a mechanism by which they can take concrete steps to achieve the goal, including creating a plan within the family to deal with the change in home and work life.
Marks says the best time to think about re-entering the profession is while they're still working. "We would like to catch them before they leave to tell them what they can do before they on-ramp." They should consider such things as how they are going to keep up with MCLE, keep their résumés filled with volunteer work or smaller legal projects and stay attached to their firms. "People who are doing the best kept up some kind of connection," says Marks.
She emphasizes that a top priority of the program is showing participants how to get known in the "hidden job market" — the 85 percent of jobs that are not advertised. Informational interviews are crucial, as is getting to the decision-makers. A large gap in a résumé may mean it never makes it past a first screening even though partners often value the maturity, experience and commitment of lawyers who are ready to come back after taking time away from a firm. "When they're ready to go back to work, they're ready to go back to work," Marks says. "…The truth is, motherhood seems to be a great training ground."
Those returning after an absence are highly motivated, says Williams. "It's not just about the paycheck; it's about finding meaningful work to fulfill their professional goal." But they also have personal priorities, such as spending time with their families, which can mean arranging part-time work or more job flexibility.
"What we're trying to do is make the process much less overwhelming and break it down into manageable steps," says Ostrow. She and Marks ask the lawyers to assess themselves on a number of levels: Do you know what you want to do? What skills do you have? What contacts do you have? Have you kept up your law license? Have you stayed on top of developments in your legal field? Have you learned how to use a computer to do legal research? "All these things are swimming around in their minds, and they can't figure out how to get started," says Ostrow.
Support, accountability and resources come up time and time again as reasons Nash, Curry and Wallace value the program. The 90-minute telephone conversations are not simply feel-good sessions, although encouragement and support from each other are abundant. Goals are set: One lawyer may decide to schedule five informational interviews over the following two weeks — talks with people (from whom she is not seeking a job) who can offer information on anything from the state of a current practice area to the culture of part-time work to MCLE. Another lawyer may set a goal of going to the law library.
"It helps us be accountable to each other," says Curry. "Every two weeks you're going to get together with a group of people, and it sure would be nice if you had something to say… Just the fact of checking in helped."
Bonus sessions occur when there are three Thursdays in a month, and speakers, such as recruiters, law firm partners who have hired re-entry lawyers or career counselors are available.
Defining the job they want may be one of the most difficult parts of the process for the lawyers in the program. "I was all over the map in terms of what I was going to do," said Nash. She was clear on one thing: she needed people around. She had continued working doing court-appointed criminal appeals, teaching, temporary judging. "Just a variety of things that were flexible enough so I could still work part-time."
She ended up doing that kind of work and staying at home for 18 years. "Working at home is great, but after a while it's just you and the refrigerator," she says. Fortunately, she had stayed in touch with a lot of her old colleagues and she had seen them when she was teaching and serving as a judge. After a lot of talking, she realized "how much I like doing appeals and writing." Going back to Munger Tolles, which she did, seemed perfect.
Curry says learning the whys and hows of networking was extremely helpful, not just with the aim of getting a job. "This is the kind of networking law firms are always trying to teach their associates — how to get out there and create business … It really is about building relationships." Lawyers in the group pass on names of people they think may be able to offer helpful information or other contacts.
Curry moved from California to Syracuse, N.Y., to Fairlawn, Ohio, to Akron, Ohio, which, along with having two children, didn't allow much opportunity to re-establish a career. She did, however, work on a number of projects outside law, such as doing project coordination for an educational enrichment program and serving on the board of a local nonprofit that started boosting her confidence after wondering whether "I can have an adult conversation anymore. I was shocked to learn my brain still worked… I wasn't really working either in my field or at my capacity," she says.
As she headed to the Opting Back In program after having some individual counseling sessions with Ostrow, Curry says she had such unanswered questions as whether she wanted to look for an area outside her previous specialty of health law, whether she wanted to go back to a law firm, whether she wanted to do probate and trust law in a bank setting. As she worked and talked with the group, she realized that her greatest interest centered on health policy. "Working with the group helped me stay focused on that," she says. Now she's trying to decide whether she needs to match her J.D. with a master's in public health.
When she left Munger Tolles the first time, Nash worked at home doing court-appointed criminal appeals and taught at UCLA and Loyola law schools as well as some temporary judging. "I was kind of a fence straddler because I was partly out, partly in," she says. But she still didn't know if she knew enough to resume practice at a major firm like Munger Tolles. "The conference calls gave me a lot of confidence," she says.
Now she says she enjoys her work more than she did before. "I appreciate the opportunity, but I also think I bring something to it."
Sandra Seville-Jones, a partner at Munger Tolles, agrees. "The things Susan has done have been great for us," Seville-Jones says. "I think she brings maturity in the way she looks at things and in the ways her practice has matured. Having another senior woman litigator at a law firm who can help mentor our associates is also a big plus."
Wallace was doing business and intellectual property litigation when she decided to take time off to be a mom. She had only planned to stay out a few months, but her husband's job was so demanding, she thought it wasn't fair to her daughter for both of her parents to be in time-consuming jobs. When it was time to go back, she was worried that no firm would take the trouble to "look outside the box" — to consider a woman in her 50s who had not worked as a lawyer for seven years, so she headed for the Opting In program.
Besides the comradeship, brainstorming and support, Wallace also benefitted from the program's resources list, which included links to tests that could narrow down strengths and interests, job sites and lists of career centers at law schools. Working with Sari Zimmerman, director of career services at Hastings, she narrowed down her interests to family, law or employment law. She got lists of Hastings alumni who she could contact for informational interviews. She sent them letters, asking if they could spare 30 minutes to talk about what they do.
"People were very giving of their time because I wasn't looking for a job with them. Then I would ask them to refer me to other people." In the end, Wallace got her job doing plaintiff's employment law through an ad on craigslist, but she says she probably wouldn't even have applied for it without the Opting In program.
"I'm loving what I'm doing," she says.