Economic downturn puts a crimp in legal services
By Diane Curtis
Staff Writer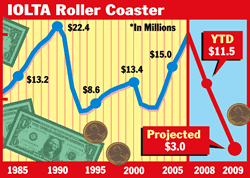 (Click to Enlarge)
This was the year IOLTA funds were supposed to swell and California legal aid organizations, which get much of their funding from trust account interest, were going to reap the benefits of the bulging coffers.
The high hopes couldn't have been more misplaced because of circumstances that even the nation's most respected economists never saw coming: The housing market went into freefall and the economy tanked, sending interest rates to record lows. Now, instead of making plans to bolster programs and help more people (there is only one legal aid attorney for every 8,000 poor Californians), legal aid lawyers are preparing for the worst, with some projecting a loss of more than half their IOLTA grant. IOLTA funds are used throughout the country to pay for legal aid grants.
"We may have to lay off staff," says Gary Smith, executive director of Sacramento-based Legal Services of Northern California, who thinks his organization's IOLTA (Interest on Lawyer Trust Accounts) grant may drop from $600,000 to $180,000. "That's not a drop we could sustain without some very dramatic reductions." That means people facing foreclosure or having problems in obtaining food stamps or unemployment benefits or a myriad of other legal problems may never get the free legal help they need.
"We're probably going to lose about three people," says Ramon Arias, executive director of Oakland-based Bay Area Legal Aid, the largest provider of legal aid in the San Francisco Bay Area. He guesses that his organization's grant of $270,000 will be cut in half. While that may not sound like a lot at a law firm, he adds, "for us, it means a lot because the bottom line is … the people we serve have no money" and the organization gets its funds from federal and state grants, foundations and individual donations. "We rely on the kindness of strangers," he says.
On Jan. 1, 2008, a "comparability" law took effect that permitted IOLTA to earn the rates paid on secure higher-yield bank products and not just rely on interest-bearing checking accounts, whose rates had stayed flat. First indications were that the new law, along with a push for lawyers and the public to donate to a new Justice Gap Fund, was having the desired effect. The prediction was that IOLTA funds might double from the $20 million numbers generated in 2007-2008.
"Everyone's hopes were high as a result of comparability," says Chris Schneider, executive director of Fresno-based Central California Legal Services. "Although we didn't get the increase in funding we had all hoped for, we were able to avoid cuts in 2008-09."
Now, with the dramatic downturn in the economy, Stephanie Choy, managing director of the State Bar's Legal Services Trust Fund Program, predicts that IOLTA revenue in California could be as low as $3 million in 2009, half the record low of $7 million in 1994 and far from the double-digit increases that comparability was supposed to have prompted.
Schneider says his staff is particularly anxious because the IOLTA reductions and reduced funding from other sources are happening at the same time the need is greater, a concern echoed across the board by legal aid lawyers. Bad economic times often translate into more domestic violence and child custody legal battles, more consumer fraud and identity theft cases, health care issues and legal concerns over employment and unemployment benefits.
The wave of foreclosures is also creating lines in legal aid offices by people — both renters and homeowners — who have never needed legal aid services before. Legal aid officers say their phones are ringing off the hooks, and waits to talk to someone that might have taken five to 10 minutes before now can take more than half an hour.
While a new administration is creating hope for greater support for the Legal Services Corporation, and Congress earlier approved a 14 percent increase in the LSC budget, the reality is that nothing is guaranteed in this economic climate, says Schneider. "Although there might be the will, the desire to increase funding would be a challenge," he says. Still, "in terms of the 14 percent increase … that is decimal dust in the federal budget and it seems like they should be able to do it. It would help us tremendously in making up for the cuts in IOLTA at least."
However, LSC money is not necessarily the answer. When adjusted for inflation, the 2009 $350 million appropriation amounts to more than one-third less than its high in 1994. A 1995 study by LSC found that its grantees were able to provide legal help to only half the qualified people who sought it.
Schneider wants to be prepared, but he doesn't want to be in a situation where he cuts back too much. "It's a little early in the year. I want to find out what other grants we might get through the door." In the past, when there was "a hole in the budget," he and his staff would spend much of January sending out grant proposals, knocking on doors and making decisions to delay filling job vacancies. "Generally, we make it through the year somehow."
In the meantime, Choy is conferring with banks to see if IOLTA accounts can maintain the interest rates of the bank's best customers. "We're really looking for the banks to do the best they can with interest rates," she said.
At the same time, she has the task of meeting with legal aid groups on "two bad choices" and asking them how they would like the Trust Fund Program to proceed. "It's been a heartbreaking discussion to ask the community, 'Do we want to minimize the cut next year [and hand out this year more than half the money that is available] with the recognition that if the economy doesn't improve, you're going to get less than half your grant? Or do we equalize it?'"
But she and others also try to find the good, or at least less-than-disastrous, side of the economic picture. Because comparability is new in California, the state's legal aid groups are not going to suffer the severe declines in interest rate revenues of states that have had comparability for a long time.
And Schneider looks at it this way: One day revenues will increase because "comparability is in place and at some point the economy will turn around, at some point there will be an increase in interest rates. Your hope has to focus on the long range."