Seniors & the Law will be updated and reprinted in May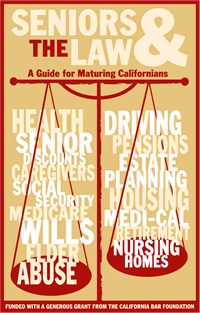 (Click to Enlarge)
The State Bar's popular Seniors & the Law: A Guide for Maturing Californians will be published again this spring and distributed free throughout the state.
First printed in 2003, Seniors & the Law is a free, comprehensive guide aimed at helping seniors and their grown children make sense of a wide range of law-related issues and rights that affect California's seniors in their day-to-day lives.
With an estimated 5.5 million residents age 60 or older, California is the most senior-populated state in the nation — and the ranks are growing. But so, too, are the many laws related to seniors and the many programs geared for them.
To pre-order the new copies of Seniors & the Law, e-mail seniors@calbar.ca.gov and state the number desired (i.e., 100 copies, 200 copies), the language (English or Spanish) and provide a full name and complete mailing address (no P.O. boxes). Orders will be shipped in May.