Diversity awards go to lawyers and firms
The State Bar presented three Diversity Awards last month to attorneys and programs that promote equal access to justice.
Los Angeles attorney Ann Park, a partner at Pond North LLP, was honored for her efforts over more than 20 years to diversify the legal profession. As an active member of the Los Angeles County Bar Association's committee on diversity in the profession, she helped draft guidelines to increase the number of women and minority lawyers in local law firms and departments, and she also founded the bar's youth mentoring program.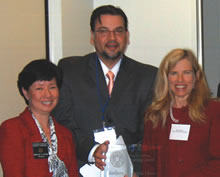 Holly Fujie (left) and Luis Rodriguez present a Diversity Award to Barbara Matthews

The Southern California Edison law department led a "call to action" coalition, focusing on using minority-owned law firms as outside counsel, tracking the use of women and minority lawyers in outside firms hired by SCE, and an emphasis on diversity within the department. It also promotes outreach efforts that include a street law workshop targeting three high schools, an academic scholarship, and mock trial and career day programs.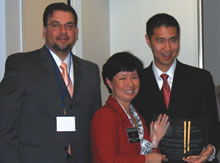 Luis Rodriguez (left) and Holly Fujie present a Diversity Award to Garner Weng

The Asian American Bar Association of the Greater Bay Area has advocated on behalf of Asian Pacific Americans in the legal profession for more than 30 years. Efforts have included encouraging individuals to seek judicial appointments and support for law students with scholarships, a mentorship program and career assistance and networking.

The bar also presented an Education Pipeline Award to the Pacific McGeorge Educational Pipeline Initiative (EPI), a four-year-old project serving 200 students in kindergarten through 12th grade. The program provides mentoring, academic support, law-themed enrichment activities and guidance for academic achievement.

Pacific McGeorge also sponsors a charter high school whose students interact daily with the EPI program.