San Diego will host the State Bar's 82nd Annual Meeting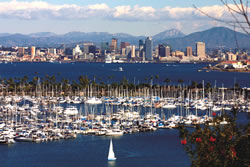 (Click to Enlarge)
The 82nd State Bar Annual Meeting will be held next month in San Diego, offering more than 100 continuing education courses, a reception aboard the USS Midway and a wide variety of networking opportunities for California lawyers.
Legal professionals can combine business with pleasure, taking advantage of the beach city's varied cultural offerings while taking a break from the numerous MCLE courses, interspersed with luncheons, dinners and entertainment. Register
Meetings and educational courses will be held at the Manchester Grand Hyatt. Participants can earn up to 18.5 hours of MCLE credit, have access to an Internet Café in the exhibition hall, and, if so inclined, exhibit work in the annual bench and bar art show.
Courses will be organized among four educational tracks: technology, solo practice, substantive law and practice skills. Specialized programs for the young lawyer will be offered as well as those designed for an advanced audience.
Attendees can check their e-mail and keep up with the demands of their practices by taking advantage of one of the Internet kiosks located throughout the meeting. One hour of MCLE credit in prevention and detection of substance abuse can be earned by picking up a complimentary self-study audio CD at the bar's Lawyer Assistance Program booth in the exhibit hall.
For detailed information on the events and educational programs, as well as hotel and travel arrangements, visit calbar.ca.gov/annual meeting. Early-bird registration, offering the lowest fees and best chance of enrolling in the MCLE courses of your choice, must be completed by Aug. 10. (Pre-registration does not guarantee space in a class — many programs sell out quickly.) After Aug. 10, registration fees increase by $100. Aug. 17 is the deadline for pre-registration; after that date, registration will be onsite only. A single registration fee buys entry to all but the special ticketed events.

Kay
The meeting kicks off Sept. 10 with a luncheon address by Katty Kay, the Washington correspondent for BBC World News American. A complimentary opening night reception will be held in the Exhibit Hall, where dozens of vendors of legal products and services ply their wares. The Exhibit Hall is open through Saturday. The annual President's Reception will be held later that evening aboard the USS Midway, with a four-acre flight deck spanning 50,000 square feet and an air wing of 256 restored helicopters, reconnaissance and aircraft.

Haraf

Ringo
Friday speakers include William S. Haraf, California's Commissioner of Financial Institutions, and conservationist Jerome Ringo, president of Apollo Alliance, a coalition of leaders attempting to free the U.S. from foreign energy dependence.
A Night at the Museum of Contemporary Art, co-sponsored by the San Diego County Bar Association, the California Judges Association and the State Bar will wrap up the Friday events. California Women Lawyers will hold its annual dinner that evening as well; tickets are available from CWL. Some events are ticketed and some are complimentary.
Los Angeles attorney Howard Miller will be sworn in as the bar's 85th president Saturday and five new members will take their seats on the State Bar Board of Governors. New officers of the California Judges Association also will take their oaths of office. Saturday ends with a complimentary dance club at Redfields Lounge in the hotel lobby.
For most attendees, MCLE credit is the draw, and the Annual Meeting offers low-cost, one-stop shopping for those in the market. Some 130 courses will be offered, beginning Thursday morning and continuing until noon Sunday. MCLE credit will be offered in all required subfields, and legal specialization credit will be available in appellate, bankruptcy, criminal, estate planning, trust and probate, family, immigration, taxation and workers' compensation law.
Attorneys whose last names begin with the letters A-G might be particularly interested since they face a compliance deadline of Feb. 1, 2010. Offerings cover the full spectrum of legal practice, from transactional law to technology, from DUIs to domestic violence, from taxes to trusts. For troubling economic times, there are numerous courses addressing various financial problems: financial practice management in a down economy, alternatives to bankruptcy, 10 things to know about insolvency, and "When the Economy Gets Tough, the Tough Become IP Lawyers." There are courses on privacy, trade secrets, immigration, copyright practice, office and time management, technology, attorney's fees, mediation and recharging a legal career. Timely topics like cyberspace law, new e-discovery rules, the federal legal landscape under the Obama Administration, global privacy and real property foreclosures will be the subject of sessions.