Law, academia and public service will guide Howard Miller's presidential path
By Nancy McCarthy
Staff Writer
Howard Miller assumed from childhood that he would join the legal profession. "I can't remember when I didn't know I was going to be a lawyer," he says. "I have no idea why." Nor can he think of many instances when he didn't enjoy his work, which he says never tires him. That attitude likely will serve him well in the coming year, when he will preside as the State Bar's 85th president.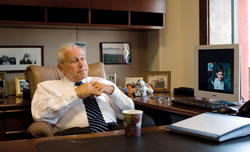 (Click to Enlarge)
Miller brings an unusual breadth of experience to the job, including years as a law professor, television and radio experience and a stint as the executive editor of the Los Angeles Daily Journal, in addition to an extensive trial and appellate background. And unlike many of his predecessors, he never held an official position in the local bar association, although he is a longtime members of the Los Angeles County bar.
"There's nobody like Miller when it comes to a total wide understanding of the law and knowing every case that'll have an impact on what you're doing," says Tom Girardi, who brought Miller in to the Girardi & Keese law firm in 2002 as its only lateral partner — ever. "He's the only guy I can say that about, and he does it all with that soft smile."
"He has a level of commitment that will be hard to equal," says Amy Solomon, another partner. "He's really making the profession shine as it should in the eyes of the public and in the eyes of his colleagues."
And his wife, Shirley, says he'll bring wisdom to the presidency, along with a talent for managing people.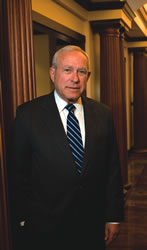 (Click to Enlarge)
The 72-year-old Miller ran for bar president, he says, out of a "desire to improve the organization." He will focus on legal services, a cause that drew him to the board of governors in 2006 because "the need is enormous." Indeed, it will be his number one priority this year, followed closely by pursuing attorneys who have engaged in unprofessional conduct with regard to loan modification activities, and completion of the nine-year rewrite of the Rules of Professional Conduct. He also said the bar board needs to pay attention to the organization's finances and ensure it operates efficiently. An early order of business will be hiring both a new general counsel and a new chief prosecutor. "We need to take account of all the criticisms, especially the state auditor's report," Miller said, adding he believes the discipline system "could be better managed."
He said he's been shocked by the large number of lawyers involved in loan modification fraud, calling the development "the most disturbing thing I've ever seen about the legal profession."
"There are lawyers who've done valuable work [on loan modification], but far too many — at least in the hundreds — who've taken advance fees, done nothing and further victimized the victims," Miller said. "We cannot turn a blind eye to where the profession has failed. We have to deal with this forthrightly and candidly."
He said the bar's 10-person task force charged with prosecuting offenders will have all the resources they need "to do what is required with regard to lawyers who have taken advantage of the people who are most vulnerable."
Miller was born in Newark, N.J., in 1937 to Morris Miller, a furrier, and his wife Rose. When Howard was eight, they moved to Los Angeles (he recites his address and phone number off the top of his head), and he became the first in his family to graduate from high school. The elder Millers taught him that "what counted was education and the teacher was always right," he said with a laugh. A full scholarship took him to Pepperdine University, where he majored in political science, graduated in three years and met his future wife at a debate tournament. (For their anniversary, Howard gives Shirley a bouquet with a rose for every year of marriage, plus one.)
Shirley gave up her studies temporarily to marry Howard, six months to the day after they met, and the two set off for Chicago. She worked as the debate coach at the University of Chicago while Howard studied law there, again courtesy of a scholarship, and eventually became editor of the law review and was inducted into the Order of the Coif. Always yearning to return to California, Miller scored a clerkship with Roger Traynor, then an associate justice on the Supreme Court. They both lived in Berkeley and commuted across the Bay Bridge together. The conversations on those rides, Miller recalled, were akin to receiving "private lessons in musical composition from Mozart and Beethoven."
Miller practiced for a few years in southern California but at 28 began teaching at USC, where he would spend 12 years focused on contracts, civil procedure and, his favorite, real property, "the most complicated subject to make understandable." He also taught law review courses for about 20 years, laying claim to an unusual statistic: More than one-third of the lawyers practicing in California in the early 1980s had been in a class taught by Howard Miller. He also got a taste of the legal services world and helped start a low-income housing corporation, the Rural Development Corp., in the late 1960s, funded by the Office of Economic Opportunity.
When Miller heard about a new television show that would put public issues on trial with unrehearsed cross-examination of leading public figures, he auditioned. The result was The Advocates, a national weekly PBS program that ran from 1969-73. Miller appeared in about 80 percent of the 120 shows, cross-examining then Gov. Ronald Reagan and Sen. Charles Goodell, among others, about subjects as disparate as the war in Vietnam and Proposition 1, a measure to limit state expenditures in California. The audience delivered a verdict each week; Miller won more than he lost.
Appointed to the Los Angeles school board in 1976, Miller gave up teaching to devote himself to the integration issues that were consuming the school district at the time. "It became so all-encompassing and a major, major obligation, so I left USC," he said, and spent two years as school board president, guiding the district through early desegregation efforts. He returned to the school district years later for a brief stint as chief operating officer, managing what eventually grew into a huge construction project that produced more than 80 new schools and ultimately will result in many more.
Although he had no newspaper experience, Miller was hired in 1979 to serve as executive editor of the Los Angeles Daily Journal, and spent a couple of years reshaping the paper — he introduced the Daily Appellate Report — and beefing up the staff. He operated a solo practice for many years and after working with Girardi, who had represented the school district in a case, joined Girardi & Keese, a 25-lawyer plaintiffs firm.
That depth and breadth of experience have given Miller "skill sets that make him uniquely suited" for the bar presidency and separate him from many lawyers whose expertise is limited to a single area, says Amanda McClintock, one of his partners.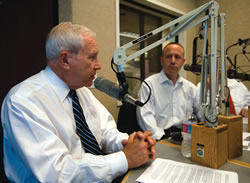 (Click to Enlarge)
Miller and Girardi also co-host a one-hour weekly radio program, "Champions of Justice," that airs on four stations, in which they interview legal luminaries and public figures. During a recent taping, Senate President Pro Tem Darrell Steinberg chatted with the two lawyers about everything from California's deficit to the state of education to prison reform. As the program ended, Steinberg invited Miller to Sacramento to talk about State Bar issues.
Asked about his personal strengths, Miller is guarded but says he tries to stay calm and keep things in perspective. He ascribes to what he calls the Eisenhower rule: whenever he was presented with a plan, he always asked what 10 things could go wrong. Until he was given such a list, he would not move forward.
Blessed with a fine sense of humor, Miller often has a joke at the ready, explaining, "It's helpful to have an absurd view of life." Although Girardi doesn't believe Miller uses humor as a tool, Miller says it's useful in "helping people deal with the truth."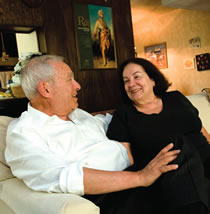 (Click to Enlarge)
The little spare time he enjoys is spent traveling or with his three sons, their wives and seven grandchildren, who exert what he calls a "magnetic pull" that draws their grandparents out of Los Angeles almost every weekend. Two sons live in the Bay Area and the third is in Arizona; the Millers spend most weekends with family when they aren't traveling. In fact, between Shirley's work as a travel agent with a bent toward archaeology and Howard's expertise in ancient history, the family has spent a great deal of time exploring South America, the Middle East and Europe.
Mementoes of those travels — a rug "just off the loom" from Ecuador hangs on one wall and a replica of a Guatemalan pot sits on a window sill — and honors from community organizations decorate his light-filled office in downtown Los Angeles. A 3,500-year-old pot from Israel commemorates Miller's work with the Jewish Federation Council of Greater Los Angeles and a small oil lamp honors his presidency of the Los Angeles Chapter of the American Jewish Committee.
Girardi & Keese will let Miller do what it takes to head the country's largest bar association, he says, even if it means a break from his specialties — patent and other intellectual property litigation, antitrust and general complex commercial litigation. And he expects his schedule to break down like this: 75 percent State Bar work, 75 percent law, 50 percent family.
Girardi says while Miller has the ability "to tame the opposition like a bullfighter," he also has a "very soft sweet way" of "getting everybody to go along with what he wants and what he thinks is best." Those skills will be put to the test in an organization whose members run the gamut of opinions and feelings.
Regardless of any challenges that arise next year, Miller's focus will be an emphasis on what he sees as lawyers' responsibility to serve their clients. "We have to change the core concept of being a lawyer," he says.
"The profession has got to return to the concept that it is a profession that exists only for the sake of clients and our basic obligation is to provide services to those clients. I'm trying to change our ethic; our major policy focus has to be to help people where we can help."