Best in legal services are honored
Nine clients, all single mothers seeking guardianship of neglected or abandoned children they had taken into their homes, were able to file petitions with the court. A woman cut off from the grandchild she cared for over many years obtained a visitation order. A 15-year-old girl in a relationship with an abusive 17-year-old boyfriend obtained a permanent restraining order for three years as well as an order to record unlawful communications. Each client has limited means and was vulnerable. Each was helped through the free efforts of a California attorney.
Those lawyers and their law firms received a 2009 State Bar President's Pro Bono Service Award last month. Created in 1983, the award is presented each year to California attorneys and law firms credited with making significant contributions in pro bono legal services to those with little income, as well as to organizations that serve the poor.
"Now more than ever, public service-minded California lawyers are needed to bridge the 'Justice Gap,'" said former President Holly Fujie. "This year, the bar honors extraordinary attorneys who have helped to do so by giving their time, talent and passion to those who otherwise could not afford legal services. They come from different practice settings but what unites them is their commitment to championing a fair and accessible justice system."
The 2009 award recipients are:
LARGE LAW FIRM
COOLEY GODWARD KRONISH LLP, PALO ALTO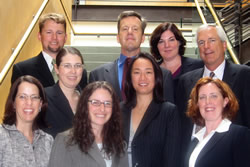 (Click to Enlarge)
Attorneys at Cooley Godward Kronish LLP are encouraged to contribute at least 60 pro bono hours per year, a goal surpassed in five of the last six years. The firm has a full-time pro bono partner, Maureen Alger. Statewide, the firm's lawyers donated nearly 30,000 pro bono hours last year.
The Palo Alto office's contribution to those statistics is impressive — more than half the lawyers donated more than 13,000 hours of pro bono time last year to cases ranging from domestic violence to immigration to guardianship, time worth millions of dollars.
Many of those hours were devoted to the Domestic Violence Collaborative, where low-income clients can get help with permanent restraining orders, as well as custody, visitation and support orders. Cooley lawyers represented 73 clients through the program in 2008.
In addition, they worked on 25 cases through the Guardianship Legal Services Project, shepherding caregivers through the daunting guardianship process that includes numerous legal requirements and court appearances. Gabriela and Jorge Segura wrote that Cooley lawyers did outstanding work in their guardianship case, making "the legal process very simple and easy for us to understand … They have offered a great deal of help and support free of charge."
Working with dozens of other nonprofit organizations, Cooley lawyers also handled immigration relief for survivors of domestic violence and other violent crimes, provided assistance to tenants facing eviction and gave their time on cases ranging from Holocaust reparations to prisoner civil rights to asylum. Attorneys and paralegals spent more than 7,500 hours on a four-week long trial, representing a class of minority bus riders.
Several people who offered support for Cooley's award offered particular praise for Alger. "Over the last decade, Maureen has taken a dynamic, proactive approach to the creation of pro bono projected jointly with legal services providers," wrote Linda S. Kim, associate director of Public Interest Clearinghouse in San Francisco. "This 'rainmaking' on the pro bono side has resulted in long-lasting, well-established pro bono partnerships that have dramatically increased the services available for low-income and other underserved clients."
SOLO PRACTITIONER
YASMINE S. MEHMET

Mehmet
Just days after her 1998 admission to the State Bar, Canada native Yasmine S. Mehmet signed up as a volunteer with the San Francisco bar association's Volunteer Legal Services Program (VLSP). Since then, she has donated hundreds of hours to the program's family law project, which provides free legal help to low-income individuals.
In 2008 alone, Mehmet donated more than 200 hours to represent 11 individual family law clients, five of them new cases. She donated another 50 hours to mentor five new volunteers for the program.
"I can honestly state that I could not have managed to get through this difficult time without (Mehmet's) fantastic assistance," wrote client Kim Hess, whose divorce case was handled by Mehmet. "I am impressed with her knowledge, perseverance and dedication not only to my case but to me as an individual."
Mehmet is a certified family law specialist in San Francisco, where she works as a solo practitioner. She also volunteers as a settlement master for the superior court, is secretary of the parent teacher organization at an elementary school and volunteers for both Legal Services for Children and La Casa de las Madres. She also is the coordinator of a monthly speakers program for the bar association's family law section.
"Her unwavering and conscientious dedication and work has brought enlightenment and engendered thoughtful debate and discussion on a veritable cavalcade of subjects of tremendous interest to family law attorneys, bench officers and members of the public who are litigants or who otherwise have contact with the family law courts," said longtime family law practitioner David Greenthal of San Francisco. Mehmet's impact, he added, has been "universally regarded as invaluable."
CORPORATE
INTEL CORPORATION LEGAL DEPARTMENT, FOLSOM CAMPUS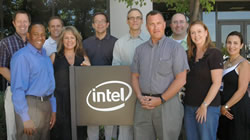 (Click to Enlarge)
In 2007, Intel became the first corporate legal department to participate in the Voluntary Legal Services Program of Northern California (VLSP), which had lost funding for its court-based probate clinic. Partnering with the Sacramento office of Orrick, Herrington & Sutcliffe LLP to provide representation in probate court guardianship proceedings, the Intel lawyers, with the help of paralegals and other staff, donated dozens of hours of free help. This year, Intel and Orrick have again joined forces to staff VLSP's bankruptcy clinic to assist with Chapter 7 filings.
During 2008, the lawyers assisted 10 clients in filing petitions to obtain probate guardianship over minor children. They interviewed clients, prepared petitions and supporting documentation, researched legal issues, contacted birth parents and relatives and appeared in court. All the clients but one were single mothers seeking to gain legal custody of abandoned or neglected children they had brought into their households in order to stabilize their lives.
"Community service is a part of the essence of who we are as a corporation," said Bruce Sewell, Intel senior vice president and general counsel, "It's important for Intel to apply its resources to providing assistance to the families and small businesses our volunteers serve, but it is also rewarding for our employees to be able to contribute at a personal level."
Added James E. Houpt, the Orrick partner in charge of pro bono in Sacramento, "Of particular note is the gratitude that the court has expressed to our teams at nearly every guardianship hearing where our teams appear. The court obviously recognizes that, without this assistance, guardianship cases would go unfiled to the detriment of the children and their de facto guardians, or would-be guardians would need to hazard the complicated process by trial and error."