Bill inches to lawmakers
Urgency requirement stripped in effort to move Hertzberg bill out of the Assembly and into the Senate
by NANCY McCARTHY
Staff Writer
覧覧覧覧

Efforts to keep the State Bar afloat inched toward resolution last month, with the Assembly set to vote on legislation stripped of its urgency status. Saying he could wait no longer for action on his bill, Assemblyman Robert Hertzberg, D-Van Nuys, amended AB 1669 to remove the urgency requirement of two-thirds approval of the lower house of the legislature. The vote to amend was 39-31.
CONTINUED ...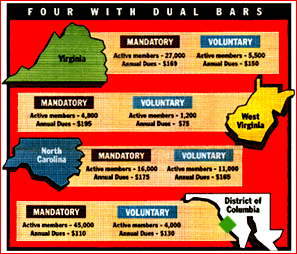 Four bifurcated bars say how it works
by KATHLEEN O. BEITIKS
Staff Writer
覧覧覧覧

As California's 71-year-old unified bar heads down a road to potential bifurcation, it might dodge some potholes by heeding the advice of the states which made the trip long ago. Virginia, West Virginia and North Carolina, as well as the District of Columbia, all are home to both mandatory and voluntary bars.
CONTINUED ...