At a time when an increasing number of California's poor cannot afford to hire an attorney, the State Bar is honoring a select few for giving thousands of hours of free legal help to those in need.
The 2001 President's Pro Bono Service Awards will be presented at the Annual Meeting to 10 recipients in nine categories. Established by the bar in 1983, the statewide awards recognize attorneys and law firms who extend exceptional legal services to the poor.
Chief Justice Ronald George will present the awards Sept. 7.
Corporate

Spending more than 100 frustrating hours figuring out income-tax forms is an annual activity for many people, but CHARLES BOWMAN has volunteered his specialized skills for the last 12 years, helping others steer clear of trouble with the I.R.S.
Bowman, a 55-year-old tax research manager at Bechtel Group Inc., spends much of his free time providing free relief to low-income taxpayers saddled with debts, many of them AIDS sufferers facing mounting medical bills.
In his efforts with the Bar Association of San Francisco's Volunteer Legal Services Program and the AIDS Legal Referral Panel, Bowman has helped clients who haven't paid taxes in years negotiate payment plans and other means of squaring away their debts. He assists clients in writing wills and powers of attorney and provides legal advice in such areas as landlord/
tenant issues and consumer law.
"He has become a shining example of how attorneys can use their expertise to serve a clientele that would otherwise go unrepresented," VLSP supervising attorney Janet Seldon wrote in her nomination of Bowman.
Bowman spends more than 100 hours per year assisting clients at both programs. He helped write the tax law section of the Homeless Advocacy Project's advocates manual and mentors the project's client advocates and staff of the Low-income Tax Clinic.
Bowman's history of volunteerism traces back to the start of his career. After being admitted to the bar in December 1974, he provided pro bono legal services to Vietnamese refu-gees with the American Bar Associa-tion's Indochina Refugees Legal Assistance Program. He joined the VLSP in 1989.
Government
While JASMIN FLORES attended law school and studied for the bar exam, she gained legal experience with the San Diego Volunteer Lawyer Program's AIDS law team. And after she earned admission to the State Bar in December 1999, she returned the favor by lending her experience as an attorney.
Flores, 31, recently left her position at the San Diego District Attorney's child support enforcement department for the Loftin & Ward law firm.
In 2000, she provided 100 hours of free legal service to 63 clients at a weekly walk-in AIDS clinic. She trained law students and other attorneys on the AIDS law team in procedural and legal issues to ensure they could effectively interview and advise clinic clients.
The legal team serves indigent men, women and children with HIV and AIDS. Clients seek legal advice, and members of the team may represent those facing complex legal issues.
Flores helped clients with debtor relief, negotiating to end harassment by creditors and collection agencies; child support enforcement issues; estate planning, including wills and powers of attorney; landlord/tenant disputes; and contracts.
Small law firm
A man with a learning disability is hired as a car salesman, only to be fired two weeks later and left with a $690 bill for "car college" tuition. An auto shop agrees to dispose of a disabled woman's car, but she receives a $1,200 towing bill after the vehicle is abandoned in a parking lot.
KEMNITZER ANDERSON BARRON & OGILVIE represent some of the most vulnerable of ripped-off and unsatisfied consumers - those with limited incomes who can be wiped out by even a small-scale scam or bad business deal. The San Francisco-based firm has represented clients of the Bar Association of San Francisco's Volunteer Legal Services Program free of charge since 1985, helping them fight unfair business practices.
After volunteering more than 2,000 hours, the team is being honored with a 2001 President's Pro Bono Service Award.
In the case of the would-be car salesman, the client had agreed in writing to pay the tuition, but after he was quickly fired, the company said it would "take care of it." The client soon began receiving calls and letters from a collection agency. Attorney Mark Anderson wrote a letter to the dealership reminding the company that it promised to pay the tuition. Within five days, the company withdrew its claim.
In the case of the abandoned auto, the client agreed to release her car's title to an auto shop. But the shop merely stripped the car and left it in a neighboring parking lot, where it was towed. Attorney Kevin Mallon found the shop never filed the title transfer and the panicked client had been stuck with the towing, storage and legal fees. Mallon filed a cross-complaint against the collection agency for violating the Fair Debt Collection Practices Act, negotiating a dismissal of the action and a settlement for the grateful client.
Medium law firm

Last year alone, Redding attorney JOHN SULLIVAN KENNY volunteered 500 hours to create affordable housing, maintained a heavy workload in his municipal law and land-use practice, and cooked dinner for 200. He also did the dishes.
As vice chair of the board for the Northern Valley Catholic Social Service, a charity serving Shasta, Trinity and neighboring counties, Kenny helped create 64 units of low-cost housing and serve 5,000 clients last year.
The 61-year-old lawyer for MOSS & ENOCHIAN lends his expertise to NVCSS by reviewing contracts with other agencies, negotiating funding, helping acquire and lease property and representing the agency at public hearings.
He serves as master of ceremonies for fundraisers and groundbreakings and has served as chef for the agency's volunteer appreciation dinner for the past three years, planning and preparing a meal for more than 200 people, then helping clean up afterward.
Last year, the NVCSS completed the Laurel Glen housing project in Redding, providing 40 two- and three-bedroom housing units for low-income families and 24 units of housing for the frail elderly. The agency is currently constructing 10 units of housing for the mentally ill in Redding and 11 for the developmentally disabled in Red Bluff.
Kenny has served on the agency's board of directors for the past 14 years. Other awards he has received include the Association of Non-Profit Professionals' Board Member of the Year and the Shasta Voluntary Legal Services Program Pro Bono Award.
A deputy city attorney in San Francisco from 1970 to 1978, Kenny served as Shasta's county counsel until 1986, after arriving in the county in 1978. He has also acted as interim county counsel for several counties and currently works as a contract city attorney for a number of Northern California cities, in addition to his position at Moss & Enochian, a civil defense law firm with 12 attorneys.
Large law firm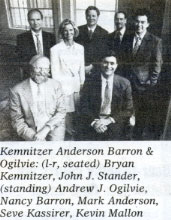 The poor, mostly Spanish-speaking residents of a run-down slum building in Los Angeles lived in deplorable conditions. The three-story brick building in the Pico-Union area was infested with cockroaches, rats and fleas. Several children were bitten by rats and a newborn died of respiratory problems brought on by mold and mildew, the results of faulty plumbing and a leaky roof. Serious structural defects, including sewage leaks, falling ceilings, no running or hot water for long periods of time, plagued the building.
Although the Inner City Law Center filed suit, outside counsel ended their involvement and the landlord's insurance company vigorously fought the case.
In stepped THOMAS NOLAN, managing partner of the Los Angeles office of HOWREY SIMON ARNOLD & WHITE, who tapped associates and other partners of the firm to help. The group served as co-counsel with the law center in representing 57 plaintiffs, including 33 children, who lived in the building.
Despite housing department investigations and criminal prosecution of the landlord for failure to comply with court orders to improve the building, living conditions did not improve. The landlord's insurance company provided a battery of attorneys to fight the lawsuit, and Howrey Simon added firepower to the overstretched and overworked law center.

Nolan, a noted litigator, and the firm spent eight months and hundreds of hours preparing for the case, worth some $400,000 in attorney time. As lead trial attorney, Nolan made a quick impression on the jury, and after only three days, the insurance company agreed to a multimillion dollar settlement. The building was sold to a reputable landlord and was completely rehabilitated.
"We were so impressed with Mr. Nolan and his firm," wrote Clemente Franco, executive director of Inner City Law Center, in his nomination of Nolan. The case "empowered these tenants and gave them hope for a better future."
Nolan, listed as one of the most influential attorneys in California by California Law Business, has extensive experience as a lead trial attorney in antitrust, intellectual property and complex litigation matters. He is a fellow of the American College of Trial Lawyers.
Recently admitted

Although taking on clients living with HIV/AIDS may be emotionally difficult for her at times, San Francisco attorney SHAYE LARKIN enthusiastically accepts the challenge, using her expertise in areas as diverse as family law, simple wills and torts to help clients in critical need of legal services.
A little more than two years out of Golden Gate University Law School, the 34-year-old Larkin has helped eight clients by accepting nine referrals from the AIDS Legal Referral Panel.
Larkin's work for ALRP clients has helped secure housing, eased their financial burdens and, among other things, assisted them with planning end-of-life arrangements.
"It is rare to find an attorney so willing to help, so cheerful and indomitable, especially when there's no money in it," wrote Ali Hall, ALRP client advocate. "I consider Shaye to be the greatest legal ally of those who have little or nothing."
Larkin joined ALRP in 1999 and received the panel's Attorney of the Year award. A sole practitioner, she specializes in bankruptcy, real property and tax law. She also volunteers for the Bar Association of San Francisco's Volunteer Legal Services Program.
Retired

Some low-income residents in Butte, Glenn, Tehama and Plumas counties who have a roof over their heads can thank FRANK HOROWITZ. During an eight-month period when he was retired from his prosecutor job, Horowitz, 60, provided legal assistance to income-eligible persons and families with issues of housing and tenancy.
His work in-volved direct assistance in 133 cases as a volunteer for Legal Services of Northern California's Butte Regional Office in Chico. He volunteered about 100 hours.
"Rarely does a volunteer come along who is as committed with time, energy and expertise as Frank Horowitz," wrote Coleen M. Jarvis, LSNC managing attorney. "Frank Horowitz was a great asset to LSNC. He was readily available to discuss difficult and complicated cases."
When Horowitz joined the BRO program, its housing assistance project was in jeopardy due to staff commitments to other projects. Without his help, calls from an increasing number of clients who need help with housing would have gone unanswered.
The former prosecuting attorney was retired when he volunteered for the law center. He is again active as a lawyer with the California District Attorneys Association in Sacramento.
Solo practitioner
For the past seven years, STEPHANIE SIMPSON has provided an average of more than 1,000 pro bono hours annually to the elderly, indigent and disabled clients of Bet Tzedek, a Los Angeles agency that provides free legal counsel to some 10,000 people each year.
At Bet Tzedek, which means "house of justice" in Hebrew, Simpson, 84, represents clients of all backgrounds in administrative appeals from the denial of public benefits, mostly SSI disability claims. She has also represented the agency's clients in appeals to the U.S. District Court.
Successful in more than 90 percent of her cases, Simpson also guides young attorneys and law students volunteering at Bet Tzedek, allowing the agency to take on additional cases for representation.
"Ms. Simpson's success results directly in the drastic improvement of the lives of the clients she represents," wrote David A. Lash, a Bet Tzedek colleague, in his nomination of Simpson. "Her selflessness and expertise are an unmatched coupling, resulting in an inspirational and skilled effort that few will ever match." He called her dedication "unparalleled in the history of our organization."
Simpson, who became a lawyer in 1977 at the age of 60, is a sole practitioner in Northridge, focusing on issues on governmental benefits.
Distinguished pro bono service

In 1996, shortly after being admitted to the bar, Ventura County sole practitioner DEBORA S. VIERRA faced head-on the lack of lawyers available to help the poor with their legal needs. She founded Santa Clara Valley Legal Aid, a clinic which now operates every Thursday evening out of a police storefront in the remote agricultural community of Fillmore.
A short time later, she was joined by LAURA V. BARTELS, a partner with the local firm of Taylor, Scoles and Bartels. Since then, the pair has assisted more than 2,000 people, mostly migrant farm workers and working class families, providing help in areas such as housing, domestic violence, health care, credit problems and unemployment insurance. They serve an average of 400 people a year.
Bartels specializes in probate and estate planning, and Vierra is an accomplished labor and employment attorney.

Together, they recognized the need for legal services for the poor in the county's Fillmore and Piru areas, located far from legal services in either Oxnard or the county seat of Ventura. Many of their clients are poor farm workers who speak only Spanish and do not have easy access to transportation. Their small legal aid operation offers free legal counseling to the indigent and referrals to community agencies and resources for those it cannot help. They also enlist the help of other volunteers.
"The work of these two attorneys, week-in and week-out for the last four years, has provided access to those who would otherwise have no way of seeking legal counsel and advice," wrote Carmen Ramirez, coordinator of the Self-Help Legal Access Center of the Ventura County Superior Court.

This special 2001 Citations section was prepared by staff writers Sharon Lerman and Marlon Villa.