14 candidates vie for 5 board seats

A crowded field of 13 candidates is seeking election to the State Bar Board of Governors this year. A 14th candidate was unopposed in District 6 and will take his seat on the board at the Annual Meeting in October.
Although the issue of whether the bar should be a mandatory organization was decided by the recent plebiscite, virtually every candidate feels the need to address concerns of the large number of lawyers who voted to abolish the bar. Reducing dues, streamlining the discipline system further, and better communication between the bar and its members are high on many candidates' agenda.
The open seats this year are in:
District 4: Marin and San Francisco. The incumbent is John H. McGuckin Jr.
District 6: Riverside, San Bernardino, San Luis Obispo, Santa Barbara and Ventura counties. The incumbent is Michael Case.
District 7, Office 1: Los Angeles. The incumbent is Eileen Kurahashi.
District 7, Office 2: Los Angeles. The incumbent is State Bar President-elect Thomas G. Stolpman.
District 8: Orange County. The incumbent is Maurice Evans.
Ballots were mailed Aug. 2 to bar members in Districts 4, 7 and 8 and must be returned by Sept. 6.
In addition, Newport Beach attorney Jennifer Feres will represent the California Young Lawyers Association for a one-year term on the board. She replaces Constantine Buzunis of San Diego.
Stolpman and the new board members will be sworn in Oct. 12 at the bar's Annual Meeting in Long Beach.
DISTRICT 4
San Francisco personal injury attorney Arnold Laub wants to represent attorneys who must meet the day-to-day responsibilities of running a law practice -- a group he feels is either ignored or misunderstood by the current Board of Governors.
As the sole stockholder in what he says is the largest PI firm in California, Laub says he is familiar with the difficulties of securing affordable malpractice insurance and he thinks the State Bar should do a better job of helping lawyers meet such needs.
He believes the bar should be more all-inclusive and strive to better represent all its members. It should take strong stands on issues which affect the profession, particularly those which might place attorneys at some sort of risk.
Although he doesn't necessarily believe dues are too high, Laub, 63, doesn't think attorneys get much for their money.
The State Bar has become so large and unwieldy, he feels many attorneys become discouraged about becoming involved. "I feel maybe something I can do will make a difference," he says.
The father of two sons and two daughters, Laub recently was divorced from his third wife and is engaged to be married again.
Laub is one of three board candidates disciplined by the bar. He was suspended for a year in 1979 after admitting to five counts of misconduct, including failing to pay certain client costs from settlement funds, taping telephone conversations without the other party's knowledge, and paying a non-lawyer in his office a percentage of any settlement the man negotiated.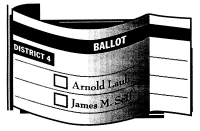 Laub also paid an orthopedic doctor who also was a lawyer in his firm a percentage of the fee on cases referred by the doctor.

The State Bar should take advantage of the "raised consciousness" of attorneys brought about by the plebiscite and continue reaching out to its members, says San Francisco attorney James M. Seff.

At the same time, it must pay attention to those disaffected lawyers who voted to abolish the bar. "If we can communicate better, we will have fewer disaffected people," Seff believes.

"We are going to have to get their attention if we are going to convince them we are part of the solution rather than part of the problem."

Seff, 55, specializes in wine and alcoholic beverage law, and is a former president of the Bar Association of San Francisco and its foundation, current vice chair and legislation committee co-chair of the Conference of Delegates, and a former president of the San Francisco Barristers Club.

A strong supporter of the State Bar, Seff believes the organization is "stretched pretty thin" financially and favors a cautious approach to a dues reduction.

"I would want to take particular care and attention to make sure the bar doesn't subject itself to any more accusations of being a 'bloated bureaucracy,' because I don't think it is," Seff says. He favors pursuing the state auditor's suggestion that the bar improve its efforts to recover costs from disciplined attorneys as a source of revenue.

Seff is a partner with Pillsbury, Madison & Sutro and is married to Margene Fudenna, a library volunteer, quilt-maker and student of Japanese taiko drumming. He attended the University of Michigan and received his law degree at Boalt Hall.

DISTRICT 6

Because District 6 encompasses five counties, cooperation and communication are essential, says Ontario trial attorney George W. Porter.

And because he is a partner in a relatively small firm, Porter would like to see better services for solo and small firm practitioners.

"Provisions can be made for those lawyers, especially those in outlying areas who don't realize how much the bar is doing and can do for them," he said.

Porter, 65, was unopposed in the bar election and will be sworn in as the representative of his district Oct. 12.

He interprets the results of the plebiscite to mean that small firm lawyers feel the bar does not provide enough services for them, "something which I want to improve."

As for a dues reduction, Porter feels that the roughly 80 percent of bar dues that is spent on attorney discipline is a fixed cost and little can be done to reduce it. He noted that a $20 dues reduction is anticipated next year.

Porter, who received his law degree at Boalt, is a partner with Covington & Crowe, where he is a criminal defense attorney and handles business jury trials.

He is a former president of California Attorneys for Criminal Justice and both the San Bernardino and West San Bernardino County bar associations.

Porter is divorced and has two grown children.

DISTRICT 7, OFFICE 1

John Joseph Collins believes the results of the plebiscite in June mean California attorneys are generally satisfied with the State Bar and are not seeking wholesale changes. The vote "was not a mass indictment of the bar," says the 59-year-old partner in Collins, Collins, Muir & Traver of Pasadena.

However, he acknowledged that a significant number of attorneys are dissatisfied with the bar, and "there's always room for improvement."

Fiscal responsibility is important, he said, but whether the bar can sustain a proposed $40 dues cut in coming years "depends on what careful scrutiny discloses."

As a longtime referee for the bar's discipline system before the State Bar Court was created, Collins thinks the question of reinstatement following disbarment deserves close examination.

Noting that the legal profession stands on shaky ground with the public, Collins said the bar must do what it can to restore the legal profession's image. "I've heard those (disbarment) cases," he said. "I never want to say never, but once a death sentence is imposed, I don't think you should tamper with it."

Collins has the endorsement of the influential Breakfast Club in Los Angeles and says his long involvement in State Bar activities uniquely qualifies him to serve on the Board of Governors. He brings no particular agenda with him, although he expressed an interest in legislation and discipline.

A graduate of the University of Santa Clara, Collins received his law degree from Loyola University School of Law and began to practice in 1962. He has been a trustee of the Pasadena and Los Angeles County bar associations, a member of the Judicial Nominees Evaluation (JNE) Commission and former president of California Defense Counsel.

He is the father of four boys and four girls.

Arlen Ross Gunner is disappointed that only half of California lawyers bothered to vote in the plebiscite election. The turnout demonstrates the "tremendous apathy" lawyers feel toward their professional organization, he says, and the bar needs to reach them.

"The bar isn't doing its job as adequately as it could," says Gunner, 47, who favors retention of the mandatory bar. "The first issue is communication. I don't believe the bar gets out its message as to what it does and can do for lawyers."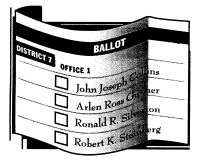 Gunner is of counsel with Knopfler & Robertson in Universal City, specializing in business, real estate and financial transactions.
He believes the bar needs to speak effectively for its 150,000 members, who hold "150,000 different opinions."
"They need a single voice to represent them both in the state and nationally," he says. "There are always issues that are basic to the profession and the practice of law. We've got to work to get more people under the tent again. Having 50 percent not caring is a very serious problem."
Gunner attended the University of Pittsburgh and received his law degree from St. John's University law school. He has been a delegate to the Conference of Delegates for the last three years, belongs to the bars of Los Angeles, Beverly Hills, Century City and New York City, and is a member of several community and charitable organizations. His wife is an executive with a charitable foundation in Los Angeles.
Although the plebiscite failed, Beverly Hills attorney Ronald R. Silverton believes the State Bar still should dump its entire discipline system and end its continuing education requirements.
The 65-year-old defense lawyer, who was disbarred in 1975 and reinstated in 1992, says the bar's discipline unit treats lawyers unfairly, does not satisfy the majority of clients who complain, and costs both lawyers and consumers money.
Lawyers who commit criminal acts should be prosecuted, and those who behave unethically can be sued in civil court.
"I believe that attorneys should be treated like all other hardworking, honest citizens," he says.
Silverton served as secretary for the pro-plebiscite campaign and characterizes the State Bar as "an organization whose existence is based upon satisfying itself, not the consumer. It wants to perpetuate its own job."
He calls the bar's continuing education requirements an insult to practicing attorneys who can determine for themselves how to stay current with changes in the law.
Silverton was disbarred following convictions for perjury, subornation of perjury, conspiring to violate the insurance code and soliciting to commit a felony. He spent nine months in prison and his first conviction was reversed on appeal.
He was reinstated in 1992, after spending the intervening years managing a large law firm.
Silverton and his wife have five children.
Los Angeles attorney Robert K. Steinberg would like the bar to lower its dues and reallocate funds from the discipline system to improve programs to assist lawyers in their day-to-day practice.
Steinberg, who was publicly reproved by the bar in 1989 after pleading no contest to contempt of court for refusing to answer a question under oath, says he's not necessarily opposed to the discipline system, but he wonders why it's so expensive. "We're paying very high dues, and I just can't believe we have more bad lawyers than anybody else," says the 59-year-old trial attorney.
Steinberg, who ran unsuccessfully for the bar board last year, admits ruefully that he probably won't win. "Maybe someone will say, 'Let's give this guy a chance,'" he laughed.
On a more serious note, he said he wants the State Bar to "give us more programs other than magazines and insurance and hotlines."
A graduate of UCLA, Steinberg earned his law degree from Loyola Law School and has had a colorful career that included an unsuccessful run for mayor of Los Angeles in 1969. He handles civil and criminal litigation as well as appellate work and belongs to numerous legal organizations.
His son, son-in-law and daughter-in-law are attorneys and his daughter recently graduated from Whittier Law School. "I wish we had one doctor in the family," he says.
DISTRICT 7, OFFICE 2
Stephen H. Beecher wants to strengthen the State Bar so it will not have to face another attempt at abolition.
"The plebiscite sent a signal that attorneys want some formal regulatory agency," Beecher says. "I think it's important to maintain an effective bar so we don't have another plebiscite."
His background as a credit manager for 12 years in two manufacturing businesses and his experience as a sole practitioner make him a good candidate for the Board of Governors, says the 45-year-old business and insurance litigator.
Beecher believes the stresses of practicing law need to be addressed with better assistance programs for lawyers, as well as realistic court reform. "If you have to make a living as a lawyer, you have to take on a lot of cases, and you're at risk of committing malpractice," he says.
Reports of attorneys who have been disciplined have led him to believe the bar needs to be more humanized. "Any regulatory agency sometimes gets full of itself and needs to be brought back to earth," he says. "The bar should be there to help the public and lawyers."
While working full time, Beecher attended law school at night and was admitted to the bar in 1988.
He is a judge pro tem in Van Nuys and spends some of his spare time riding his horse with other members of the Cowboy Lawyers Association.
Howard W. Dicker became an attorney in 1965 "when it really meant something wonderful."
Now, he says, most lawyers think of their practice as a job, not a profession, and he would like to change that.
Dicker, 58, believes attorneys could rebuild public respect for the profession by letting people know about the help they provide the public. The bar "should sponsor bills and fight for the things they believe in," Dicker says. "That's what being a lawyer is all about. I'm really proud of being an attorney."
Dicker specializes in business and real estate law, practicing with his son in Encino. He served with the bar's Conference of Delegates and is a probation monitor for the discipline system, where he has direct contact with errant lawyers.
"The attorneys I dealt with were treated wonderfully and with respect, but they had a great deal of ingratitude and showed a lack of respect (in return)," he laments. "I felt their punishment was light."
Dicker is married and, in addition to his son, has a daughter who teaches educationally handicapped children.
For Judith A. Gilbert, election to the Board of Governors would be a natural next step in a long career of bar involvement. From her activist perspective, she believes attorneys "need to feel they have a voice and that the State Bar is their bar, service-oriented and user-friendly."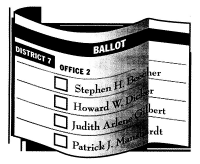 That may be a particularly difficult task in the huge and diverse District 7, which encompasses all of Los Angeles and includes some 40,000 lawyers. Somehow, says Gilbert, "the bar needs to be responsive to their needs. We need to have a dialogue."
Gilbert, 50, also sees a serious need to address the crisis in both court funding and legal services, and she believes the bar's discipline system, despite recent reforms, needs streamlining to make it more efficient and effective.
As an attorney specializing in finance and insolvency law, Gilbert says she is very familiar with budgets and "would work to reduce bar costs while increasing the satisfaction of the public and lawyer members."
A graduate of UCLA, Gilbert received her law degree from Harvard Law School. She is a partner with Adams, Duque & Hazeltine and has been a member of the Conference of Delegates, which she currently chairs, since 1972. She also was former president of the Beverly Hills Bar Association and has served on the board of the Los Angeles County Bar Association. She has the endorsement of the Breakfast Club and a wide variety of bar associations.
Gilbert is married to an attorney and they have a son and a daughter.
Patrick J. Manshardt is very direct: the State Bar is in a state of crisis and needs immediate reform. He would start by eliminating the Judicial Nominees Evaluation Commission, reducing dues by at least $75, and ending all lobbying activities.
"I think the bar has a narrowly defined mission, but we have the highest dues in the country as well as a program that gets involved in a lot of areas it need not," says Manshardt.
At 30, Manshardt is the youngest candidate for the Board of Governors; he was admitted to the bar in December.
A staff attorney with the Individual Rights Foundation in Los Angeles, he currently handles Keller-type issues for teachers op-posed to the California Teachers Association's political agenda.
He voted to abolish the mandatory bar. "I think a lot of people who voted 'no' did so holding their nose and because they didn't want the same bureaucracy that regulates cosmetologists to regulate lawyers," he says. "But the bar would delude itself if it took the result of the plebiscite as a vote of confidence."
Manshardt believes the JNE commission should be dumped because of its liberal bent.
"It has proven itself to be little more than a front for the nomination of leftist judges," he says.
The bar's lobbying office, he adds, is more concerned with a "left of center agenda" than lawyer issues.
A substantial dues reduction would be a good start in forcing the bar to end some of its activities, Manshardt says, adding, "lawyers should resent the bar taking positions on so many issues while pretending to speak for them and spend their money on those issues."
DISTRICT 8
Six years ago, Andrew J. Guilford campaigned for creation of a separate Orange County seat on the Board of Governors. Now he's seeking election to that seat, believing he, and Orange County, can provide a unique and balanced perspective for the State Bar.
"Frankly, I think at times the bar's views do not reflect the views of the general members of the State Bar," says Guilford, 45, a partner in Sheppard, Mullin, Richter & Hampton in Newport Beach.
"Orange County is big, urban and sophisticated, but remains more closely in touch with what the regular lawyer out there is thinking."
Guilford, who was a member of the Commission on the Future of the Legal Profession and the State Bar for two years, believes the two key issues for the bar are its dues and the question of purview presented by the Supreme Court's Keller decision.
He recalls attending the Board of Governors meeting when dues were increased, specifically to eliminate the large backlog of attorney discipline cases.
"I had the specific understanding it was going to be temporary," Guilford says. "The backlog is gone and the dues haven't gone down."
He says he would be sympathetic to the possibility of a $40 decrease.
As a longtime member of the Conference of Delegates, Guilford believes the Orange County delegation has led the way to a "reasonable approach" to the purview question.
A business litigator, Guilford also is a former president of the Orange County Bar Association and has chaired numerous State Bar committees.
He is married and has two daughters.
The State Bar must focus on enhancing lawyers' professionalism and helping them improve the service they give their clients, says Irvine attorney Howard J. Klein. Any bar program that doesn't address itself to those goals should be discarded.
"Every program, activity or function has to be measured by whether it promotes one or both of those missions," he says.
Klein voted to abolish the mandatory bar because he wanted to send what he calls a "symbolic message" that there is large-scale dissatisfaction with the attorney organization.
"One-third of those who responded to the plebiscite were willing to accept a total unknown as opposed to the status quo," Klein says. "Anyone who feels things are just fine is whistling in the dark."
Klein says his belief that the bar is not responsive to attorneys' needs was supported by the state audit, which found that the bar provides programs "from which (attorneys) receive no benefit."
An intellectual property attorney and partner in Klein & Szekeres, Klein, 46, thinks bar dues should be reduced and the discipline system should make a better distinction between truly bad apples and lawyers who make minor mistakes.
Attorneys who commit fraud and rip off clients should be aggressively weeded out, he says, but those who make technical errors which are isolated in nature "need assistance in getting back on track. The discipline system confuses the two."
Klein, who has a degree in physics from MIT and a law degree from Duke University, is married and has two daughters.
Like many other members of the State Bar, Richard W. Millar Jr. says dues and discipline are the focus of a great deal of attorney dissatisfaction.
But unlike most other candidates for the Board of Governors, he has no specific plan to cure the bar's ills.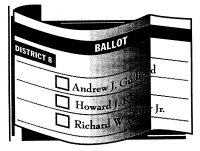 "I've often found that you have great ideas until you get into an organization and then you find out you can't implement those ideas," says the 56-year-old civil trial lawyer.
Millar says his 30 years as a lawyer put him in a position "to deal with some of the slings and arrows directed to the Board of Governors. This is a tough time for the State Bar."
He was disappointed that only half the state's lawyers voted in the recent plebiscite because it was an issue that affected "the life and death of the bar."
The large number voting to abolish the mandatory organization should be a matter of great concern for the board, he believes. Millar agrees that the annual membership dues are expensive but adds, "That's different from excessive. I think the point is a lot of people feel it's excessive and it's high in relation to other bars. It's something we need to come to grips with."
Millar is a partner with Millar, Hodges & Bemis of Newport Beach and specializes in business and real estate litigation.
He has chaired several committees of the Orange County Bar Association and is a former delegate to the Conference of Delegates.
He and his wife have three children and four grandchildren.