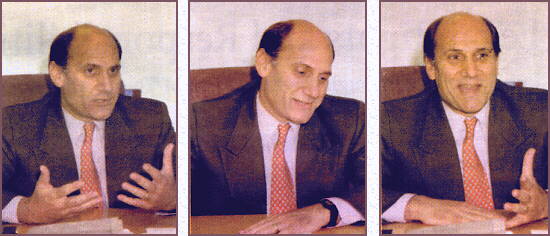 Barís new executive director intends to ask Ďwhy,í
then take his time to do it right
by Nancy McCarthy
Staff Writer
"The perspective of really being an outsider allows me to come in with a fresh pair of eyes and to ask the ultimate question with respect to everything the State Bar does, and that is, ĎWhy?í " he says. "Why do we do what we do?"
As executive director of the largest bar association in the country, the 46-year-old Nissen will make it his business to ask that question. And although he does not promise a quick answer, he will undertake a thorough review of bar programs within a context of long-range planning. "Iím prepared to do it right rather than to do it quickly," he says.
A bully pulpit
Relaxing recently in the Los Angeles office he will soon vacate, Nissen discussed his views of the State Bar, lawyers and the legal profession. He smiled easily but spoke carefully, advancing a view of his new post as a bully pulpit for improving the administration of justice and the delivery of legal services.
He wants to make the bar more accessible, through better technology and improved attitudes. He hopes to reinvigorate lawyersí involvement with the bar and is seeking an infusion of fresh ideas. While acknowledging criticism of the bar by its members, Nissen believes lawyers really want the organization to be meaningful and he is optimistic that negative perceptions can be reversed.
A high-energy attorney who frequently puts in 18 hours a day on the job, Nissen brings a different style to his new post from that of his predecessor, Herbert Rosenthal, who is retiring after 35 years at the bar, 10 as executive director. Rosenthalís name has rarely appeared in print over the years as he worked quietly behind the scenes, leaving most public pronouncements to bar presidents. Nissen, on the other hand, is expected by the board of governors which hired him to be more high profile. Skilled as an administrator and fundraiser, he also is expected to bring efficiencies to a bar its critics describe as bloated and wasteful.
A strong and visible chief executive provides consistency and stability for an organization, Nissen believes, and at the same time offers the bar president, who serves only one year, a more secure platform to conduct his work. "By my being more visible, more of a spokesperson, more accessible to legislators and constituents alike means in no way the presidentís role will be diminished," he says. "In fact, it will be enhanced because the message will be more consistent."
The right stuff
John Morris, a Los Angeles investment consultant and public member of the board of governors, believes Nissen has the right qualifications. "The thing I was looking for was someone with strong managerial skills," Morris says, "someone with a strong financial background, and someone who would represent the bar well to its members and to elected officials."
James Seff, a corporate attorney and board member from San Francisco, says he was attracted to Nissenís creativity and "what I took as a capacity to revitalize the bar and inject a new sense of commitment into the profession."
Under Nissenís stewardship as executive director of Public Counsel in Los Angeles, the public interest firm became the largest pro bono law office in the country. It grew from three lawyers in 1984, when Nissen signed on as a full-time attorney, to more than a dozen staff lawyers and 10,000-plus volunteer attorneys and law students today. The value of the free legal services it offered in 1996 was estimated conservatively at $26 million.
A wonderful ride
Nissenís years at Public Counsel were "a wonderful ride," he says, but heís ready for a new challenge "and the bar is certainly that."
The number one item on his to-do list is an examination of membership fees and how they are spent. Nissen plans to study every cost center and determine whether each office can operate more efficiently. He declined to comment about specific bar programs, preferring to familiarize himself with the budget, "do a lot of digging," and draw his own conclusions.
"The real question is, is the money being spent on things that protect the public, that further the mission of the State Bar, that benefit the profession?" he says. "All I can promise with certainty now is Iíll apply the same cost-benefit scrutiny Iíve always applied (at Public Counsel), and Iíll really work to assure that every bar memberís dollars are spent as wisely and efficiently as possible."
Long-range planning
Any changes should be made in light of long-range plans which can be modified as circumstances warrant. "I think itís a real mistake to lurch from one issue to another and from one solution to another without a longer-term goal in mind," Nissen says. "Thatís the kind of structure I really want to impose on the bar. Iím quite certain Iíll have near-unanimous support from the board of governors on that issue."
One of Nissenís goals is to make the bar, which he described as seeming to be "at times an impregnable fortress and a distant entity," more accessible through technology and improved attitudes. Technology is a way to communicate faster and cheaper with bar constituencies, the legislature, particularly legislative aides, the Supreme Court and the barís computer literate members.
"We can keep people up to date and help to relieve some of the tensions thatís created when the legislature feels it isnít being kept abreast of what the State Bar is doing," he says. "Technology can be very helpful."
Increased outreach can be achieved by something as simple as letters or as sophisticated as public access television. He wants to use the barís network of resources to improve contacts with the legislature. Nissen himself plans to make regular public appearances.
"I hope most of all lawyers will be open to the idea that weíll begin a dialogue with other professionals who also serve our clients in their own particular discipline," he says.
"Any time law and other professional disciplines intersect," Nissen adds, "we need to talk to each other so we can more effectively provide services to our clients and in the process build a more efficient and effective society."
Inaccurate criticism
Nissen set the record straight on two issues for which he says he was inaccurately criticized soon after his appointment: he opposes both mandatory pro bono requirements and taxes on legal services. Indeed, he thinks both ideas carry more negatives than positives and do not enhance the delivery of legal services. He invited critics "who assume certain things about me to talk to me first and then draw conclusions. I invite an open dialogue, and I hope itís an informed dialogue."
Nissen declined to discuss the minimum continuing legal education program (MCLE) because its constitutionality is pending before the California Supreme Court, but he offered these views of other issues facing attorneys and the bar:
Professional image
It will take efforts by both the organized bar and individual attorneys to improve the public perception of attorneys. The bar, Nissen believes, can conduct a consistent campaign to improve ethics and competence. Attorneys should adopt "integrity" as their watchword. A realistic goal is not to hope the public will love lawyers, because that is not the case historically, but instead to respect them.
Nissen believes better communication with the public could improve the image of the profession. "If we can reach out to the general public and let them know what we can do," he says, "we can dramatically improve our image."
The legislature
The bar needs to do a better job of identifying a network of friends and supporters, and then make sure that group acts as a bar ally with the legislature. Contacts with lawmakers should be frequent and should surround issues other than just the fee bill.
"Each and every member of the legislature needs to know we are concerned about their concerns and hope that theyíll be paying attention to our concerns," Nissen says. "We need to create the vehicle and framework to make that happen on a year-round basis and to build a level of trust and confidence that doesnít exist now."
Board of governors and bar staff
Nissen doesnít want the board of governors to work harder but to work more efficiently, particularly with the legislature and the barís constituent groups. He hopes the board and staff can work as a team to accomplish goals.
"Youíve got nothing but talented people, both on the board and on the staff, and the roles of what each should be doing may not be as clear as they should be."