A sea change in justice ...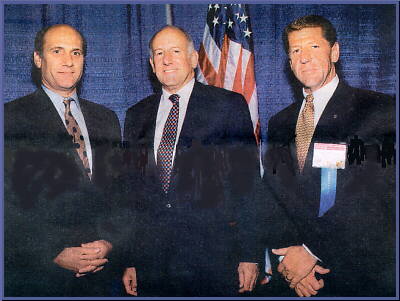 A new era begins in California's legal system as Chief Justice Ronald George (center) completes his first full year in office, Marc Adelman (right) takes over the reins as the
new president of the State Bar of California and Steve Nissen (left) prepares to become the new executive director of the bar on Nov. 1

UPDATE
FEDERAL JUDGE DISMISSES
LAWSUIT CHALLENGING
STATE BAR ACTIVITIES
A federal lawsuit alleging the State Bar's activities violate the constitutional rights of its members was dismissed last month by Judge Garland E. Burrell Jr., who wrote that the plaintiffs failed to show "that they have been forced to make or support politically expressive acts of the State Bar."
The suit, Morrow v. State Bar of California, was filed in June. It made reference to the bar's support of four bills, including an Assembly bill which would have created six exemptions to the 1975 Medical Injury Compensation Reform Act's (MICRA) $250,000 limit on physician liability for non-economic damages.
The judge said that compulsory membership in the State Bar does not assume that all members agree with the bar's position on political issues.
CONTINUED ...
Bar's new executive director intends to ask 'why,' then take his time to do it right
---

For the last 13 years, Steven A. Nissen has worked successfully in the nonprofit world of poverty law, where maximum use of minimal resources is the rule, the notion of waste is virtually inconceivable, and the efforts and good will of volunteers are paramount. When he takes over the top job at the State Bar Nov. 1, Nissen hopes that background, coupled with the fresh perspective of an outsider, will serve lawyers and the public well.

CONTINUED ...
Chief justice hails new trial court funding legislation as the 'jewel in the crown'
---
A new system of funding California's courts eliminates the threat of closed courtrooms and will help insure that the quality of justice does not vary from county to county, says Chief Justice Ronald M. George. He called trial court funding legislation approved as part of a mega-deal cobbled together last month in Sacramento the "jewel in the crown."

"Obtaining a stable and adequate source of funding for our courts is without doubt one of the most important reforms in California's justice system in the 20th century," he said.

CONTINUED ...