When Chief Justice Ronald M. George traveled to Del Norte County on Aug. 8, he reached his goal of visiting the courts in all 58 counties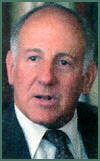 in California, completing the daunting task one year to the day after he started.
At each of what he calls "58 judicial labs," the chief justice met with judges, lawyers and court staff, becoming familiar both with their problems and the wide array of innovations they've created to cope with too little money for too many customers.
The dire straits faced by many courts reinforced for George the importance of his number one priority: the necessity of statewide funding for the courts.
"It's of vital importance that we not have the quality of justice, which I think is one of the most significant services dispensed by government, vary from county to county depending on the ability or willingness of the particular county to fund its courts in the face of all the competing demands on (its) government," George says. "It shouldn't depend on whether whoever is presiding judge that year has a good or a poor relationship with whoever's on the board of supervisors."
CONTINUED ...
---
RELATED STORIES
The George court's first year
The chief justice and attorneys
George, Chin targeted for '98