Revised bar bill awaits action

Amendment would reduce dues to $358

by NANCY McCARTHY
Staff Writer
覧覧覧覧


As time runs out for the nearly broke State Bar, it appeared last month that no urgency legislation would be enacted to head off massive layoffs and keep the attorney discipline system operating.

By the Memorial Day weekend, Assemblyman Robert Hertzberg, D-Sherman Oaks, had received no signal from Gov. Pete Wilson that he is satisfied with the bar's efforts to meet his concerns expressed in last October's veto message.

CONTINUED ...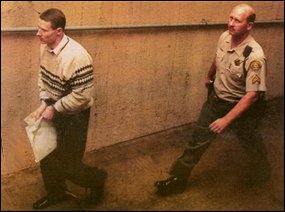 A manacled Dana Ewell is led from the courtroom during the recent triple-murder trial in Fresno.

Former public board member's son convicted in killing of family

by KATHLEEN O. BEITIKS
Staff Writer
覧覧覧覧


Portrayed as a rich boy consumed by greed, 27-year-old Dana Ewell was convicted last month of murdering his father Dale, sister Tiffany and mother Glee, a former public member of the State Bar Board of Governors. Six years after the 1992 Easter Sunday slayings in the Ewell family Fresno home, a jury took 10 days to convict Ewell and his college buddy, Joel Radovcich, 27, of first-degree murder with special circumstances. The conviction could bring a life term in prison or the death penalty.

CONTINUED ...