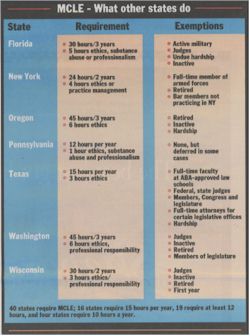 bers of the bar who are not exempted" from it.

The bar's fee bill, pending before the legislature, also addresses MCLE by reducing the hours from 36 to 25, with a simple requirement of four hours of ethics instruction, and eliminating the exemption for retired judges.

It also would require the bar to provide efficient low-cost instruction to meet all self-study requirements at $15 per hour or less by July 1, 2000.

Practice management concern

Robert DeMeter, chair of the bar's MCLE committee, said although he does not oppose a reduction in the number of hours required, he's concerned about the elimination of the law practice management requirement. "Failing to manage your practice effectively is occasionally what gets lawyers in trouble with discipline," DeMeter said. "I think we all need a refresher course now and then."

DeMeter said a more useful change would be to require a relationship between an attorney's practice area and the courses he or she takes.

MCLE can be both convenient and inexpensive, but that combination seems to be available primarily to lawyers practicing in large metropolitan law firms. Larry Townsend, a San Francisco attorney specializing in intellectual property matters, says he does not find the requirements onerous, although he "can't recall having a conversation about MCLE" with his colleagues.

A Marin County sole practitioner, Rita Gilmore, believes the required hours of study should be increased. "I'm all for more regulation of lawyers," Gilmore said.

Another San Francisco lawyer said bluntly, "The idea is fine. The substance is 90 percent garbage."

A comparison

Bar president Marshall will appoint a commission soon to study the entire MCLE program, a review which will compare the education requirements for attorneys with other professions, and the California bar's program with those of other bars.

California is relatively comparable to other states. Forty require continuing education for lawyers; 16 require 15 hours per year, 19 require at least 12 hours and four states require 10 hours per year. Most also require some training in ethics or professionalism. Exemptions in states requiring MCLE vary widely, with New Mexico and Vermont offering the fewest (inactive lawyers are exempt in Vermont and New Mexico exempts by petition only).

Andrew Castellano, a South Pasadena lawyer who is a consultant to foreign governments in the area of law reform (a specialty for which he notes there are no MCLE courses), worries that the bar's study commission will be predisposed to retain MCLE. "The scope of the review should not be limited in any way," he said. "One of the options is whether the program should be eliminated."

Castellano said the threat of malpractice lawsuits and State Bar discipline are motive enough for attorneys to educate themselves and are "more effective than some amorphous objectives that are behind the creation of MCLE."

The law connection

Michael Leight, a business trial lawyer in Long Beach, favors total elimination of the program. "MCLE is based on the false premise that lawyers . . . need this requirement to practice law. That's simply not the case."

He says he's "flabbergasted" by the substance abuse and elimination of bias requirements, which he characterizes as "baloney."

Mark Leinwand, an Agoura Hills lawyer who practices entertainment law, finds the entire program a symbol of bar arrogance and is mystified by what he sees as its "obsession" with a program "nobody wants."

Like many critics, Leinwand is particularly offended by the substance abuse and bias requirements which "assume we are all bigots and junkies. Why are we treated as a child in constant need of correction?"

Guilford, who also doesn't like the special requirements, said he has found MCLE to be helpful and thinks it's difficult to oppose education.

The red tape worries

But he worries about what he calls "red tape and bureaucratic excesses" as well as the expense and the amount of time busy lawyers must spend to meet the requirements.

"Do we want to keep layering on more requirements?" he asked. "We have to be cautious about the burdens we place on our lawyers."