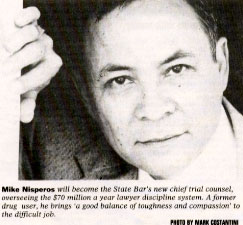 the discipline system who would understand the challenges faced by solo practitioners and small firm practitioners," said Madden. "Mike brings a good balance of toughness and compassion."
Nisperos, who works in the city manager's office as the public safety liaison, has worked in city government, the military and in small law firms. He says he is looking forward to the challenge of running the discipline system of the nations's largest state bar. "I am delighted to have the opportunity of leading the team of professionals who are committed to maintaining the protection of the public and the integrity of the legal system in the state of California," said Nisperos.
Judge Peggy Hora of the Alameda County Superior Court said she was "thrilled" by the news of Nisperos' selection. "He is dedicated to working with a diversity of people," she said, "and he has excellent negotiating and people skills."
Sees both sides
Former Oakland Mayor Elihu Harris praised the selection of Nisperos, saying, "Mike understands victims' rights, professional responsibility and ethics." His professional and personal background will bring a wealth of expertise to the State Bar's discipline system, said Harris, "because he understands both sides of the equation."
Gilda Gonzales, chief of staff to Oakland Mayor Jerry Brown and City Manager Robert Bobb, said Nisperos will be sorely missed in her city. "The State Bar has wisely selected Mike," said Gonzales. "He is an innovative problem solver who has a proven track record for fixing systems that needed his insights and intellect."
In 1987, Nisperos worked as a trial attorney for the Immigration and Naturalization Service, but admitted himself to a drug rehabilitation program when he realized he had a substance abuse problem. "I was an alcoholic and later used cocaine," he said.
Nisperos came to the attention of Oakland city officials after he wrote a proposal to combat the area's drug problems, tapping his personal experiences with drug use and rehabilitation.
In 1991, he was named director of the mayor's Office of Drugs and Crime, where he coordinated the enforcement, prevention and education efforts directed toward the reduction of crime and drug abuse.
He is especially proud that during this period homicides in Oakland dropped from 175 to 58 in one year.
Filipino heritage
Nisperos' family tree goes back at least 17 generations in the United States on his mother's side. He was born in her home state of Mississippi in 1949. His father came to the U.S. from the Philippines in 1927, earning a living as a restaurant worker, boxer and gambling house proprietor. He eventually went to night school and trained to be a welder.
A 1978 graduate of Boalt Hall School of Law, Nisperos received his undergraduate degree in rhetoric from the University of California, Berkeley, in 1975. After law school, he spent a few years working for the district attorney's office in Alameda County. He also spent time as a real estate broker, worked for a few small law firms and had a short stint as a college instructor.
A Vietnam-era veteran, Nisperos served in the U.S. Marine Corps from 1968-71 and with the Judge Advocate General Corps in the U.S. Air Force from 1982-86. In late 1990, he served as a Judge Advocate Recall Volunteer during Operation Desert Shield.
A former member of the Oakland Planning Commission (1980-82), Nisperos served on the board of directors (1988-90) of Swords to Plowshares, a veterans' service organization, and is a founding member of the Filipino Bar Association of Northern California.
He is currently a representative on the Judicial Council of California's court planning team in Alameda County, as well as a member of the Alameda County Bar Association's confidential assistance program for attorneys.
Nisperos and his wife, Eleanor, an administrative law judge with the state's unemployment insurance appeals board, have two children, Michael, 26 and Marlo, 23. They reside in Oakland, but Nisperos' new position will require his relocation to the State Bar's offices in Los Angeles.