A Campbell attorney who was placed on interim suspension in November has resigned from the State Bar after pleading guilty to forgery and grand theft in connection with a scheme prosecutors said enabled him to defraud his victims of more than $600,000. The resignation of ROGER LOUIS MAINO [#34717], 66, took effect Feb. 15, 2001. It was part of a plea agreement reached with Santa Clara County prosecutors after Maino pleaded guilty to five felony counts of forgery, grant theft and securities fraud.
Deputy District Attorney Joseph P. Reader said Maino embezzled from clients through his client trust account, forged deeds of trust, stole clients' security interests in real estate, stole proceeds from the sale of real property and engaged in investment fraud.
His troubles stemmed from living beyond his means, Reader said, and most of the stolen money was used to prop up a failing check-cashing business, which Maino apparently hoped would support him in retirement. He also owned a $2 million-plus home in Los Gatos and two condominiums in La Quinta.
"Instead of refinancing or seeking out loans from friends or tightening his belt, he just dipped into his trust account and took money for his personal expenses," Reader said. "Usually he repaid quickly, but he'd been stealing for years."
In fact, Maino was disciplined by the State Bar in 1993 for embezzling client funds from at least three clients over a long period of time, but he was not prosecuted criminally. However, by 1999, when he had not repaid a client who had loaned him money, his schemes began to unravel.
According to papers Reader filed in connection with a sentencing hearing later this month, Maino had received a personal loan for $16,500 in 1997 from Ann Sebastian, securing the loan with a deed of trust. When he sold the property in question in 1999, Sebastian did not receive any of the proceeds.
She presented the deed of trust to the Santa Clara County recorder's office, where she learned it had never been filed and that the information on the document was forged.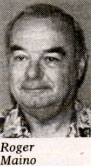 The discovery led to an investigation, turning up eight more victims, including clients, long-time friends and associates, and even a physician and one-time classmate who had treated Maino's wife for cancer.
Three victims invested $375,000 in Mobile Money Corporation (MMC), Maino's check-cashing business. It operated a fleet of six minivans that visited companies on a routine basis to cash payroll checks for employees working for 50 companies based throughout Northern California.
MMC went out of business in late 1999.
Maino told the investors he placed two-thirds of the money in certificates of deposit, which were supposedly used to secure a line of credit to be used in the business. There is no evidence the funds were placed in a CD, and there is evidence that the line of credit Maino used was unsecure, Reader said.
A couple who had invested $150,000 sought to get their money back, and Maino gave them a forged deed of trust on his home in Los Gatos, Reader said, adding that his technique was similar to that used with Sebastian.
Two other investors gave Maino $150,000 and $75,000 respectively and were repaid late or only partially repaid.
An elderly couple who loaned Maino $25,000 received a deed of trust on his home in La Quinta to secure the loan. When Maino failed to repay the loan, the couple's attorney tried to foreclose on the property but learned Maino filed the deed in Santa Clara County rather than southern California.
The attorney then learned Maino signed the deed as an individual when it was actually in a living trust and had to be signed by Maino's wife as well. Maino offered to negotiate the terms of the loan by offering to sell the couple an investment in MMC.
He embezzled client trust funds from three other clients and without their authorization made payments to Mobile Money.
Reader said Maino took $25,000 entrusted to him by a client who wanted to make a down payment on a bar. More than $52,000 from another client's living trust was withdrawn "for questionable purposes," although Maino did apply that amount towards a down payment on a home his client bought. He also spent $150,000 of $1.1 million he was holding for a corporation for whom he was general counsel.
In all three cases, Maino used most of the money to make unauthorized payments to Mobile Money.
He also stole $35,000 from a small family business he represented as corporate attorney. The funds were to be used to settle a lawsuit. The money gone, he could not complete the settlement. Maino later sent additional legal bills to the company, which Reader described as "nothing more than not-so-cleverly disguised thefts, representing [Maino's] ill-gotten gains as a result of his 'churning' his client's account."
Maino is due to be sentenced April 20, and although he received a guarantee of no state prison as part of his plea agreement, Reader will ask that he spend 12 months in the county jail and complete restitution of about $79,000 to his victims.