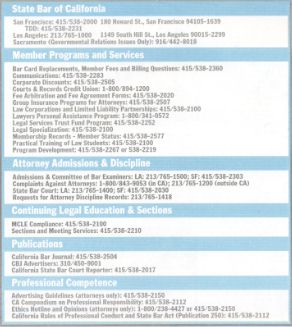 Video offers advice on estate planning
A video program designed to present the truth about estate planning scams to senior citizens is available from the State Bar. Produced by the Estate Planning, Trust & Probate Section, "Taking Charge: The Rewards and Risks of Estate Planning" will help seniors evaluate and make informed decisions about estate planning proposals they may receive.
It offers advice on how to look for red flags in dealing with businesses that may not have their best interests at heart, how to say no to unwanted solicitations for financial products, and how to get legitimate help with estate planning.
The video is intended to be used in conjunction with a live presentation by a member of the section's speaker's bureau.
It is available to section members for $20 and for $25 to all others. Order information is available at the bar's web site, www.calbar.org, by linking to the section and then the product order form.
Bar dues deadline passes; penalties kick in March 15
The deadline for payment of State Bar dues for active and inactive California attorneys was Feb. 1.
A 10 percent penalty for late payment will be added to unpaid membership fees March 15 and if the fees remain unpaid May 15, the penalty will increase to 25 percent. Attorneys may be subject to suspension from practice for failure to pay dues.
The dues for most active attorneys are $345, and for inactive attorneys, $50.
Questions about member fees may be directed to the bar's membership records office at 415/538-2360.
National legal services meeting set for San Diego
The third annual Equal Justice Conference, scheduled next month in San Diego, will address strategies for increasing the delivery of legal services to the poor. Co-sponsored by the American Bar Association and the National Legal Aid and Defender Association, the conference will take place March 29-31 at the Town & Country Resort Hotel. It will feature programs of interest to bar leaders, judges, attorneys from a variety of practice settings, as well as legal services attorneys and pro bono coordinators. For more information, visit the ABA website at www.abanet.org/legalservices/probono.html.
New legal services directory is available
The 2000-2001 edition of the California Legal Services Directory is available for $25. The directory, prepared by the State Bar's Office of Program Development, contains listings of all the Legal Services Trust Fund recipients (legal services programs), as well as the support centers, State Bar certified lawyer referral services, dispute resolution programs, and family law facilitators.
To obtain a copy, send a check for $25 to: State Bar of California, Office of Program Development — Directory, 180 Howard St., San Francisco 94105-1639.
Orders by telephone (415/538-2176) or e-mail (kimberly.warmsley@calsb.org) are accepted.
ABA offers three awards to honor public lawyers
The American Bar Association's government and public sector lawyers division invites nominations for three separate awards designed to recognize the extraordinary achievements of public lawyers. The awards are the Hodson Award for Public Service, the Nelson Award for Outstanding Service to the ABA, and the Dorsey Award for an Outstanding Public Defender or Legal Aid Lawyer.
The Hodson Award recognizes sustained outstanding service or a specific extraordinary accomplishment by a government or public sector law office.
The Nelson Award honors outstanding contributions to the ABA by an individual government or public sector lawyer, and the Dorsey Award recognizes an outstanding legal aid attorney or public defender.
Nominations for the three awards, which will be presented at the ABA annual meeting in Chicago, are due April 6. To obtain a nomination brochure or more information, call Theona Salmon at 202/662-1023.
Positions open on access and fairness committees
Active members of the California bar, former members of the judiciary and members of the public are invited to submit an application for appointment to the bar's Committee on Sexual Orientation and Gender Identity Discrimination (CSOGID).
The committee addresses gender identity issues in the legal profession and works to promote access and fairness for gay, lesbian, transgender and bisexual attorneys.
Committee members serve three-year terms and meet approximately six times per year. There are four vacancies for the term beginning next September. The application deadline is March 1.
Information and the application form are available at www.calbar.org; from the appointments office, 180 Howard St., San Francisco 94105, 415/538-2299; or from martin.morales@calsb.org.
Panel created to study reciprocal admissions
The Supreme Court has created an 18-member panel to study the possibility of licensing out-of-state attorneys in California. The Advisory Task Force on Multijuris-dictional Practice, established in response to SB 1782 (Morrow), will "study and make recommendations regarding whether and under what circumstances attorneys who are licensed to practice law in other states . . . may be permitted to practice law in California."
Panel members include community and bar leaders drawn from a variety of practices and backgrounds. Four former State Bar presidents, an ex-executive director and ex-general counsel will serve on the task force, which will be chaired by Raymond Marshall, a partner at McCutchen Doyle Brown & Enersen in San Francisco and bar president two years ago.
Joshua Paul Davis, associate professor at the University of San Francisco Law School and chair of its Center for Applied Legal Ethics, will serve as the task force reporter.
The group is to make its recommendations to the court by next fall.
Pen pals sought for youthful offenders
Volunteers in Parole Inc., a non-profit organization which matches youthful offenders with attorneys who act as mentors, invites lawyers and third-year law students in the Santa Clara area to volunteer as pen pals.
The work, which involves corresponding with young men and women incarcerated in one of 11 California Youth Authority facilities, requires one hour per month.
It offers the volunteers a unique opportunity to help incarcerated youth who may be paroled to the San Jose area within six months and to learn about the criminal justice system.
To sign up or obtain more information, call 408/277-1008.
Bar revises 13 consumer information pamphlets
Thirteen consumer education pamphlets, dealing with topics including rent, divorce and debts, have been updated and revised by the State Bar.
Three pamphlets have been translated into Spanish, five are available in hard copy and eight are online at www.calbar.org.
Order forms for obtaining print copies of the pamphlets are not online, but information may be obtained by calling 415/538-2280.
In addition, the rent, small claims and debt pamphlets have been translated into Spanish and also are available in printed form.
Inquiries about pamphlets dealing with wills, trusts and estate planning should be directed to 415/538-2206.