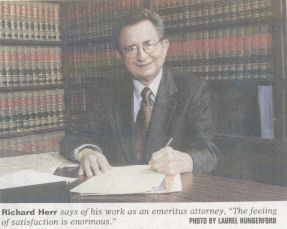 In addition to dealing with his clients' creditors — an irony that isn't lost on the former banking attorney — Herr immediately ventured into new legal areas. And he found himself in the unfamiliar position of counseling seniors in the middle of crises. His daughter, a social worker, now teasingly refers to him as a part-time social worker. And, says Herr, "there's some truth to that."
Nor was Herr prepared for the gratitude expressed by his new clientele — even when he isn't able to provide much help. "I never cease to be amazed," he said, "at the effusive thanks you get."
Fellow volunteers echo Herr's sentiments. Mary Pat Toups — who works with Herr — recalls one impoverished client who was so thankful for a bit of advice that he presented her with the largest tomato that she'd ever seen. "I was really touched," she said.
In another instance, Toups, 71, got a call from a senior citizen who had lost a third of her Social Security income after her husband's death. Living in a rented mobile home, the woman didn't have enough money to buy her medicine and still manage to eat.
Toups told her to go to a nearby senior center for lunch. The woman, however, said she couldn't afford the $2.25 charge. Toups was able to explain that, under the Older Ameri-cans Act, the woman need only pay what she could afford. Toups suggested a nickel.
The relieved woman, in turn, insisted she could pay a quarter and broke into tears. "She cried over the fact that she was going to get to eat," Toups recalled.
Wide variety of cases
The cases run the gamut, volunteers say, from a woman who can't afford to eat, to clients who've been tricked into signing away their homes, to seniors abused by their children.
Bill Wise, who supervises Toups, Herr and three other retirees at SCLAP, describes his volunteers as a vital resource. "We would never be able to do what we do without them," he said.
When staffing was reduced in 1996 due to federal funding cuts, the program was able to maintain its same level of services because of the volunteers, Wise said. And now SCLAP serves even more clients.
Toups has been providing legal help for little or no pay since the early 1970s when, she said, no one wanted a woman lawyer and no one wanted to serve the poor.
Volunteering at SCLAP since 1992, she now also works on a local, state and national level to recruit other senior lawyer volunteers. She's even compiled and edited a book on the topic.
"Not only does it mean a lot to the poor people who get helped, but it means a lot to the senior lawyers who volunteer," she said. She's watched new volunteers gain "a sparkle in their eyes," she says, as they become involved in the work.
When Menlo Park attorney Barbara Kalhammer, 62, first called the Pro Bono Project of Silicon Valley five years ago, she didn't plan to become immersed in pro bono work.
Her job on a specially hired litigation team had ended and, with no "income flow," Kalhammer simply decided to donate some time instead of writing her usual check.
Penniless client
She recalls the program's office manager showing her to a stack of files — the cases languishing without attorneys. And she recalls the details of her first client: a non-English-speaking immigrant who had lost custody of her children, home and car because of her husband's false claims and breakdowns in the system.
The nearly penniless woman, a kitchen helper in a senior citizens' home, had traveled by bus from San Jose to Salinas and back in search of an attorney.
By the time Kalhammer picked up the case, the file had been dormant for months; in the meantime, the hearing for permanent custody of the children was fast approaching.
More than 100 hours later, Kalhammer had persuaded a judge to award the home, full custody of the children and child support back to her client.

Recently, Kalhammer visited the woman who has since remarried and gained enough new skills to move out of the kitchen and into a front office job.
Without an attorney's intervention, "she would have been absolutely ground up," Kalhammer said. "She was really falling through the cracks."
Since that case, Kalhammer has done only pro bono legal work. The flexibility of such work and the freedom to set up one's own schedule appeals to her, she said, adding, "I can pick the cases that appear to really deserve an attorney's attention."
John Hedges, director of the Pro Bono Project, marvels at Kalham-mer's determination to "right the wrongs" in challenging, time-consuming cases. "I wish we had more Barbaras around," he said.
Hedges and other legal services program managers point out that retired attorney volunteers also play an important role in mentoring and supporting the work of newer, less-experienced attorneys.
Through the emeritus attorney program, retired attorneys can donate services through more than 100 qualified legal services programs or the no-fee panels of certified lawyer referral services.
They receive training, access to MCLE programs, malpractice coverage and supervision through the local program. To help participants meet their MCLE requirements, many legal services programs offer free education. Discounts for some additional MCLE programs are available as well.
Tailored to fit
No minimum amount of work is required. The local programs, however, vary in their requirements.
At the Pro Bono Project, Hedges says he works with each attorney's lifestyle and needs. Some attorneys take one case at a time; others focus on assisting new lawyers or advising clients one or two days a week.
When retired attorney Justin Gross first volunteered his services in Fresno, he just wanted to stay occupied. "It wasn't for any great sense of civic duty," he recalls. "I didn't want to be sitting by the refrigerator all day."
In 1994 — two years after Gross retired from a long corporate career in the San Francisco Bay Area — his wife took a yearlong job in Fresno. Gross, who had no friends in the area, began volunteering services through the local legal services program.
A little bit of shock
Now back in the Bay Area, Gross, 68, focuses on landlord-tenant issues at the Legal Aid Society of San Mateo County, where he advises clients three afternoons a week. The experience, he said, has been eye-opening for a former corporate attorney who was raised in an upper-middle-class family.
"Some of the things you see here I had heard about but never really believed existed," he said. "There's a little bit of a shock at how poor people are treated on the one hand."
After six years as a volunteer, Gross says he sees pro bono work as an opportunity to continue working his mind while helping others who truly need help. And he encourages other retired attorneys to do the same.
Says Gross: "I tell everyone one I know, 'When you retire, you've got to have a plan.' And this is as good as it gets in having something to do."