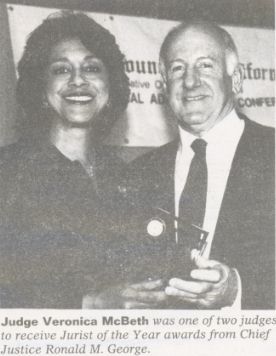 February was filled with awards: a southern California attorney who celebrated his 100th birthday was honored as the oldest practicing lawyer in the state; the Judicial Council honored several of its own for their dedication to various causes; and women lawyers recognized State Bar executive director Judy Johnson as a role model for other women lawyers throughout the state.
Women in the Law
State Bar executive director Judy Johnson was honored for her contributions to the legal profession by the bar's Committee on Women in the Law.
At a presentation at the January board of governors meeting, CWIL chair Ellen Pansky presented Johnson a resolution acknowledging "her years of extraordinary contribution and commitment to the best interests of the State Bar, its board of governors, the legal profession and the community."
Johnson, the first woman and lawyer of color to hold the bar's top job, also was recognized for "balancing her various roles of leader, litigator, devoted and working mother, sister, friend, teacher and community activist."
Johnson, a graduate of Stanford University and the University of California Davis School of Law, was an assistant district attorney in San Francisco before becoming the bar's chief trial counsel, heading its discipline operation.
She was named executive director last May.
Jurists of the Year
The Judicial Council of California presented three Distinguished Service Awards last month to individuals who have demonstrated extraordinary leadership and made significant contributions to the administration of justice in the state.

San Diego Superior Court Judge Judith McConnell and Los Angeles Superior Court Judge Veronica McBeth received Jurist of the Year awards. They were recognized, in part, for their work as co-chairs of the Community-Focused Court Planning Imple-mentation Com-mittee, a group which tries to improve the quality of justice in trial courts by creating a positive relationship between courts and the communities they serve.
McConnell, who has been a judge since 1978, has a lengthy resume of volunteer activities, including serving as a member of the Judicial Council and several of its committees, the California State Senate Task Force on Family Equity, and on the advisory board for the Center for Public Policy Studies that focused on indigent representation in civil cases.
A judge since 1981, McBeth also is involved with several judicial and community organizations. She led the First Impres-sions Project, an outreach program of the former Los Angeles municipal court's public committee, which was aimed at educating students about law and the court system. She also is moderator of the National Consortium of Task Forces and Commissions on Eliminating Racial and Ethnic Bias in the Courts.
Bernard Witkin Award
Former State Bar President Andrew Guilford received the Bernard E. Witkin Award for his support of the activities of the California Commission on Access to Justice. Guilford supported the development last year of the $10 million Equal Access Fund, which has enabled new court-based self-help centers to be opened around the state.

He also helped sustain other commission activities, including its development of training for judges and the dissemination of information to the state's pro per litigants.
The Witkin Award is named for the renowned legal scholar and recognizes individuals who are not current members of the judiciary but who champion court issues.
Oldest practicing lawyer
When Robert McManical turned 100 last month, he reached two milestones: in addition to hitting the century mark, he became the oldest practicing attorney in California.
Born in San Jose Feb. 3, 1901, McManigal received a Bachelor of Science in chemical engineering from the University of California at Berkeley, and after working for six years, enrolled at Boalt Hall, where he was a classmate of Bernard Witkin. McManigal recalls how Witkin attended class infrequently and then wrote a summary of the law to prepare for exams. One of his most prized possessions is an early copy of a Witkin outline.
McManigal received his law degree in 1928 and began practicing in Los Angeles, where he specialized in intellectual property and probate law in a partnership with R.W. Whann. He has represented two local corporations for more than 50 years.
McManigal currently practices from his South Pasadena home, and often brings clients to his of-fice to discuss wills and trusts. He also spends time at the public library, doing legal research and keeping abreast of developments in tax, probate and patent law.