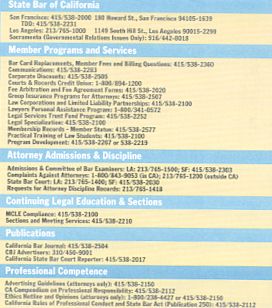 Five seats are open on the bar board
Five seats on the State Bar Board of Governors are up for election and interested candidates may pick up nominating petitions April 9. The available positions are in District 2 (Alpine, Ama-dor, Calaveras, El Dorado, Napa, Sacramento, Solano, Sonoma, Tuolomne and Yolo counties); District 3 (Alameda, Contra Costa, Santa Clara and San Mateo counties); District 4 (Marin and San Francisco counties); and District 7 (Los Angeles, two seats open).
Any active California attorney whose law practice is located within any of the districts is eligible to run. Board members serve three-year terms and will take their seats at the bar's 2001 annual meeting.
Petitions must be filed by May 25 and ballots will be mailed July 2.
At its last meeting, the bar board approved interim changes to the procedures for the 2001 election. Executive director Judy Johnson said some candidates expressed concerns about the bar's election process last year, complaining there was inadequate time to disseminate their views to constituents in their districts. The new schedule should allay that concern, she said.
Petitions for this year's election may be obtained from Biljanna Sivanov, 415/538-2274.
Bar dues deadline passes; penalties kick in March 15
Active and inactive California attorneys who have not yet paid their State Bar dues will be subject to a 10 percent penalty March 15. If the fees remain unpaid May 15, the penalty will increase to 25 percent. Attorneys may be subject to suspension from practice for failure to pay dues.
The dues for most active attorneys are $345, and for inactive attorneys, $50.
Questions about member fees may be directed to the bar's membership records office at 415/538-2360.
National legal services meeting set for San Diego
The third annual Equal Justice Conference, scheduled next month in San Diego, will address strategies for increasing the delivery of legal services to the poor. Co-sponsored by the American Bar Association and the National Legal Aid and Defender Association, the conference will take place March 29-31 at the Town & Country Resort Hotel. It will feature programs of interest to bar leaders, judges, attorneys from a variety of practice settings, as well as legal services attorneys and pro bono coordinators. For more information, visit the ABA website at www.abanet.org/legalservices/probono.html.
Justice Kennard to receive the first Rose Bird award
California Supreme Court Associate Justice Joyce Kennard will receive the first Rose Bird Memorial Award from California Women Lawyers later this month.
Kennard will be recognized for her judicial independence, commitment to the cause of justice and her community outreach and mentoring work.
The award will be presented at a March 30 reception at the offices of McCutchen, Doyle, Brown & Enersen in San Francisco. Tickets — $40 for CWL members and $50 for non-members — may be obtained from Glenda Haggenmaker at 916/441-3703.
Video offers protection from estate planning scams
A video program designed to present the truth about estate planning scams to senior citizens is available from the State Bar.
Produced by the Estate Planning, Trust & Probate Section, "Taking Charge: The Rewards and Risks of Estate Planning" will help seniors evaluate and make informed decisions about estate planning proposals they may receive. It offers advice on how to look for red flags in dealing with businesses that may not have their best interests at heart, how to say no to unwanted solicitations for financial products, and how to get legitimate help with estate planning.
The video is intended to be used in conjunction with a live presentation by a member of the section's speaker's bureau.
It is available to section members for $20 and for $25 to all others. Order information is available at the bar's web site, www.calbar.org, by linking to the section and then the product order form.
ABA to honor public lawyers, bar programs for indigent
The American Bar Association's government and public sector lawyers division invites nominations for three separate awards designed to recognize the extraordinary achievements of public lawyers. The awards are the Hodson Award for Public Service, the Nelson Award for Outstanding Service to the ABA, and the Dorsey Award for an Outstanding Public Defender or Legal Aid Lawyer.
The Hodson Award recognizes sustained outstanding service or a specific accomplishment by a government or public sector law office. The Nelson award honors outstanding contributions to the ABA by an individual government or public sector lawyer, and the Dorsey Award recognizes an outstanding legal aid attorney or public defender.
Nomination brochures and information about the awards are available from Theona Salmon at 202/662-1023. Deadline is April 6.
In addition, the ABA is seeking nominations for the 2001 Harrison Tweed Award, given annually to a state or local bar association that has developed or significantly expanded a project or program providing civil legal services or criminal defense to impoverished clients.
Nominations must be submitted by March 31. More information is available at www.abanet.org/legalservices/sclaidawd-nom.html or by calling Patricia Wagner at 312/988- 5757.
All the awards will be presented at the ABA annual meeting in Chicago in August.
Pen pals sought for youthful offenders
Volunteers in Parole Inc., a non-profit organization which matches youthful offenders with attorneys who act as mentors, invites lawyers and third-year law students in the Santa Clara area to volunteer as pen pals.
The work, which involves corresponding with young men and women incarcerated in one of 11 California Youth Authority facilities, requires one hour per month. It offers the volunteers a unique opportunity to help incarcerated youth who may parole to the San Jose area within six months and to learn about the criminal justice system.
To sign up or obtain more information, call 408/277-1008.
ABA sponsors April environmental conference
A national Conference on Resources Law, sponsored by the ABA's Section of Environ-ment, Energy and Resources, will be held April 5-6 in Las Vegas. "21st Century Challenges to Access of Public Lands and Resources" will focus on western communities and public land managers attempting to balance population growth while maintaining quality of life, protecting resources and accommodating commodity users.
The conference is aimed at attorneys as well as public officials, corporate environmental managers, environmentalists, and community and tribal activists.
Of special interest to lawyers will be an ethics session involving multi-disciplinary and multi-jurisdictional practice. This session will consider opportunities and constraints when lawyers consider associations with other professionals to create interdisciplinary solutions.
It also will address multi-jurisdictional practice and proposals to allow lawyers reciprocal privileges to practice in several states.
An optional field trip to Hoover Dam for attendees and their families will be offered. Continuing legal education credits are available for this program.
For more information, visit and register on line at http://www.abanet.org/environ/programs/resourcelaw.html or call the ABA at (312) 988- 5724. Register by March 9 for a discount.