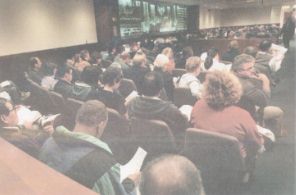 Plain English may soon find its way into jury instructions. As part of a long-range effort by the California courts to reform the jury system, a Judicial Council task force last month released a draft of civil and criminal jury instructions designed to be more understandable while remaining accurate.
"We're looking to strike a balance between the need for clarity and the need for accuracy," said 1st District Court of Appeal Justice Carol Corrigan, chair of the group,. "It's quite a tap dance."
The daunting project, which has taken two years so far, has produced two volumes — 247 pages of civil and 234 pages of criminal instructions. That amounts to about one-third of what Corrigan believes will be the final product, expected to be completed in another two years.
Standardized jury instructions now used by California courts are contained in CALJIC and BAJI, copyrighted materials originally produced in the 1930s and '40s by a committee of Los Angeles Superior Court judges.
Although a rule of court now instructs judges to use either those instructions, which have been revised and updated over the years, or others that accurately state the law, judges and attorneys have long complained that the CALJIC and BAJI instructions are complex and hard to understand.
In December 1995, the Judicial Council created a Commission on Jury System Improvement, which ultimately concluded that "jury instructions presently given in California and elsewhere are, on occasion, simply impenetrable to the ordinary juror."
Chief Justice Ronald M. George then appointed the Task Force on Jury Instructions, with the charge of producing clear, accurate instructions.
Because the Judicial Council and the Los Angeles judges could not reach agreement on revising those instructions, the task force started from scratch, Corrigan said, scrupulously avoiding comparisons with CALJIC or BAJI.
"We have been rigid about going back to 'Go,'" she said, following formulations contained in statutes and caselaw. Members of the 25-member task force did not want to suggest changes in the law or resolve conflicts. Rather, they defined terms when necessary and substituted a more understandable word if an accurate synonym for the legal language could be found.
The task force and the Los Angeles judges also have a difference of philosophy, Corrigan said.
"The Los Angeles courts believe the safest way to instruct a jury and