---

REGULARS

Front Page - September 2000
News Briefs
Judge grants $10 refund, refuses future preclusion
Eight revised consumer pamphlets now online
Trials Digest
Opinion
From the President - Good night and thank you whoever
Preserve a quiet place for decisions
Challenge the perception of lawyers
The whole truth will provide...
Letters to the Editor
Legal Tech - Yes, Virginia, there is a Macintosh
MCLE Self-Study
Litigating Against a Public Entity
Self-Assessment Test
MCLE Calendar of Events
You Need to Know
Public Comment
Annual Meeting 2000 - 4000 expected at San Diego event
Everyday lawyering...
Discipline
Ethics Byte - Beware doing that favor for a colleague
Santa Rosa lawyer resigns, faces prison term for theft
A year for extraordinary rulings

By ERWIN CHEMERINSKY

The Supreme Court's October 1999 term, which concluded on June 28, produced an extraordinary number of important rulings on highly controversial subjects. Indeed, the topics of some of the cases — abortion, aid to parochial schools, campaign finance reform, gay rights, Miranda warnings, and school prayer — are among the most divisive legal issues facing society. Although the 73 cases decided this year touched on many different issues, several themes were evident during the term.
Reaffirmation of precedent in controversial areas
One of the most important themes of the term was the court's adherence to precedent, especially in dealing with some of the most hotly contested legal issues. For example, in United States v. Dickerson, 120 S.Ct. 2326 (2000), the Supreme Court, by a 7-2 margin, reaffirmed Miranda v. Arizona and declared unconstitutional a federal law that attempted to overrule it (18 U.S.C. §3501). Chief Justice Rehnquist, writing for the court in a 7-2 decision declared: "We do not think that there is such justification for overruling Miranda. Miranda has become embedded in routine police practice to the point where warnings have become part of our national culture."
In Doe v. Santa Fe Independent School District, 120 S.Ct. 2464 (2000), the court declared unconstitutional a school policy permitting student-initiated, student-led prayers at football games. The court followed almost 40 years of precedent in rul-
See SUPREME COURT
---
Supreme Court backs State Bar in rejection of bar admission

By NANCY McCARTHY

Staff Writer

A prospective attorney with a record of serious felonies — including killing his sister — and lesser misdemeanors on his record cannot receive a license to practice law because he has not proved his rehabilitation, the Supreme Court has ruled.
In a unanimous decision, the court found that despite overcoming drug and alcohol addiction, completing law school and passing the bar examination, Eben Gossage did not meet a burden of demonstrating good behavior over a meaningful period of time.
"We conclude . . . that Gossage has
---
For Zelon, giving is just a part of what lawyers do

By NANCY McCARTHY

Staff Writer


Laurie Zelon is often asked what inspired her to become involved in pro bono work for the poor, but she has a hard time pinpointing the reasons.
"It's part of what you do as a lawyer," she says. "It always seemed to me that it's necessary and impor-
See ZELON
---
A free spirit picks up the reins

By NANCY McCARTHY

Staff Writer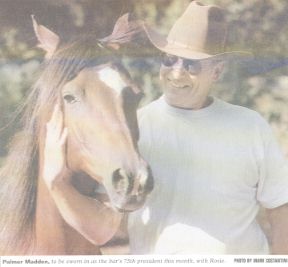 Early in his law career, Palmer Brown Madden headed one morning from the Bay Area to Stockton for a court appearance. A partner at his firm drove to Madden's East Bay home and waited while the young lawyer picked up a bale of hay and threw it into a corral to feed his horses. When Madden climbed into the car, hay and dust clung to his tailored suit.
It was a moment, remembered a friend, that captured Madden's personality — a traditional lawyer but a free spirit, unafraid to dirty his hands.
When Madden is asked to describe himself, he says, "WYSIWYG (sounds like whizzywig) — what you see is what you get."
In fact, however, the 75th president of the State Bar of California is full of surprises: A successful big firm lawyer who designed and built his home with his own hands. A graduate of Boalt law school who started a pre-school and ran a natural foods restaurant with an organ-
See A FREE SPIRIT