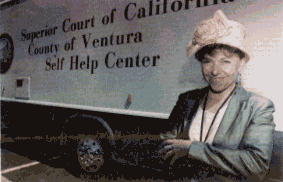 Though former U.S. Supreme Court Justice Harry Blackmun tweaked the language of an axiom he used to color a 1975 dissenting opinion, the sentiment was unmistakable.
"If there's any truth to the old proverb that 'one who is his own lawyer has a fool for a client,' the Court . . . now bestows a constitutional right on one to make a fool of himself,'' Blackmun wrote in Faretta v. California, the 6-3 decision that codified the right to refuse counsel.
More than a quarter-century later, a task force appointed by California Chief Justice Ronald George is challenging the derision the courts have historically dumped on the people who proceed in pro per.
The thrust of a 19-member Judicial Council Task Force on Self-Represented Litigants, empanelled at the end of May, is to spend the next 18 months creating a statewide plan to assist the ever-expanding number of citizens who are unable - or simply unwilling - to hire an attorney.
But members of the bench and bar say that ensuring equal justice for the lawyerless also requires an institutional change of identity: The court-house can no longer be just a repository for documents and dispenser of rulings. And the phrase being thrown around in connection with this shift is one borrowed from the business world: customer service.
After Arthur Sims took over as executive officer of Alameda County Superior Court, he removed signs at the clerks' counters that noted they cannot give legal advice to citizens.
"If we truly want unrepresented litigants to feel the court is open to them, not just the affluent and attorneys, then we shouldn't start out by