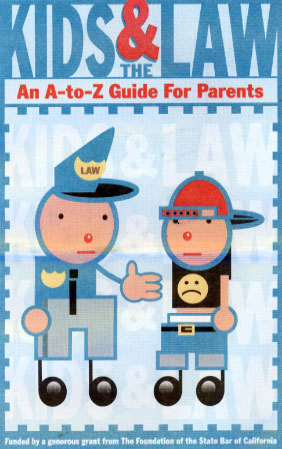 Can parents give cigarettes to their teenage kids? Are parents liable if they host a party and one of the young guests gets drunk and wreaks some kind of havoc? Is it illegal for a kid to belong to a street gang? Do you need a license to ride a bicycle on city streets?
The answers to these and many other questions may be found in the revised version of the State Bar's popular Kids and the Law: An A-to-Z Guide for Parents, which can be found as a second section of this issue of the California Bar Journal.
"Kids and the Law is an invaluable tool as well as being great PR for the State Bar," says Maria Villa of Los Angeles, chair of the bar's board of governors member relations and communications committee. "The guide offers very good nuts-and-bolts legal information for parents, children and teachers alike," she added, noting that her sister is a teacher in California.
Published in conjunction with Law Day activities around the state this month, the 2001 version of Kids and the Law is supported by a $34,000 grant from the Foundation of the State Bar. The guide has been updated by State Bar attorneys to reflect changes in laws which affect young people and how parents deal with many problems they encounter in raising children.
"The foundation is particularly pleased to provide a grant for the update and republication of Kids and the Law," said foundation President Pauline Gee, noting that the grant was the largest approved by the foundation in 2000.
"I think its publication in the California Bar Journal and the additional reprints to be distributed to schools via local bar associations will have an important outreach effect, providing information on multitudes of laws that affect the rights of children, parents and teachers," said Gee, a deputy attorney general in Sacramento.
An additional $6,000 grant from the bar foundation helped pay to promote and distribute Kids and the Law

to California schools in conjunction with Law Day. The bar also is looking into the possibility of creating an