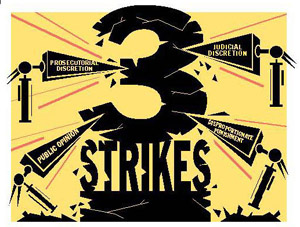 They all landed on the wrong side of California's "three strikes and you're out" law. One wound up in prison for 50 years to life for twice shoplifting videotapes from Kmart. Two others - one convicted of stealing a $25 steering wheel alarm, the other for shoplifting $43 worth of videotapes - were sent away for 25 years to life.
But in two decisions just months apart, the U.S. Ninth Circuit Court of Appeals ruled recently that all three prison sentences - despite the defendants' prior criminal records - amount to cruel and unusual punishment. Even the violent prior offenses in two of the cases did not justify 25 years to life in prison for petty theft, the court concluded in February.
"This is a big green light for challenging excessive sentences for minor offenses that are being sentenced under the three strikes law," said Loyola law professor Laurie Levenson.
The opinions - the first issued in November, the second in February - thrust the three strikes law back into the public spotlight, reignited debate, prompted hundreds of hopeful prisoners to contact attorneys and gave momentum to campaigns seeking to narrow the law's net.
University of Southern California law professor Erwin Chemerinsky, who represented all three defendants, applauded the court's latest ruling. "The Ninth Circuit here says that the punishment has to be proportionate to the crime for which the person is being sentenced," he said. "This case, as it stands, means