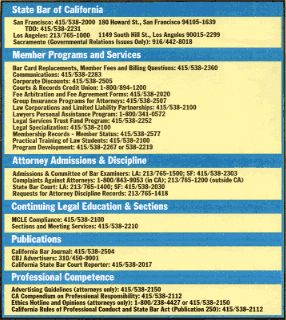 16 win Legal Heritage essay contest
Sixteen California high school students who wrote essays on their legal rights and responsibilities will spend a week in Sacramento this month and receive partial college scholarships as part of a new educational initiative launched by the Foundation of the State Bar of California. The Legal Heritage Institute is a week-long program which will take the essay contest winners to the state capital, where they will learn first-hand about law and government, as well as to Auburn and Nevada City for visits to historic sites. Institute faculty will cover topics such as an individual's legal obligations, the power of a subpoena, the organization of the court system and changes in the law when children turn 18.
Each student, all high school juniors, wrote a 1,000-word essay on "The Law: My Rights and Responsibilities." The winners will receive a scholarship ranging from $1,000 to $4,000 and their school will receive $1,000. The foundation has funded the program with $80,000.
Program director Edwin Sowash said he recruited entries at 49 schools in California and hopes eventually to expand his efforts to all 1,100 high schools in the state. The award-winning essays covered topics ranging from individual obligations to serve on a jury to the right to a fair trial.
The winners and their schools are: Caley Anderson, Santana, Santee; Susan Cagle, Calabasas, Woodland Hills; Enedina Cardenas, Fremont, San Jose; Lynne Chang, Cupertino; Neil Chua, Hilltop, Chula Vista; Hilary Comstock, Santa Rosa; Jan Edquilang, Archbishop Mitty, San Jose; Adam Foxman, El Camino, West Hills; Avanti Ghanekar, Lynbrook, San Jose; Oksana Ivashchenko, Nevada Union, Auburn; Julia Lauper, Lincoln, Stockton; Thu Phan, Franklin, Stockton; Rakesh Raghuwanshi, Buena, Ventura; Elise Wetzel, Louisville, Woodland Hills; Darrel Wu, Lynbrook, Saratoga; and Janet Sandor, Lincoln, Stockton.
LRS roundtable scheduled
Participants in California's certified lawyer referral services are invited to a day-long roundtable Aug. 14 at which issues facing their programs will be addressed. Among the topics under discussion will be the survival of lawyer referral services, the impact of the internet, Business & Professions Code §6155, enforcement, unbundling and modest means programs.
In addition, there will be an open forum where all issues relating to LRSs may be discussed. State Bar attorneys and staff will be present to answer any questions.
The State Bar-sponsored roundtable is free. Lunch will be served, so attendees are asked to contact the office of program development for planning purposes.
The roundtable will be held at the bar's Los Angeles office, 1149 South Hill St., with a possible video conference connection in San Francisco. For more information or to RSVP, contact Rodney Low at 415/538-2219 or e-mail him at: rodney.low@calsb.org.
Last chance to pay bar dues
Active attorneys who have not paid their State Bar dues are subject to suspension from practice, beginning Sept. 1.
The bar sent final delinquent notices May 25 to 6,794 members who had not paid their dues. The final payment deadline is Aug. 31, but after July 30, payment must be made in certified funds (cashiers checks, money orders or cash).
For most active attorneys subject to the $345 fee, a 25 percent penalty is due if the fee has not been paid, bringing the total owed to $431.25.
At its July meeting, the board of governors will recommend that those who have not paid be suspended, and the final step is a suspension order from the Supreme Court.
Attorneys who still owe their dues may direct questions to 415/538-2360.
Special masters sought
The State Bar is seeking to boost its roster of special masters, who assist courts in specific searches authorized by warrant. The special master accompanies peace officers in searching for documentary evidence under the control of attorneys, physicians, psychotherapists and clergy members.
Any attorney who is in good standing with the State Bar, has practiced for at least five years and does not have a criminal law practice is eligible. Participants receive one hour of MCLE credit from an instructional audio tape.
Interested persons should contact Brandie Burroughs at 415/538-2117 for an application.
Insurance committee offers free MCLE
In the interest of educating attorneys about ways to avoid malpractice claims, the State Bar's Committee on Professional Liability Insurance will provide free MCLE seminars to bar members.
Anthony Davis, a nationally known speaker on risk management, will provide a free MCLE program for new admittees to the bar entitled, "Establishing and Maintaining Effective and Profitable Client Relationships." The six-hour course will be held at the Grand Hyatt in San Francisco on July 23 and at the Newport Beach Radisson on July 24.
The course will be offered again in the fall and will be open to all attorneys. Those wishing to attend should register in advance at www.kvi-calbar.com. Participants will receive six hours of ethics credit.
Also available at the same website is a course offering one hour of free MCLE.
Low pass rate for February bar exam
Only 37.3 percent of the applicants who took the February general bar examination passed, the lowest pass rate for a February exam in the past five years. Lawyers who took the attorneys' exam fared much better, posting a success rate of 66.9 percent.
The State Bar's committee of bar examiners reported that 1,673 of the 4,488 applicants who took the February bar exam passed, down from 40 percent for last year's February exam. If the successful applicants satisfy the other requirements for admission, they will become members of the bar, bringing the number of attorneys in California to nearly 177,000.
A preliminary statistical analysis of the exam results showed that 34.2 percent of the applicants were first-time test takers, and of those, 52.5 percent passed. Only 29.3 percent of the repeat applicants passed the exam.
Among the 257 attorneys who have practiced at least four years in another jurisdiction and took the test, 172 passed, a much higher number than on the February 2000 attorneys exam, when only 53.5 percent passed.
Pass rates for the February general bar exam for recent years were: 2000 - 40 percent; 1999 - 41.1 percent; 1998 - 40 percent; and 1997 - 48.8 percent.
Legal specialist exam scheduled Aug. 26
The State Bar will administer a legal specialist exam in eight areas of practice on Aug. 26. The deadline to apply is July 13.
California attorneys can be certified in appellate; criminal; estate planning, trust and probate; family; immigration and nationality; personal and small business bankruptcy; taxation and workers' compensation law.
The registration form is available at www.californiaspecialist.org, by calling 415/538-2100, by faxing 415/538-2180 or by e-mailing lorna.maynard@calsb.org.
The exam, which is offered only once every two years, will be administered from 8 a.m. to 5 p.m. at the Westin Hotel at the San Francisco Airport or the Radisson Hotel at the Los Angeles Airport.
The registration fee is $200 or $250 for those who wish to type.
Kids will be reprinted
Due to overwhelming demand, Kids and The Law - An A-to-Z Guide for Parents will be reprinted this month for distribution to schools, law enforcement agencies and community groups.
The 16-page guide, which was included in the May issue of the California Bar Journal, offers parents a resource for discussions of the law with their children, touching on areas such as drugs, curfew, skateboarding and fighting.
All orders for schools are being handled by the California PTA, 930 George St., Los Angeles CA 90015-1322; 213/620-1100; or info@capta.org.
All other orders can be filled by e-mailing barcomm@calsb.org or contacting the State Bar's Office of Communications, 180 Howard St., San Francisco, CA 94105-1639. The guide also is available online at www.calbar.org.
Calling all artists and photographers
Legal professionals with an artistic bent are invited to exhibit their work at an art show to be held in conjunction with the State Bar's annual meeting at the Anaheim Convention Center Sept. 6-9. Among the categories are color and black-and-white photography, oils, watercolors, prints and drawings.
Members of the bench and bar interested in participating in the exhibit should contact Cheryl Morgan at 415/538-2465 for entry information. The entry deadline is Aug. 1.
Comment sought on revised jury instructions
A set of civil jury instructions designed to be both understandable and accurate is being circulated among California judges, bar associations, law school professors and other interested parties. The instructions were prepared by the Judicial Council's Task Force on Jury Instructions, appointed by Chief Justice Ronald M. George in 1997.
The proposal includes 304 pages of civil jury instructions. It is available online at www.courtinfo.ca.gov/invitationstocomment.
Comments should be sent by Aug. 15 to the Administrative Office of the Courts, Attn. Camilla Kieliger, 455 Golden Gate Ave., San Francisco 94103.
Law review group seeks public comment
The California Law Review Commission is seeking public comment on two tentative recommendations concerning sentence enhancements and rules of construction for trusts and other instruments.
The deadline for public comment on the recommendations is July 31.
Both proposals are available online at www.clrc.ca.gov by following the public comment link, or from the California Law Revision Commission, 4000 Middlefield Rd., Room D-1, Palo Alto CA 94303-4739.