that all 340 people serving 25 years to life for petty theft have a strong claim that they're being held unconstitutionally."
But, he said, it leaves open the question: "What other offenses are so trivial that they, too, can't be the basis for imposing three strikes?"
And the actual impact of the rulings remains unclear.
Some predict that the decisions will influence future applications of the law and open the door to hundreds of claims of cruel and unusual punishment. In Kern County, a specially hired attorney is sifting through several hundred old cases in search of those warranting appeal. Others have taken a wait-and-see stance in light of Attorney General Bill Lockyer's pending petition urging the U.S. Supreme Court to review one of the rulings.
Under California's three strikes law, a defendant faces 25 years to life in prison (and must serve the minimum) after conviction of three felonies that qualify as "strikes." The first two strikes must be serious or violent felonies. The controversial portion of the law, however, centers around the third, or "triggering," strike, which can be any felony. Even a "wobbler" offense that is charged and sentenced as a felony would qualify as a third strike.
Legislation and an initiative
Legislation proposed recently by Assemblymember Jackie Goldberg (D-Los Angeles) would require that the third strike be a serious or violent felony as well. And an initiative launched by a Garden Grove-based group, Citizens Against Violent Crime (CAVC), would require all strikes to be violent felonies.
Proponents of the current law, however, argue that the discretion afforded prosecutors and judges in charging and sentencing under the law already provides a safeguard against unjust sentences.
Some 7,000 convicted habitual offenders have been sentenced to at least 25 years to life under California's three strikes law, according to state Department of Corrections statistics. Of those, more than half received their sentence for a nonviolent crime.
Last November, however, a split Ninth Circuit Court of Appeals panel ruled for the first time that the application of the law in one case was unconstitutional.
In 1995, Leandro Andrade was charged with two counts of petty theft with a prior for shoplifting videotapes twice from Kmart stores. His charges were enhanced to felonies, then flagged as third and fourth strikes. With a prior nonviolent criminal record that included three residential burglaries, Andrade was sentenced to 50 years to life in prison.
Grossly disproportionate
"Our decision does not invalidate California's three strikes law generally," Circuit Judge Richard A. Paez wrote in Andrade v. Attorney General of the State of California. "Rather, we conclude that it is unconstitutional only as applied to Andrade because it imposes a sentence grossly disproportionate to his crimes."
Paez also noted that Andrade's sentence was "substantially more severe" than the sentences for most violent crimes in California. And he concluded that Andrade could not have received such a sentence in any other state, with the possible exception of Louisiana.
In a partially dissenting opinion, Circuit Judge Joseph T. Sneed argued, however, that California's citizens and legislators had mandated such a sentence.
"Our deference should be at its apex," Sneed wrote. "We have before us the clearest indication possible that severe, mandatory sentences for recidivist offenders is the expressed penal philosophy of the citizens of California. The initiative process permits the electorate to speak for itself, and its voice should be heard, not ignored."
In January, the attorney general filed his petition seeking a U.S. Supreme Court review of the decision. The petition suggested that, if left unchecked, the decision would "open the floodgates of litigation to unprincipled federal review of thousands of sentences."
Such a sentence for petty theft with a prior does not constitute cruel and unusual punishment, the petition asserts. "Surely, the California legislature is entitled to conclude that a person who demonstrates a willingness to commit serious or violent felonies on more than one occasion, and who subsequently demonstrates a continued unwillingness to be law-abiding, no matter how trivial the offense, poses a significant danger to society," the petition states.
"Nothing in the Constitution requires society to wait for another person to be victimized by another serious or violent crime before isolating such a defendant who has demonstrated a propensity for serious or violent crime, for a substantial period of time."
The U.S. Supreme Court is not expected to act on the petition before April.
And the issue no longer centers around one case alone. In February, another Ninth Circuit Court of Appeals panel - this one unanimous - struck down two more three strikes sentences as unconstitutional. This time, however, the backgrounds of the convicted shoplifters, Richard Brown and Earnest Bray Jr., included violent crimes.
"If we attempt to distinguish Andrade solely on the basis that Bray and Brown have prior felonies that may have been violent, as opposed to serious, then we would be punishing Bray and Brown as nonviolent lawbreakers who were violent in the past," wrote Circuit Judge Marsha S. Berzon.
Bray had four prior robbery convictions, according to court records. And Brown had five serious or violent felony convictions, including robbery and assault with a deadly weapon.
Eighth Amendment
Nor did Berzon accept the state's justification that a few hundred other recidivists have received similar sentences for petty theft. Eighth Amend-ment protections are not reserved only for "aberrant situations," she noted.
"If, for example, the state decided to chop off the hands of everyone convicted of speeding, the likely conclusion that such a sentence is cruel and unusual would not change because the state inflicted it on many people," she wrote.
By mid-February, the attorney general was still deciding what further action will be taken in the Brown v. Mayle case, said spokeswoman Hallye Jordan.
Berkeley law professor Franklin Zimring suggests that the Andrade and Brown cases were particularly vulnerable to judicial scrutiny because they trigger the "most absurd corner" of the three strikes law. Zimring, the co-author of a recent book on California's three strikes law, points to the "compound and perverse interaction" of the three strikes law and an older California provision that upgrades petty theft to a felony when the accused has a prior property felony conviction.
"From the standpoint of protecting the community from danger, the petty theft with a prior rule is perverse because it only upgrades the severity of prior property crimes convictions," he said.
Under current law, he points out, a twice previously convicted murderer with no prior property offenses could only get six months in jail for stealing videotapes, while a twice convicted burglar would face a 25-years-to-life sentence for stealing the same tapes.
Little room for scrutiny
"The Supreme Court of the United States has left very little room for Eighth Amendment scrutiny by federal courts," he said. "What this case will decide is whether it's left them any room at all because you couldn't make up a more perverse interaction."
Just how the latest ruling will affect past and future defendants in three strikes cases remains open to debate.
Secretary of State Bill Jones, who authored the three strikes law in 1994, insists it "threatens to put more repeat murderers, robbers, rapists and child molesters back in our neighborhoods."
He points to California's 41 percent drop in crime since the law's enactment - a greater drop than in any other state and more than double the reduction in the rest of the country. "There is ample discretion in the law for both judges and prosecutors to reduce a sentence under the three strikes law when it is in the furtherance of justice to do so," he said.
Obstacles to reversal
Some point to procedural obstacles in seeking reversal of three strikes sentences in certain cases. Others note that state court judges are not bound by the rulings. And some suggest that the impact will likely vary by county because of a wide variation in the law's application.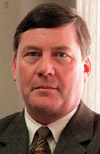 Take Kern County, for example, which is known for its wide use of the three strikes law. In Kern, Public Defender Mark Arnold is preparing a broad challenge. "The word has gotten out that our office is actively pursuing this," he said. "We will challenge the cases that we think merit the strongest chance of being reversed, and there are many in this county."
For the most part, Arnold does not see any insurmountable procedural hurdles in seeking reversal of old three strikes sentences in worthy cases. "It really depends on the receptiveness of the courts to the morality of the argument," he said. "If the courts want to, they'll find a way."
And Arnold believes the rulings could influence state court judges in their handling of pending cases. "I don't see how the courts can ignore the federal court that directly reviews their opinions," he said.
Gary Nichols, the writs and appeals section supervisor in the San Diego Public Defender's Office, has a different take. Short of a U.S. Supreme Court decision upholding the Ninth Circuit, Nichols sees the rulings as having little practical impact.
He sees numerous procedural problems to pursuing cruel and unusual punishment claims in old cases and doesn't want to raise anyone's hopes. So, he said, he is waiting, with very little optimism, to see what the high court will do.
Still, Nichols views the rulings as important in another way. "The Ninth Circuit is kind of acting as our conscience here," he said. "This is putting the spotlight on just how absurd we have been since 1994. That's the biggest impact. It has invigorated the debate and wisdom of the social policy."
Many say that judges have already become less likely to count non-serious, nonviolent offenses as third strikes. A key 1996 California Supreme Court decision - People v. Superior Court (Romero) - gave judges the discretion to overlook a defendant's strikes. And numerous defendants have been resentenced as a result.
Nichols, who handled Romero's appeal, recalls bringing defendants back to court "by the busload" for re-sentencing. "We filed hundreds of those things," he said, "and a lot of guys got strikes stricken."
Some prosecutors, too, now steer away from tagging non-serious, nonviolent offenses as third strikes. Los Angeles, for example, has seen a marked decrease in three strikes cases since District Attorney Steve Cooley instigated a policy presuming that a 25-years-to-life sentence will not be sought when the third strike is a non-serious, nonviolent crime.
Alex Ricciardulli, a Los Angeles deputy public defender who specializes in appeals and three strikes cases, says he finds the Brown ruling "very encouraging" because it "increases the pool of potential defendants that can argue cruel and unusual punishment."
For now, he said, Los Angeles public defenders are simply reviewing a steady trickle of old three strikes cases referred to them for possible appeal. But they will likely take a more systematic approach later, he said. First, they, too, are waiting to see how the U.S. Supreme Court will handle the Andrade decision.
Too early to tell
Lawrence Brown, executive director of the California District Attorneys Association, says it is simply too soon to speculate on the rulings' impact. He believes that the Andrade decision "misconstrues the standard for cruel and unusual punishment." And he remains hopeful that it will be reversed.
"It's not certain whether these rulings will ultimately withstand the test of time," he said. "It's not exactly a secret that the Ninth Circuit decisions often are not upheld by the U.S. Supreme Court."
Zimring points out that the constitutional decision is "one small corner" of the three strikes law. "It, in no way, is a substitute for an initiative or legislative review," he said. "But what it is doing is casting a shadow on the rationality of the three strikes approach."

For full text of the Ninth Circuit Court of Appeals opinions, see www.ca9.uscourts.gov.