---

REGULARS

Front Page - August 1998
News
Bar associations commit to aiding state's children
Bar workforce slips below 200
You Need to Know
From the President - A sad time for public protection
Opinion
Taking care of the poor
At the mercy of the rebels it created
Dominance by politicians would be fatal
Letters to the Editor
Trials Digest
Legal Tech - Stretching your dial-up dollars
New Products & Services
MCLE Self-Study
Earning and Keeping Your Fees
Self-Assessment Test
MCLE Calendar of Events
Discipline
Ethics Byte - Malpractice protection imperative
Former state schools chief Bill Honig disciplined
Judge faces discipline for opinion
Commission charge unleashes protest in legal community

By NANCY McCARTHY

Staff Writer

The Commission on Judicial Performance's charges of misconduct last month against an appellate judge for a dissent he published unleashed a firestorm of protest from judges, attorneys and lawmakers throughout the state.

The discipline case against Justice J. Anthony Kline even prompted a rare rebuke by the American Bar Association, which urged the commission to drop its investigation.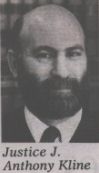 Those who have rushed to Kline's defense worry about judicial independence and the chilling effect potential disciplinary action poses on judges as they write decisions. They accuse the commission of overstepping its bounds in charging misconduct in a case which does not involve corruption or dishonesty.
"I think probably everybody's a little nervous, not knowing how far the commission wants to push this," said J. Clark Kelso, a professor at McGeorge School of Law. "This clearly has the potential, and in some cases probably already has had, a real chilling effect on an appellate judge who may be considering or writing concurring or dissenting opinions."
Unprecedented action
In its unprecedented action, the commission accused Kline, presiding justice of the 1st District Court of Appeal in San Francisco, of
---
An unusual Supreme Court term

By ERWIN CHEMERINSKY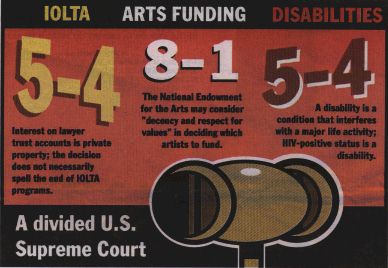 The Supreme Court term which just ended is one of the most unusual in recent memory. There were fewer major constitutional rulings than in any term in years. There were no cases dealing with the religion clauses or federalism or the scope of Congress' powers or equal protection.

Yet, it would be a mistake to dismiss the term as unimportant because there were several significant rulings concerning the meaning of federal civil rights laws.

Even more surprising, the term was less consistently ideologically conservative than probably any other in the 1990s. For example, in the last two days of the term--traditionally the time when many of the most significant rulings are announced--Justice Antonin Scalia dissented six times.

As usual, there were several important rulings decided by 5-4 margins in which the majority was the conservative coalition of Chief Justice William H. Rehnquist and Justices Scalia, Sandra Day O'Connor, Anthony M. Kennedy and Clarence Thomas.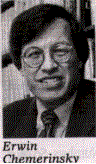 But there also were notable 5-4 decisions in which Justices John Paul Stevens, David H. Souter, Ruth Bader Ginsburg and Stephen G. Breyer were able to join with Justice Kennedy, and in one instance Justice Thomas, to produce a more moderate result.
IOLTA
In constitutional rulings, one of the most important decisions of the term was Phillips v. Washington Legal Foundation. The issue was constitutionality of state Interest on Lawyer Trust Account (IOLTA) programs.
---
Advisory - Because of the bar layoffs, some of the phone numbers listed in the Guide to the State Bar will now be answered by a recording. The self funding California Bar Journal will continue to publish on its regularly monthly basis.
---
Annual Meeting in Monterey Oct. 1-4

Caught in a dilemma of major cutbacks and operating with a skeletal staff, the State Bar is forging ahead with its planned Annual Meeting in Monterey October 1-4. To cancel the annual convention, which must be scheduled several years in advance, the bar faced penalty fees of $420,000.

Some events which in previous years were free will cost participants the price of a ticket this year. No bar membership dues will be used to fund any of the activities, and the entire meeting is expected to pay for itself, said bar meeting organizer Pam Wilson.

As usual, participants can earn up to 22 hours of minimum continuing legal education (MCLE) credit by choosing from the 100-plus courses offered. Topics cover a wide array of practice areas, as well as issues such as technology, time management, writing skills, fees, avoiding stress and how to make an effective presentation.

Featured speakers include NBC legal correspondent Jack Ford, Stuart Varney, a founding member of CNN's business team, and Detroit Mayor and former Michigan Supreme Court Justice Dennis W. Archer.
See ANNUAL MEETING