---

REGULARS

Front Page - October 1999
News
Johnson confirmed for second term as bar's top prosecutor
Courts serve up mixed rulings on State Bar
Ethics association elects Karpman president
Six new governors join bar board
New group targets health care fraud
Public law section creates online library of public law links
JoAnne Spears honored
Trials Digest
Opinion
Slaying an imaginary dragon
The perfect ending: Results
From the President - This bar year ends on a high note
Letters to the Editor
Public Comment
Legal Tech - Tips for network administrators
New Products & Services
1999 Honors
State Bar cites pro bono service
Young lawyers salute San Diego sole practitioner for outstanding service
State Bar hails 'lawyer's lawyer'
Aided by attorney, parolee cited, hired
MCLE Self-Study
The Rigors of Fee Agreements
Self-Assessment Test
MCLE Calendar of Events
Discipline
Ethics Byte - Before you sue for fees, think again
Woman who impersonated husband ordered reinstated
Bar dues, MCLE restored

Supreme Court upholds bar's MCLE program in its entirety

By NANCY McCARTHY

Staff Writer

After a two-year hiatus, it's back to school for California attorneys, although fewer continuing education hours will be required and the program faces further scrutiny by a State Bar-appointed commission.

In a 5-2 decision, the Supreme Court reversed a lower court at the end of August and found the State Bar's minimum continuing legal education (MCLE) program constitutional. Ten days later, Gov. Gray Davis signed the bar's fee bill, reducing the education requirement from 36 to 25 hours over three years and junking the exemption for retired judges, although the court upheld that exemption.

The legislation also requires four hours of ethics instruction and eliminates the law practice management requirement. The MCLE commission will study all program requirements and is expected to report next year.

Following the court ruling, the bar's board of governors extended the deadline for some 50,000 procrastinators to fulfill the old requirement and set new deadlines for compliance with the new 25-hour standard.

In its decision, the court held that the MCLE program does not violate equal protection rights by exempting law professors, retired judges and elected state officials.

"Although the wisdom of some or
See MCLE RULING
---
Governor signs $395 fee bill, ending 2-year political battle

By NANCY McCARTHY

Staff Writer

With little fanfare and almost no media coverage, Gov. Gray Davis, with a stroke of his pen, signed legislation last month that ended nearly two years of layoffs, cutbacks and a state of perpetual uncertainty for California's mandatory bar.

The new bill sets State Bar annual dues for most California lawyers at $395, reduces from 36 to 25 the number of MCLE hours required over a three-year period, restricts lobbying and prohibits the use of mandatory fees to fund the Conference of Delegates and the bar's special interest education sections.

"This is very good news for us," said former bar president Raymond C. Marshall. "I am extremely gratified that we have the fee bill and a restructured and reorganized bar."

"It's a great day for the bar," added new president Andrew J. Guilford. "Now the bar can do its good work, but we have to be careful not to repeat the mistakes of the past."

Reduction in dues

Under SB 144, co-authored by Sen. Adam Schiff, D-Pasadena, and Assemblyman Robert Hertzberg, D-Van Nuys, the dues are significantly reduced from the $458 authorized in the 1997 measure vetoed by former Gov. Pete Wilson. At their highest level, the annual fees reached $478.

The new bill, which takes effect Jan. 1, 2000, also offers reduced fees
See GOVERNOR SIGNS
---
A man for all seasons leads the bar into a new century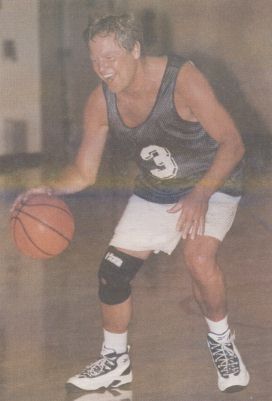 Andy Guilford's office serves as a microcosm of all that is important to him: Family photographs, bookshelves crammed with biographies, lawbooks and mementoes of courtroom victories, a cabinet filled with CDs ranging from baroque music to the Rolling Stones, walls covered with his memories and achievements.

Baseball, the Episcopal church, music, Winston Churchill and Don Quixote, lawyers and the law - all are represented in this corner of the third floor of Sheppard, Mullin, Richter & Hampton in Costa Mesa.

Guilford, sworn in as the 74th president of the State Bar this month, is a man of myriad interests for whom there are not enough hours in the day. "So much to do, so little time," he laments.
On a day when radio talker Dr. Laura Schles-singer has sued one of his clients, Guilford's phone machine contains 34 messages. He returns some, of-fering up sound bites in which he calls Dr. Laura a bully. The case consumes much of the day, but
See GUILFORD
---
Reprieved for one year, but lawyers still must comply

Thousands of California lawyers who put off compliance with continuing education requirements got a reprieve last month when the bar's board of governors extended the deadline for at least a year.

The good news for those who are up-to-date is a reduction in the number of hours required by new deadlines; the bad news for procrastina-
See MCLE COMPLIANCE