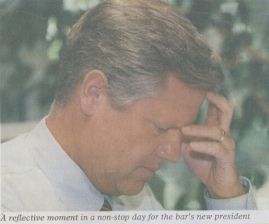 Guilford also squeezes in quick meetings with several associates about matters they are handling, lunch at the Bowers Museum with departing summer associate Yael Karabelnick followed by a quick look at an exhibit of Vietnamese art, a shoot with a newspaper photographer, and a tennis date with his priest.

The day started early at a gathering of a small group of men Guilford describes as "theological reflectors," who meet twice a month for a book discussion. The current selection, Dallas Willard's "The Divine Conspiracy," sits on Guilford's desk.

Deeply spiritual and active in his church, Guilford nonetheless says he's a "huge doubter. I shock people of more assured faith. I'd say I'm at 83 percent and rising, but I'm working on it."

Guilford will no doubt lean heavily on his faith in the coming year, as he leads the State Bar in its recovery from the political assaults which brought it to its knees and wrestles with old and new issues, such as multidisciplinary practices and continuing education.

Tilting toward windmills

Nodding toward a framed Picasso print of Don Quixote, the irrational optimist who is one of his heroes, Guilford laughs, "He reminds me if I'm going to lead the State Bar I have to be an irrational optimist."

Guilford always asks two questions when considering a State Bar activity: Does it fall within the bar's mission of providing legal services to the people of California? Does it respond to its members' concerns?

To many of his thoughts about those activities, he attaches a "however" or "with limitations." Mindful of the requirements a regulatory agency places on its members, he is cautious about adding further burdens. At the same time, he believes the California bar, the largest in the nation, should play a leading role in protecting a frequently criticized legal system.

Although he is pragmatic about dealing with the legislature, the body empowered to set bar dues, he is wary about relinquishing the bar's independence. "We need to have the wisdom of Solomon in deciding when to weigh in and when not to weigh in," he says.

A changing society

In the coming year, Guilford wants to get the bar running again but also hopes to explore some changes. He plans to create a group to study multidisciplinary practices (MDPs) and wants to examine some practice issues raised by technology.

"I'd like to explore some rules and regulations and see if they're still applicable in the new millennium," Guilford says. "A few areas are susceptible to review in a world of new technology and rapid electronic transportation."

He also has questions about a bar exam which "flunks a lot of people and challenges our diversity goals. What are we testing? Are we focusing on the right things? Is it appropriate to give a three-day test? Should California be so difficult with its reciprocity agreements?"

To all these questions, Guilford applies his guiding principle: What is best in providing legal services to the people of California?

"Andy understands the need for an organized bar but at the same time he recognizes the necessity to bring innovative changes," says Sheila Sonenshine, a former appellate court justice and longtime friend. She calls Guilford a unique blend of mainline bar politics and unwavering compassion.

Adds Los Angeles Superior Court Judge Charles McCoy, "Andy has a deep and abiding interest in and respect for human beings. Ultimate-ly, when you see him working on plans and programs, his real interest beneath all that is improving and bettering the lives of people."

Father Peter Haynes, rector of St. Michael's Church, where Guilford plays shortstop on the Holy Terrors softball team, calls Guilford "the best friend I've ever had. He has the best priorities of any man I ever met."

Guilford's character was forged by his parents in a stern and loving environment where simple values were stressed. Dad Howard, now 80, was a bus mechanic and driver for the Santa Monica school district, and his mother Elsie was a housewife and part-time bookkeeper.

Guilford, brother Jeff and sister Elaine grew up in Santa Monica, where he played baseball, basketball and football in high school. An excellent student, he went to UCLA and earned a Phi Beta Kappa key with a 3.97 grade point average. He even remembers, with both chagrin and good-natured excuses, the three classes in which he received B's.

To make ends meet, he babysat, painted houses, gardened and sold tools at Sears. A set of those tools is arranged neatly in his garage today, and his gardening talents are evident in his yard.

The greatest achievement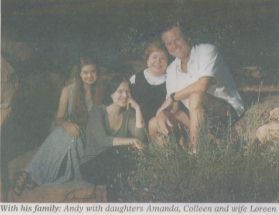 While still in college, Guilford met his wife of 25 years, Loreen, attracted, he says, by her sweetness and bright green eyes. She also was his boss at the local recreation center, and although she attended rival University of Southern California, the two married while Guilford was in law school at UCLA.
Loreen taught school until their two daughters, Colleen, now an English major at Columbia University, and Amanda, a high school senior, were born. His family, he says, is his greatest achievement.
Guilford says he went to law school because he likes to argue and loves the exchange of intellectual ideas. Although certain he wanted to work for a small firm near the beach, he joined Sheppard, Mullin's Los Angeles office in 1975.
According to McCoy, who was part of the same class of five first-year lawyers, Guilford played a major role in the growth of the firm from 30 to 300 lawyers. "Andy had a vision of what the firm should be in the future, particularly in Orange County, and a sense of the need for the firm to take on a statewide role," McCoy said. With name partner George Richter Jr., Guilford opened the Orange County office, where he has remained ever since as a business litigator.
He was attracted to bar work, he says, as a way to give something back to the community, to make a difference, and to enhance the stature of Orange County's lawyers and judges statewide. Guilford keeps pictures of both Richter and Gordon Hampton, another name partner, on his desk as reminders of what "gentlemen practitioners should be." True professionals, they took care of their clients, focused on being good lawyers, and were kind to everyone, he says.
A man of integrity
Those characteristics are true of Guilford as well, says Sonenshine. "He's what I call a lawyer's lawyer," she says. "He's a man of integrity, he's impeccably prepared, extremely conscientious, and very sincere in protecting his clients' interests."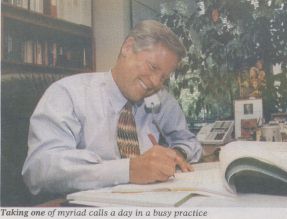 Guilford's practice of handling a wide variety of matters reflects his desire to know a little about a lot of things, although in fact he possesses considerable expertise about his key interests - his hero Winston Churchill; history, particularly the Civil War; baseball, with a special fondness for both the Dodgers and the Angels; baroque music; religion and photography.
"I don't like relaxing," he says. "I don't like quiet time. I read non-fiction, I listen to talk shows, I go to informative places. I like basketball because it gets my heart beating."
Oh, yes, he also writes poetry (he recently recited a multi-verse limerick he wrote while in law school about the often mystifying law against perpetuities), and loves plays, biographies, economics and the UCLA Bruins.
"I think Andy's never satisfied," says Sonenshine about his intellectual curiosity. "He never feels like he's found the answer. He's continually searching to make life better."
McCoy, who shares Guilford's fascination with Churchill, goes so far as to analogize the two.
"Churchill was a man for his time," he says, "and frankly, I think Andy Guilford is the right man for this time. He's the right man to begin this new century of the bar's experience, and when it's over, he'll be remembered for it and will be greatly respected."

Editor's Note: The photographs of Andy Guilford and his family were taken by Mary DeChirico.