Despite an unprecedented boom in the nation's economy, thousands of California residents remain at or below the poverty line. Their legal needs, whether simple or complex, often go unmet. Every year, hundreds of attorneys volunteer thousands of hours of pro bono work to help the state's neediest people.

In recognition of those efforts, the State Bar presented the 1999 President's Pro Bono Service Awards to 13 lawyers and two law firms who provided substantial free legal assistance to California's needy during 1998. The recipients represent each of the bar's nine districts, retired attorneys and firms from both northern and southern California.

Beneficiaries of their efforts included the homeless, children, AIDS sufferers, victims of domestic violence, and prisoners and parolees. One matter resulted in the creation of a gender equity program in a city parks and recreation department which will permit increased participation in sports by girls. Several award winners took on individual representation as well as offered more general advice through legal clinics in their communities. For the first time, one attorney received the award posthumously for donating 500 hours of free time in recent years, and for his continuing efforts to help the poor while he was terminally ill.

The recipients of the 1999 Presi-dent's Pro Bono Service Awards are:

Sandra Stanley (District 1)

A sole practitioner who works out of her home handling family law matters and a civil practice, Sandra Stanley dedicated hundreds of hours representing domestic violence victims in court cases and handling sexual assault cases through the Domestic Violence & Sexual Assault Coalition, a Grass Valley agency.

In the past year, Stanley handled seven difficult cases through the agency, as well as others from outside, many which no other attorney would take.
Because her clients' needs come first, Stanley has faced hardship in meeting her own financial obligations, and she has authored children's books to help make ends meet.
"Sandra has the inner strength to speak up when an injustice occurs," says Nanci Clinch, a Nevada City colleague, "even when doing so might be professionally harmful."
Peter Brixie (District 2)
In 1998, Sacramento sole practitioner Peter Brixie accepted the referral of 10 pro bono cases, ranging from bankruptcy and unlawful detainers to administrative hearings and writs of mandate, and spent more than 100 hours directly representing clients.

A dedicated volunteer at the Voluntary Legal Services Program's new Employment Law Clinic, Brixie also provided another 12 hours of advice to 18 clients regarding wage and hour claims, discrimination, unemployment insurance eligibility and other labor law-related issues. Finally, he voluntarily participated in VLSP's annual fundraiser, procuring donations from colleagues in support of the program.
Brixie also runs a legal clinic on employment discrimination for the local NAACP and appears on television fielding calls from the public.
In addition to the personal satisfaction of volunteering his time, Brixie says he has gained valuable experience in areas of law outside his practice, and feels he has won increased credibility with both judges and other attorneys.
Alan Harley Davidson (District 3)
Alan Harley Davidson began taking pro bono cases in family law matters from the Alameda County Bar Association's Volunteer Legal Services Corporation (VLSC) in 1991 and did not stop until he lost a battle with cancer in June. Even in the face of his illness, he accepted three cases, including one which had been rejected by 20 other attorneys.

He handled a custody matter for an indigent mother, a divorce matter for a low-income mother, and a dependency-related case for an indigent grandmother who wanted to insure continued contact with the grandchild for whom she cared.
Davidson also was a fund-raiser for VLSC and despite his illness served on a committee created to deal with a financial crisis for legal services in Alameda County.
"Through VLSC, Alan helped many families, particularly single mothers, by providing pro bono representation in family law matters," said VLSC's Bari Robinson. "He was always eager to take pro bono cases and would, on his own initiative, ask VLSC staff if we had any more cases that he could take."
Davidson was a sole practitioner for 38 years and an officer for the Alameda County Bar Association. During his association with VLSC, he provided pro bono services to 32 clients, including many long-term, work-intensive matters which remained active for several years.
He was a three-time recipient of the State Bar's Wiley Manuel Award and this year received the county bar's distinguished service award. He is the first person to win a President's Pro Bono Service Award posthumously.
John Stringer (District 4)
John Stringer, honored for his work for the Homeless Advocacy Project (HAP) in San Francisco, has first-hand knowledge about his clients: He himself was homeless for a time during law school.

After working in radio and television in Alaska, he moved to Califor-nia to pursue the law. He ran out of money at one point and was forced to sleep in his car or in shelters while he attended night school.
At the same time he started his practice in 1998, he began to volunteer for HAP, a program operated by the San Francisco Bar Associa-tion's Volunteer Legal Services Pro-gram. He attended nine clinics, provided individual representation and assistance to 17 clients on cases ranging from eviction defense to small claims appeals, and donated hundreds of hours of pro bono work.
"He has been an invaluable volunteer because of his willingness to handle extremely difficult cases," said Darlene Flanders, volunteer coordinator for HAP. "Through John's patience and commitment to working with his clients, he has been able to successfully represent many people who would otherwise not have been able to get assistance."
Flanders said Stringer's pro bono work is particularly impressive since he launched his solo practice, emphasizing workers' compensation, family law and personal injury, at the same time he began his volunteer work.
Paul Lerandeau (District 5)
A sole practitioner with a new practice devoted to family and juvenile law, Paul Lerandeau donated more than 100 hours of pro bono service to Central California Legal Services (CCLS) in 1998. He obtained child custody orders, restraining orders for women in domestic violence cases, and in one case, obtained a court order which helped change the way Family Court Services assigns indigent victims of domestic violence to psychiatrists for family evaluations.

Through his volunteer efforts, he helped 17 clients through the CCLS program in 1998.
Lerandeau also donated a significant amount of time to the Fresno-based Operation Homeless Veteran's Day Stand-Down, an annual event for homeless veterans where CCLS staffs a counsel and advice legal clinic. He staffed the clinic, recruited other volunteers, and gave legal advice to 15 veterans.
In addition, he was a mentor to CCLS staff advocates and has taught advocates new areas of family law.
"Paul devoted all of this time despite the fact that he was setting up a new business and establishing his sole practice," said Rachel McDougall-Smith, CCLS pro bono coordinator.
Ralph K. Hekman (District Six)
Through Riverside's Public Service Law Corporation, Ralph Hekman aggressively represented five different cases involving guardianship, home ownership for senior citizens, and general civil matters in 1998. In these cases alone, he volunteered more than 150 hours of his time.

A sole practitioner who handles probate, guardianship, conservatorship and general civil litigation, Hekman has volunteered for PSLC since its inception in 1982.
Among his accomplishments last year was his representation of an 87-year-old man with a $650 monthly income who faced foreclosure proceedings on his home. Through Hekman's efforts, the man remains in his home.
In addition to directly representing indigent clients, Hekman participates at least once a month in an evening clinic sponsored by PSLC, providing brief services and counseling to several clients at each session. He donated another 50 hours of time to the clinics in 1998.
He also serves on the PSLC board of directors.
"Ralph Hekman is a quiet and humble man who has benefitted and encouraged countless people by his knowledge, his talents and his unwavering dedication," said James O. Heiting, a former Riverside County Bar Association president.
"He is the most deserving person I know that fits the description of the anonymous benefactor, the true good Samaritan, in life and in the law."
Lynette Berg Robe (District 7)
As a volunteer for the Harriet Buhai Center for Family Law, Lynette Berg Robe accumulated 75 hours of service in 1998, helping more than 12 individual clients prepare to represent themselves and handling two matters for direct representation.

One of the matters involved a violent husband with access to guns who frightened other attorneys who did not want their names on the pleadings. The husband had taken the children to another state and won an order preventing visitation by the mother. Robe secured visitation and was able to transfer the case to California.
Many of the center's clients represent themselves and need extensive help both preparing pleadings and learning the nuts and bolts of making court appearances. Robe "has the expertise and compassion to help these individuals navigate themselves through a very complicated legal system," said Julie Rivera-Coo, supervising attorney of the center's pro bono panel.
She also spends additional time training new volunteers and giving advice to other lawyers at the center.
A solo family law practitioner, Berg has volunteered at the center since 1990 and last year was admitted to its "Hall of Fame." She also won pro bono "attorney of the year" honors twice previously.
Anil K. Mehta (District 8)
Santa Ana sole practitioner Anil K. Mehta devoted almost all his time - 2,200 hours in 1998 - volunteering at the Public Law Center, specializing primarily in probate law with children's issues.

In 1998, he provided direct advice and representation to 47 clients, covering issues ranging from guardianship and conservatorship to dissolution and adoption matters.
He represented clients in court, before the Department of Motor Vehicles and the adoption branch of the Social Services Agency, as well as conducted negotiations with collection agencies.
"Legal representation for PLC clients would not have been possible but for Mehta's dedicated volunteer work," said Scott Wylie, his supervisor at PLC.
Mehta also mobilizes other attorneys to help the PLC's clients, advises new attorneys about poverty law, and supervises law student volunteers at the agency.
Mehta is a "left-arm amputee and it can safely be said that he has single-handedly provided dedicated pro bono service to benefit indigent clients," Wylie said.
Rebecca MacKenzie (District 9)
In a year when the San Diego Volunteer Lawyer Program's (SDVLP) north county office was unstaffed for months, Rebecca MacKenzie saved the day. She volunteered to help maintain its family law access program, the domestic violence prevention project, and to provide direct representation in family law cases, thereby insuring the continuation of critical services to indigent residents.

MacKenzie performed mediations, helped unrepresented individuals complete court forms and documents, and helped manage the day-to-day activities of a program which in 1998 assisted more than 2,700 indigent clients at the Vista courthouse.
A sole practitioner in Carlsbad specializing in family law and mediation, she also devoted many hours to helping coordinate the domestic violence prevention project, which helped more than 1,000 persons obtain legal protection from abusive partners or family members.
In total, MacKenzie performed more than 537 hours of pro bono service, winning both the SDVLP distinguished service award and a Wiley W. Manuel Award from the State Bar.
Armstrong Team, McCutchen, Doyle, Brown & Enersen (Northern California law firm)
In 1994, a class action lawsuit on behalf of all California state prison inmates with disabilities was filed against the Department of Corrections, charging that the state's prisons lack adequate facilities for inmates suffering from hearing, vision, mobility and learning disabilities.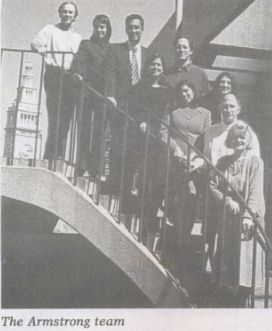 The complaint alleged that prison officials denied those inmates access to educational, vocational, recreational and other programs, a violation of both the Americans with Disabilities Act and the Rehabilitation Act of 1973.
In the ensuing years, a federal judge and an appeals court ruled that the ADA applies to state prisons, and in a separate case that had input from members of the Armstrong team, the U.S. Supreme Court also ruled that state prison inmates are protected by the ADA.
When Armstrong v. Davis went to trial this year, U.S. District Judge Claudia Wilken ruled from the bench after closing arguments, ordering the Board of Prison Terms to remedy its failure to comply with the ADA during parole hearings.
The Armstrong matters are a true collaborative effort, involving lawyers and legal assistants from several law firms and prison and disabilities rights organizations who, together, have dedicated thousands of hours to the case. Lawyers and paralegals at McCutchen spent almost 7,000 hours on these matters.
Kaye, Scholer, Fierman, Hays & Handler (Southern California Law Firm)
As a result of litigation charging the city of Los Angeles with gender discrimination in girls' sports, the city created a program early this year designed to increase girls' participation in its youth athletic programs.

Kaye Scholer partner Jeffrey Gordon and associate Jeffrey Ruth-erford began providing free legal services in the case in August 1998 and continue to litigate through negotiated settlement discussions to the present. Gordon spent 53 hours on the case; Rutherford, a former social worker, 288. They worked with the California Women's Law Center and the ACLU of Southern California.
The suit was the first of its kind in the nation, expanding on the gender equity principles of Title IX, which covers schools receiving federal funds, but not city entities.
As a result of the lawsuit, Los Angeles will implement a policy that no otherwise qualified city resident will be denied participation in any private sports league that uses city-owned or -operated athletic facilities.
Kathryn Ringgold (Northern California Retired Attorney)
When Kathryn Ringgold retired from her workers' compensation practice three years ago, she started volunteering with the Volunteer Legal Services Program (VLSP) in San Francisco.

Despite having no training in either family law or guardianships, she has become an expert in both areas, often taking cases other lawyers refuse, particularly difficult clients and contested guardianships. "Kathryn recognizes the desperate need for someone to stand up for the children and families in these cases and she willingly shoulders the task," said VLSP volunteer coordinator Jane Lee. Many cases have been refused by other attorneys, said Lee, but "Kathryn's determination to help clients in these particular situations is unwavering."
In 1998, Ringgold donated about 250 hours, taking on 15 clients for full representation, and providing advice and referral to 56 individuals through monthly clinics. She also works with Legal Services for Children, handling guardianship matters, and volunteers with CASA (Court-Appointed Special Advocates), protecting the interests of children in the foster care system.
Richard J. Hicks (Southern California Retired Attorney)
Since his retirement 10 years ago, Richard J. Hicks has used his legal and business expertise both to help disadvantaged clients directly and to reach out to the corporate community to pitch in.

Hicks devotes at least two days a week to training and mentoring new volunteers for the San Diego Volunteer Lawyer Program (SDVLP), and last year, as a volunteer for its North County Domestic Violence Prevention Project, performed more than 220 hours of pro bono service helping victims of domestic violence obtain legal protection.
He has created and plans to implement a strategy for obtaining support from the business community for increased access to justice for the poor, and he has communicated directly with his congressman about bills affecting legal services programs.
Hicks has worked tirelessly since his retirement to support legal services programs, serving as a director of Public Counsel in Los Angeles for six years, including a stint as its president, and acting as executive director of Los Angeles Habitat for Humanity from 1992-94.

Editor's Note: This special section honoring the 1999 recipients of State Bar awards was compiled by staff writer Nancy McCarthy. The award winners were recognized at the State Bar's Annual Meeting, beginning Sept. 30 in Long Beach.