Mosk's death leaves mark on court term

By J. CLARK KELSO

Justice Stanley Mosk's death on June 19 easily stands out as the most significant event of the California Supreme Court's just completed term. As I write in mid-August, Justice Mosk's chair still sits in the corner just a few feet away from the conference table in the chief justice chambers, a reminder of the great mind and spirit that for 37 years animated the room and the court.
Justice Mosk was one of the very few state court judges known to virtually every lawyer in the country. Author of almost 1,700 opinions, he wrote landmark rulings in nearly every area of the law, and Mosk opinions can be found in literally dozens of casebooks across the entire spectrum of the law school curriculum. He is, in a word, irreplaceable, and the court and entire legal community in California mourns his passing.
Appropriately, one of the most important cases this term was Aguilar v. Atlantic Richfield Co. (2001) 25
---
California not ready for full MJP, panel says

By SHARON LERMAN

Staff Writer

A state Supreme Court task force on multijurisdictional practice has decided California isn't ready to open its doors to all comers, instead recommending relaxed rules allowing some out-of-state attorneys to cross the threshold.
Last year, the state legislature referred the issue for further study after state Sen. Bill Morrow, R-Ocean-side, authored a bill that would have allowed established attorneys to practice in California without taking
See CALIFORNIA
---
State Bar settles Brosterhous case for $900,000

The State Bar has agreed to pay the Pacific Legal Foundation $900,000 in attorneys fees for its work on the decade-long Brosterhous case, which challenged how the bar uses mandatory member dues.
The fee is less than half of PLF's $2.3 million fee petition, which was pending before Sacramento Superior Court Judge Morrison England Jr.
"We are pleased to have resolved the final issue in a case that lasted 10 years," said State Bar President
See SETTLEMENT
---
A new president brings energy and determination to the job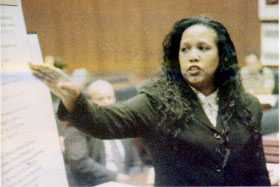 Karen Nobumoto isn't one to cloak her feelings, and on a recent day in Los Angeles Superior Court, the deputy district attorney is feeling a bit impatient. This is her last criminal trial of the year, before she moves to a lighter case workload to perform her duties as the 76th president of the State Bar of California.
It's not that this case isn't a good one: Mark Hylland, a paralegal, is accused of practicing law without a license, and UPL is a statewide concern Nobumoto plans to address during her presidential term. It's the day in court that's lackluster: The defense attorney
See 'TOUGH BUT FAIR'
---
Activist for Latino community cited by State Bar

For more than 25 years, attorney Joaquin G. Avila has ensured the polls are open to minority voters. Avila, 53, is a voter-rights specialist who works to secure access for Latino voters and is promoting redistricting following the 2000 U.S. Census.
For his efforts spanning the Southwest states, Avila was selected to receive the 2001 Loren Miller Legal Services Award, the State Bar's highest honor.
As a young attorney working for the Mexican American Legal Defense and Educational Fund (MALDEF) in the early 1970s, Avila quickly learned that equal access is at the heart of community activism.
"I realized some of the cases we had were against poli-
See AVILA NAMED